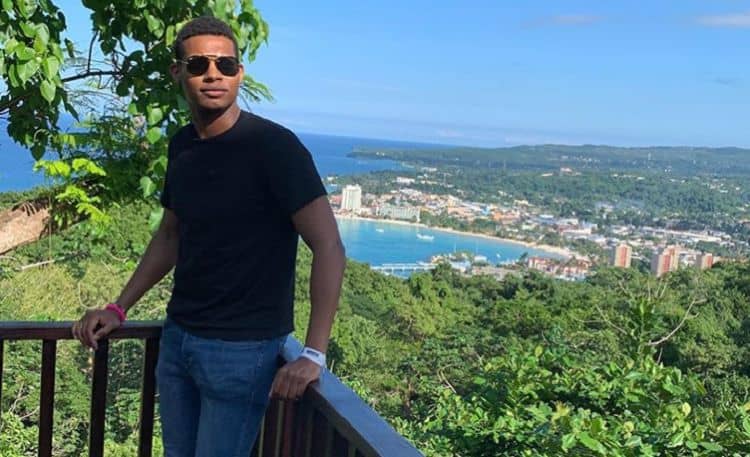 Shane Paul McGhie may not be among the most decorated actors of our time, but the American actor has gradually become a force to reckon with in the entertainment industry. He may have graced your screens in several films such as "After," "What Men Want," "Victor," "American Skin," among many others as well as television series. His notable role so far has to be Landon in the drama-filled romance movie, "After." Over some time, he has grown to be a household name, but there is a lot more to know about the actor as revealed by these ten facts.
1. Plays a voice role in an NBA video game
Are you a fan of video games? If you are and also follow up on the basketball simulation video game NBA 2K18, then you might have heard Shane Paul McGhie's voice in the career mode. He plays as DJ in the game-play career mode. According to Heavy, the introduction of a DJ character in the video game version 2K18 caught the fans by surprise. In previous editions of the game, the storyline for career mode, users played as "Pres." Many have no idea that the voice behind the new my. Career mode belongs to Shane who shares his talent both on-screen and as a voice actor.
2. Started acting in high school
While in high school, he kept his love for the cameras and stage alive by getting training in the art niche. He attended Beverly Hills High School, where he enrolled for training in the Theater Arts department that was under the oversight of Herb Hall, Joel Pressman, and Josh Butchart, who influenced students' skills in acting. He signed up for vocal coaching in the school's Madrigals. Shane Paul went full gears at high school performances as he enrolled as a cast in musicals; he takes credit for his lead role as Tevye in a play titled "Fiddler on the Roof."
3. Studied at University of South Carolina
Shane Paul's next stop after graduating from high school in June 2011 was California State University, Northridge. After only a year, he transferred to the University of South Carolina to pursue a degree in Bachelor of Fine Arts. Four years later, he graduated with a BFA in Acting from the institution.
4. Developed desire to be on screen at a tender age
We often develop the desire to appear on the screen at childhood, mainly due to all the fame that it tags along. It is at our prime ages that we realize that acting entails a lot more than credit only. Shane Paul knew his quest to be in front of the cameras at the age of four and grew more passionate about his desire to be on stage as he aged. At just four years of age, he had already started practicing his acceptance speech for an Oscar award. In his mock acceptance speech, he stood on top of a couch and addressed an audience made up of his stuffed animal toys. Well, that is the faith he had, and although he is yet to get an Oscar, with such determination, it must be around the corner.
4. Favorite part of filming "After."
Every actor has a nostalgic moment during the shooting of movie scenes. For Shane, it is his coalition with fellow cast members and the whole cast crew of "After.". He admitted his love for specifically Anna and Jo and was thrilled working alongside the great team in that movie.
6. What attracted him to cast as Landon?
It is intriguing when actors adore the fictional characters they play in movies. Shane got drawn to play as Landon in the drama-movie, "After" because the character appreciates everything he has. In Shane's interview, he opens up that he as well tries to love everything he has in real life. Landon is anti-discriminative which makes Shane have such great admiration that perhaps if there were to be a reincarnation, he would want to come back as Landon.
7. Auditioned initially for Zed in the film "After."
During auditions for the "After" movie, Shane originally auditioned for the role of Zed. It is only later that he felt a strong inclination towards the character "Landon" and finally booked the role.
8. Nostalgic about acceptance of Black actors
Shane Paul is an African American born to Jamaican parents. He recalls the pride and excitement he had every time he saw black actors in movies. He is amazed by the entertainment industry, which is now giving more opportunities to everyone regardless of their skin color. The actor holds quite remarkable sentiments on being part of the new generation of black actors who are revolutionizing the film industry.
9. The most challenging part in playing Landon
Shane may have played the fictional character he adores to be in reality, but it proved to be the most challenging thing to live up to the fans' dreams who have built assumptions of what they expect the character to be in real life from the book. Shane Paul admits that it is quite burdensome as an artist to embody how fans fancy the characters should be based on the book.
10. He knows how to maintain friendships
It is quite evident that Shane and other casts are close to one another in the movie "After" as supported by Information cradle. Surprisingly the bond grows even stronger in real life. Shane does not know how he grew fond of the fellow cast after cameras stopped rolling. Jo and Shane talk pretty much often, either face-timing or talking on the phone about life and generally everything. His relationship is even more cordial as they sing together and also practice different accents together. Despite quickly bonding with people on the set, on his social media accounts, there are barely any photos of him having a good time with friends.