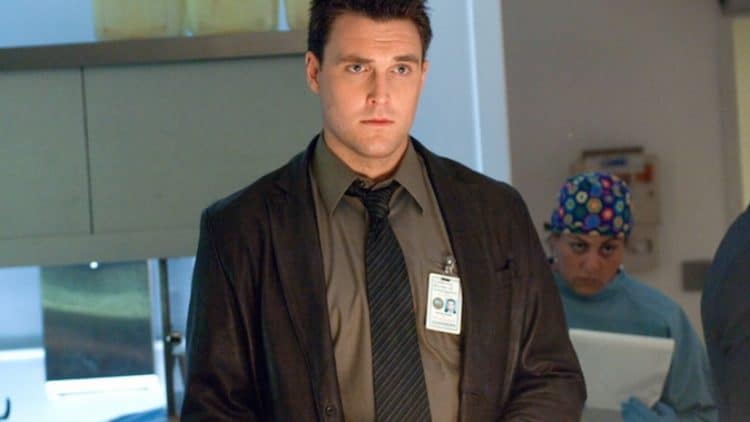 Owain Yeoman is a Welsh actor who has managed to make a name for himself in the United States. So far, he has appeared in a wide range of projects that include but are not limited to AMC's Turn, HBO's Generation Kill, and CBS's The Mentalist. Here are 10 things that you may or may not have known about Owain Yeoman:
1. Born and Raised in Chepstow
Yeoman was born and raised in a town called Chepstow, which can be found in Monmouthshire, Wales. There was a time when Chepstow was an important port for the surrounding region, meaning that its residents were very involved with imports and exports. However, it has since lost that function, with the result that it is now reliant on services.
2. Went to Wyedean School
As a teenager, Yeoman went to Wyedean School. Said institution is situated in Gloucestershire, England, but a considerable number of its students come from Chepstow because said town is located on the border between Wales and England. Besides this, it is interesting to note that Wyedean School was the same school that J.K. Rowling went to.
3. Very Interested in English Literature
Even when he was still in school, Yeoman showed an interest in acting on the theatre stage. However, he had an even greater interest in English literature, so much so that he went on to secure a MA in the subject from the University of Oxford. Moreover, Yeoman had planned to continue his studies on the subject, but instead, he winded up working at a bank in London because he failed to secure the grant that he needed in order to do so.
4. Got His First Role in Troy
Yeoman's first role was on Troy, which was a 2004 movie that was based on the Trojan War of Greek mythology. In short, his character was named Lysander, who was so minor that he isn't even included in a lot of versions of the movie's list of characters. However, Yeoman had the chance to show up in more than one scene, which makes sense because his character was a kind of second-in-command to Hector played by Eric Bana. In one scene, he responded to Hector's question about how long it would take to get the Trojan soldiers ready for combat, while in another scene, he asked whether the Greeks would've offered a truce for both sides to retrieve their fallen if a Trojan victory had turned out to be a Greek victory instead.
5. Was Involved in Terminator: The Sarah Connor Chronicles
At one point in time, Yeoman was involved in the TV show called Terminator: The Sarah Connor Chronicles. For those who are curious, he played a T-888 Terminator in the pilot for the TV show, meaning that he was the main villain. However, when the people received the go-ahead for turning Terminator: The Sarah Connor Chronicles into a full-fledged TV show, Yeoman winded up being replaced in his role by Garret Dillahunt, thus explaining his later absence.
6. Played Vartox on Supergirl
In 2015, Yeoman played the role of Vartox on Supergirl. On the show, the character was an escaped prisoner from a Kryptonian prison, who proceeded to kill himself when he was bested by Supergirl. In the comic books, Vartox was a more heroic character who nonetheless came into conflict with Superman and related characters on more than one occasion. Amusingly, the character's look was based on a much younger Sean Connery when he starred in the science fantasy movie Zardoz.
7. Played Benedict Arnold on Turn
Later, Yeoman played Bendict Arnold on Turn: Washington's Spies, which remains one of his more notable roles. The show could've gone with Benedict Arnold as the archetypal traitor that dominates his perception in the United States, but it is interesting to note that the people behind the show decided to go with a more historical and more nuanced take that can nonetheless be summed up as a fall from grace. Amusingly, Yeoman took his American friends' reaction to his role as a challenge to see if he could change some of the preconceptions that abound about the historical individual.
8. Yeoman Enjoyed the Way that His Character Entered Turn
One of the things that Yeoman enjoyed about his role as Benedict Arnold on Turn: Washington's Spies was the way in which he was permitted to enter the series. Essentially, he entered the series in a very energetic manner that saw him ranting about Congress as well as the incompetents that he has encountered on the battlefield, thus enabling him to lay the foundations for a further exploration of the motivations that caused the historical individual to turn traitor.
9. Meets Other Welsh Actors On a Regular Basis
There aren't exactly a lot of Welsh people in the world, so it should come as no surprise to learn that there aren't exactly a lot of other Welsh actors in Hollywood. However, not a lot of other Welsh actors isn't the same as no other Welsh actors at all. Interestingly, Yeoman and other Welsh actors in Hollywood apparently get together on a regular basis for the sake of hanging out as well as offering support for one another, with watching rugby games being a particular favorite.
10. Has a Sweet Tooth
Yeoman has stated that he is a big fan of sweet confectioneries. As such, one of the things that he misses the most is pick 'n' mix, which became uncommon in the United States following the 1960s when changing shopping patterns caused the closure of many mom and pop shops that used to sell such candies. Besides this, it is entertaining to note that Yeoman was actually once contacted by Homeland Security because they couldn't figure out something that had been sent to him, which turned out to be the rum and raisin fudge that he had been craving from a shop in Somerset.
Tell us what's wrong with this post? How could we improve it? :)
Let us improve this post!