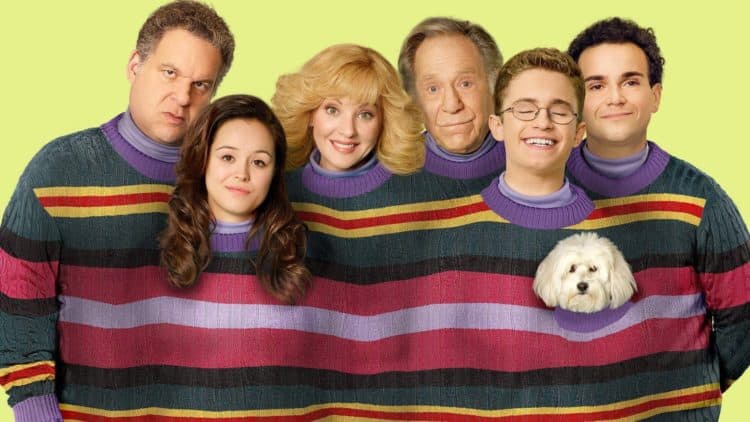 If you're not already watching The Goldbergs, you've managed to miss out on one of the wittiest shows on TV today, and you need to remedy that immediately! Adam Goldberg is simply one of the best sitcom writers of this TV generation. We have loved every minute of growing up with the Goldbergs, and we're looking forward to seeing where they go next. The announcement that season seven is happening was no surprise. In fact, we're pretty sure we'll still be watching during season ten and maybe even beyond. So what does it take for a show like The Goldbergs to make ten seasons?
International Stardom
Not every show will see an international audience, or at least not much of one. However, when something so delightfully relatable and irreverently human comes along, it's not much of a stretch to assume that people in other parts of the world will want to see it too. The Goldbergs is absolutely one of those shows. Though it started out on Hulu and ABC.com, then premiered on ABC in September of 2013, this show quickly picked up a following abroad. Today this hilarious look at life in 1980s America can be seen in eleven countries and counting. Among the more unexpected, Turkey's DiziSmart has been airing episodes since 2015 and Germany has been showing it on the Disney Channel for the last three years. Meanwhile, India is the most populous country to become fans. If you're traveling there, you can catch all the neon and pop culture references on Star World.
Spinoff
When a show is so good, you want to make it twice, but it hasn't been off the air long enough (or at all in this case) to make a reboot the only place to go with it is a spinoff. That's exactly what ABC did with Adam's show. The newer Schooled is a fantastically funny show set int the 1990s. Some of your favorites from The Goldbergs are back just about a decade later. Lainey Lewis (AJ Michalka) has become a teacher at William Penn Academy. Along with cameos from several Goldbergs, the show introduces plenty of new characters in the form of teachers and other highschool regulars. Lainey may not have made it in the world of Rock and Roll, but at least she can go home again, sort of.
Nostalgia is King
The memories of our youth affect us on every level. A smell on a crowded street can remind us of visiting the countryside as a child or our first love. People often talk about their childhood and young adult years as though rose-tinted glasses are standard issue once we reach thirty. Reminiscence makes us happy, wistful, sad, or furious. It is quintessentially human to review our lives and take pleasure in so doing. For those who've been living in a cave over the last fifteen to twenty years, the remakes, reboots, and reimaginings of programs that were once beloved in another time have become a huge part of our entertainment schedule. The massive success of this nostalgic business reminds us that we enjoy reviewing and rewriting things we know and love. To many of us, The Goldbergs is both new and nostalgic. Seeing the familiar shows, bands, movies, and clothing from the 1980s reminds us of our youth. Doubtless for one family, the original Goldbergs, this show hits home on a different and far more personal level. It may be a satire, and not entirely based on real-life events, but it is still their story. In a time when nostalgia is top of the charts and raking in the ratings, it must be surreal to see yourself, but not quite, making so many people worldwide happy with memories of their own past.
Hiraeth
There are lots of shows that people love. The Simpsons has been running for about a million seasons now, and NCIS is a spinoff (from JAG) that has its own spinoffs. The things that make a show great and successful aren't always easy to identify. Some of the most beloved shows are soap operas. Others are reality TV or comic sketches. However, in the world of sitcoms, one thing is always true, when the audience wants to join the cast, a show can run forever. While we all know that having a little brother follow us around with his video camera, or living with 'Smother Dear,' wouldn't necessarily be fantastic, we still want in on that strange and amusing world. Most fans wish they'd grown up in a family more like the TV Goldbergs. Even those of us who adore our own families and would gladly make a show about it if we had Andy's talent still secretly wish we were one of his characters. Hiraeth is a Welsh word that doesn't have an exact English equivalent. Yet, we all feel it when we daydream of joining the Goldbergs TV life. The sense of missing something or someone that was never yours or the longing for a time or circumstances you never experienced is hiraeth. The Goldbergs can make millions of viewers feel this way even though we have no word of our own to express it.
Cheers & Frasier
It takes something special, something not-quite identifiable to make a comedy that people love so much it runs for ten or twenty seasons. There's no perfect formula for how to create a show like that. Regardless, The Goldbergs will surely join the ranks of such beloved classics as Cheers and Frasier in this accomplishment. More than laughter, nostalgia, and even hiraeth, there is something about Adam Goldberg's unique take on life that keeps us coming back for more. We could watch his TV family for another decade at least if ABC is smart enough to let him keep making it.
Final Thoughts
There is mindless TV, and there are comedies that make us laugh. Then there are those shows with the potential to be a long-running cultural phenomenon. The Goldbergs is definitely in the latter category. Everything about this silly and smart show keeps fans coming back to spend their time with their favorite 1980s family. We look forward to seeing new episodes this season and the next and the next. Hopefully, we can spend our Thursday nights watching Adam and his weird, wonderful family spoof all our favorite nostalgic moments for another seven seasons at least.
Tell us what's wrong with this post? How could we improve it? :)
Let us improve this post!