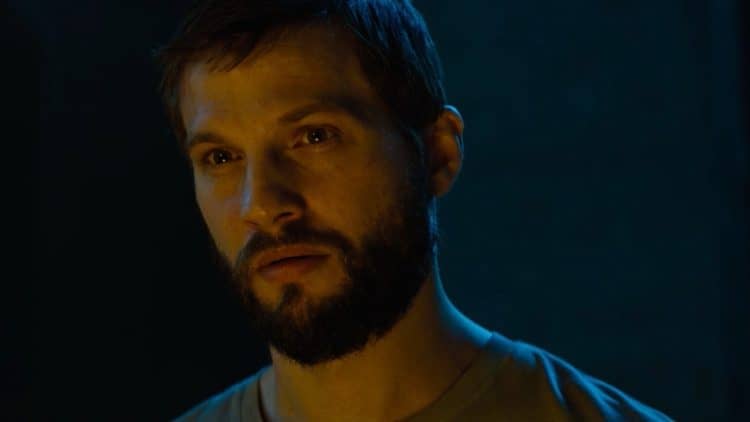 In 2018, Leigh Whannell released his first non-horror feature as a writer/director, Upgrade, which stars Logan Marshall-Green as Grey Trace, a man whose left paralyzed after a brutal assault from an unknown assailant. Unfortunately, that incident also leaves his wife dead. Trace has an artificial intelligence implant called STEM that enhances his body. Now that he's able to walk, Trace uses his newfound superhuman strength and agility to seek revenge against the thugs that ruined his life. Upon release, Upgrade was highly praised by critics, receiving a strong rotten tomatoes score of 88%. However, the most important thing is the box office returns, and with a reported budget of $5 million, then it would be hard for the sci-fi feature to flop hard. The good news is that Upgrade isn't a flop, as the film managed to make nearly $17 million during its initial run. So why is it deemed a flop still? Because the movie barely made an impact on the market and $17 million isn't particularly good for a wide release. So, what happened? Upgrade had an attractive premise and great reviews, yet the film failed to gain much traction. Let's dive further into the reasoning on why Upgrade bombed at the box office.
Leigh Whannell is mostly known for his SAW films
Whannell got his big break in Hollywood thanks to Saw. Say what you will about the films, but the 2004 horror pic ushered in a new era for the genre and is highly regarded by most audiences who've seen the films. However, the Saw movies are niche. The franchise has spawned nine films and has made a little over a billion dollars at the box office, which is highly impressive for a long-running franchise. However, the Saw features aren't known for its great stories and unforgettable characters. Don't get me wrong, Jigsaw will go down as one of the best villains in horror movie canon, but outside of the central figure, the characters are either deplorable, one note figures. The storylines are very convoluted and often muddled. That's actually the charm of the Saw franchise as it's so steeped in its over-the-top ridiculousness that fans have come to love them. Of course, the traps play a strong role in this series as well. However, Whannell's work was mainly known for his Saw features and with the film advertising that it was from the writer of Saw, it likely hindered Upgrade's appeal. Granted, Whannell is also responsible for Insidious, another successful franchise that's better received around the horror circle of fans, but given Upgrade's hard-R rating of violence and gore, most audiences likely assumed that it was in vein of Saw. It sounds crazy, but the level of storytelling is often looked down on the franchise, and some of the audiences didn't really have much interest because of that reason alone. This isn't the main reasoning that audiences stayed away from the 2018 feature as I do think that the lack of buzz, stars, and a notable pedigree worked against Upgrade.
The Lack of A-list Stars
In truth, Upgrade is actually a great film. Sure, the whole "robots are evil" schtick is nothing new, but Whannell manages to take a fresh approach to the genre that's compelling. It's funny, smart, and well-acted, with great action sequences and a cool sci-fi world with a grounded take. However, none of the cast are A-list talent. This isn't a knock on any of actors in the film as I previously stated, the acting is strong in Upgrade, but they haven't won over the mainstream audiences yet. Logan is coming off big franchise movies Spider-Man: Homecoming and Prometheus, but he's not the star of either film. He's nicely building a resume of strong features, but he's yet to have that breakout role that catapults him into the eyes of fans. Betty Gabriel had a memorable turn as Georgina in Jordan Peele's Get Out, but she's still a newcomer within the world of movies and Get Out didn't exactly launch her career the way should have. The rest of the cast has roles in big movies such as Hacksaw Ridgeand Need for Speed, but nothing that made them standout. Now, it's never a guarantee that a movie will be a success if a big name is attached; however, more eyes would've been drawn to the feature if someone notable was in the cast. Combine that with the strong reviews and Upgrade would've likely done better than its $17 million, and more importantly, it would've helped establish Whannell as force to be reckoned within Hollywood. Luckily, Whannell's talents are being recognized for more than just Saw thanks to The Invisible Man; however, this little gem shouldn't be overlooked if you missed it.Hacksaw Ridge
Tell us what's wrong with this post? How could we improve it? :)
Let us improve this post!