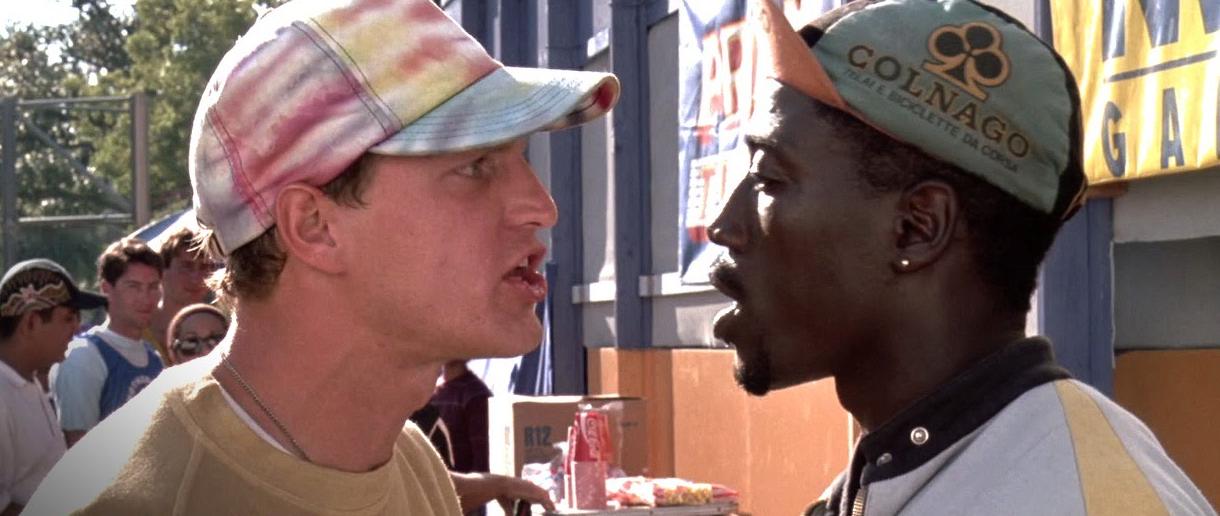 In 1992, White Men Can't Jump was released in theaters and became an instant hit. The movie follows the story of two friends as they attempt to make a name for themselves in the world of basketball. It's a funny and heartfelt film that is still just as relevant today as it was when it first came out. Reviews of the movie were generous during its release. A glowing review from the Orlando Sentinel wrote about the movie during its premiere: "White Man Can't Jump is most effective at the beginning — when it's bouncing along with the exuberance that Shelton brought to such other sports-minded movies as Bull Durham and The Best of Times." From Herald Sun: "Slam-dunkingly satisfying sports comedy about two basketball hustlers (Woody Harrelson and Wesley Snipes) teaming up for an alley-oop of a payday, despite crying foul about each other's off-court lifestyle." The Christian Science Monitor praised the cast's chemistry: "Wesley Snipes and Woody Harrelson give lively performances as the heroes, who relate better to basketballs than to women or the business world. Unfortunately, the movie doesn't add up to very much, though."
In 2022, White Men Can't Jump will turn 30 years old, and we think it deserves to be celebrated. We'll look back at some of the movie's highlights, why it was so successful, and what made it so memorable.
It's written and directed by Ron Shelton
Ron Shelton was the brains behind the movie, and the reason this sports comedy feels so close to reality because Shelton used to be a professional athlete. Shelton played minor league baseball before he turned his attention to writing and directing. This experience helped him add authenticity to the movie, which is why White Men Can't Jump is still so popular today. What's most impressive about the movie is the level of work Shelton poured into making the movie, saying to Filmmaker Magazine: This was the strangest of my films because I wrote 37 pages in one day — nothing like that has ever happened to me, before or since. I just started writing and didn't stop, and I didn't even know where I was going. Those are the pages I showed Joe Roth at Fox, and he said, "Keep going." So, of course, it took me about three weeks to figure out page 38. By those weeks passed, I'd had another 20 or 30-page day. The whole project was kind of like that. It was like a basketball game, in a way, because there were these bursts of energy, stopping and starting. Living between these bursts of writing was maddening because I thought, "I've painted myself into a real corner with Fox here." It all came out fine, but I'm not sure I recommend that screenwriting model. But it somehow worked on this.
The cast is full of familiar faces
You'll see some big names when you watch White Men Can't Jump. Wesley Snipes and Woody Harrelson play the two main characters, Billy Hoyle and Sidney Deane. Rosie Perez also stars in the film as Gloria Clemente, Billy's girlfriend. The movie also features Tyra Ferrell, Cylk Cozart, and James Remar.
Wesley Snipes shines in this movie
Wesley Snipes is one of the most successful actors of all time, and he's also a pretty good basketball player. In White Men Can't Jump, Snipes shows off his skills on the court and proves that he can not only act but can also play basketball. In the movie, Snipes' electric performance and he has excellent chemistry with Harrelson. Shelton said about Snipes' casting in the movie: "Wesley Snipes auditioned for Sydney, and he was great. He wasn't a great basketball player, but he was a great athlete, so I knew I could teach him certain things to do. You can't fake athleticism, but you can fake basketball. I loved him — I want to work with him again, desperately. Unfortunately, he had a little vacation, as he puts it. Honestly, I think Wesley is one of our greatest overlooked actors. Like Kurt Russell: he doesn't get the credit he deserves. Wesley can do anything. Back then, I said, "He's Jimmy Cagney!" I don't mean "the black Jimmy Cagney." I mean, he's Jimmy Cagney. He can be scary, and he can be funny, he can make you cry, he can do physical stuff… I want to work with him again."
It's a classic sports movie
White Men Can't Jump is one of the most popular sports movies of all time. It's a classic underdog story featuring two talented actors at the top of their game. If you're a fan of sports movies, then you need to watch White Men Can't Jump. It's a timeless classic that is sure to entertain you.
The basketball scenes are amazing
The basketball scenes in White Men Can't Jump are some of the best ones put on film. They're realistic, funny, and exciting all at the same time. You really feel like you're right there with Billy and Sidney as they're trying to make a name for themselves. Perhaps what makes the basketball scenes in White Men Can't Jump so authentic is that Shelton consulted with basketball pros to ensure everything looked and felt right.
It's a movie that anyone can enjoy
White Men Can't Jump is the perfect example of a movie that has something for everyone. It's funny, heartwarming, exciting and full of great basketball action. Whether or not you're a sports fan, you're sure to enjoy this classic film. But, even if you don't particularly enjoy basketball, White Men Can't Jump is still a great movie worth watching.
It has an upcoming remake
That's right, White Men Can't Jump is getting a remake! The new movie will be released soon, hopefully just in time for the original film's 30th anniversary. The remake will star Jack Harlow and Sinqua Walls, and Kenya Barris will produce it. We can't wait to see what this new version of White Men Can't Jump has in store.