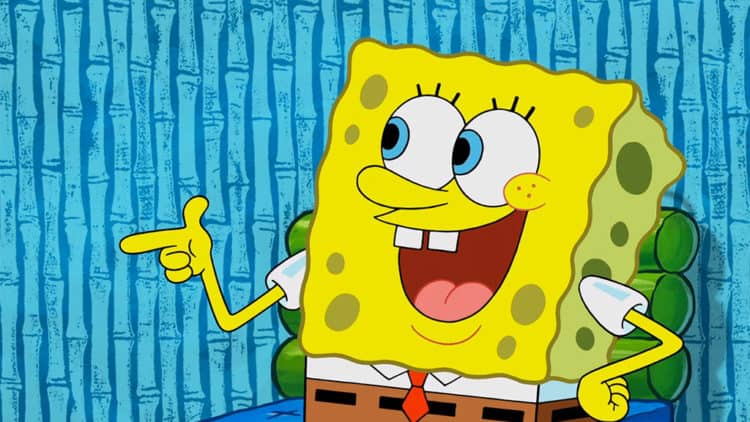 Some might call this funny, some might call it disrespectful to those that lived through such furious times. Let's compromise and call it inventive and kind of inventive since there's no need to say that it's utter crap or so brilliant that it defies the imagination when one tries to think about the effort of cutting pasting clips and then fixing the audio to match. It is kind of impressive since it takes a lot of time and patience to get it just right and make sure that it works in the manner that the creator wants, but let's be real and say that Spongebob is not everyone's cup of tea. That he's an animated sensation isn't in dispute considering that he's been one of the most popular cartoons in the last couple of decades, and the fact is that he's still very popular among many people. But as an intelligent cartoon Spongebob is kind of a divisive cartoon that some think is utterly brainless while others can't help but disagree by saying that it's something that takes a lot of thought and a lot of planning to come up with. In melding it with the movie 1917 it still sounds like an impressive job of matching audio to various clips, that's about it.
To be fair it's hard to fully criticize Spongebob without taking a look at all the cartoons that have come before and since. If one wants to say that it's a brainless cartoon all they have to do is point to Looney Tunes and realize that there wasn't a lot of thought to those cartoons. In fact some of the story lines were pretty simple since a coyote chasing a roadrunner and getting messed up by his own machinations in the process wasn't too hard to figure out. A sheepdog trying to keep an inventive coyote from the sheep he was protecting and managing to do it perfectly despite the coyote's planning was genius, but not hard to figure out. A talking rabbit and a human hunter trying to outsmart each other wasn't all that hard to understand, neither was a talking duck that had it in for the same talking rabbit. In short, cartoons that a lot of us grew up with aren't really any more intellectual than Spongebob, but for some reason, perhaps to a lot of us, they appear to be a little better if only because they were cartoons that were designed to be crazy and out of control and people tried to take them too seriously, whereas Spongebob is a cartoon that has a story and is meant to be taken at least a little serious, but it's hard to do since he's essentially brainless, as is most of the cartoon. Unfortunately it's a matter of perspective, and every person is going to have something different to say about the similarities and the differences.
Getting back to the subject though, Spongebob isn't the first cartoon to have taken on an aspect of history in this manner, though obviously this isn't about to be shown on TV in the same manner that a lot of cartoons featuring wartime events were. Plus, these days showing such things is seen by a lot of people as being highly controversial if not downright disrespectful since dubbing a cartoon with the audio from a movie that's supposed to deadly serious and taken from a true story that was said to have happened in a war that was very real. This is perhaps what separates this video from a lot of content that's come before, the idea that it's taking something that was admittedly made into a movie but came from what many will believe is a real account given that it happened during an actual war. Or it could be that we're simply reading too much into it and should loosen up. Saying such a thing in the wrong crowds however would likely provoke a response that would be anything other than favorable though, as a lot of people still take these matters quite seriously.
All in all it's not a truly disrespectful attempt unless one chooses to look at it that way since the effort was made to be somewhat comical while at the same time matching up the audio with the action in a way that might make at least a little bit of sense. That might be a hard sell to some people but it's one that sounds the most logical and could possibly placate those that might take some sort of offense at this. Spongebob is seen as an overall offensive cartoon by some people for various reasons, while others believe that he's one of the most harmless animated figures to ever be created. It's an argument that's usually not worth getting into really.