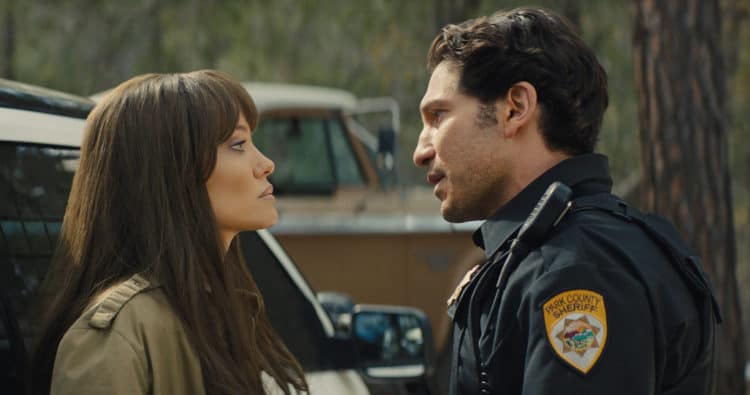 This past summer, Angelina Jolie came out with a new film called, Those Who Wish Me Dead, which also starred Jon Bernthal (Netflix's The Punisher), Aidan Gillen (Game of Thrones' Petyr "Littlefinger" Baelish), and Nicholas Hoult (X-Men's Hank McCoy/Beast) and the intense thriller garnered mostly positive reviews; however, it's opening weekend only made $2.8 million. In fact, the entire weekend box office was slow, Spiral – the number one movie that weekend – only brought in $8.73 million during its first weekend. As I always mention in these articles, the coronavirus pandemic and the day-to-day HBO Max release plays a significant role in these box office totals; however, it's been made clear that when an audience really wants to see a movie, then they're willing to purchase a ticket for the right film. Two weeks later, A Quiet Place Part II, blew away expectations by opening with a strong $58.5 million. So, what happened? In honesty, Those Who Wish Me Dead is a really good film. It's not anything ground-breaking but the narrative is pretty solid and the action and visuals are strong. The acting elevates this movie from being an above-average thriller. Yet the film could barely make back its $20 million production budget. Let's examine why the movie failed to put audiences in theaters.
The Advertising Was Barely There
In a year where big blockbusters such as Black Widow, The Eternals (another Angelina Jolie vehicle), Shang-Chi and the Legend of the Ten Rings, No Time To Die, and countless of blockbusters were set to come out, there was just no buzz for Those Who Wish Me Dead. Angelina Jolie has ten films that have cracked the $100 plus box office total, and the veteran's star hasn't faded yet, but the action-thriller wasn't given much advertisement for its summer release. As previously stated, this was not an original film. In fact, Those Who Wish Me Dead is a throwback to 90s-style action thrillers; however, The Conjuring is one of the top-grossing horror films of all time, and that movie is far from an original film. There's plenty of other movies that fail in the originality category but make bank at the box office. Audiences just weren't captivated by the premise and the bland advertising didn't do anything to sway viewers to purchasing a ticket.
The Lack of Star Power
Having a big cast of A-list talent doesn't always guarantee box office success, but more often than not, it helps. Jon Bernthal and Aidan Gillen are very talented actors and have some popularity thanks to their stints in The Punisher and Game of Thrones; however, they are not A-list movie stars. Neither man has helmed a successful film as the lead and for the movies that have reached $100 million-plus, Bernthal and Gillen supporting characters. This also rings true for Nicholas Hoult, who has starred in two popular franchises (X-Men and Mad Max) yet he was simply a supporting character for those and every film that has reached over the $100 million mark. Finn Little is a newcomer to the film world, and the child actor does an excellent job in his role as Connor, but he was never going to draw in audiences because he doesn't have a big fanbase yet. Angelina Jolie is the only A-list talent here, but the advertising campaign failed to truly get behind the veteran actress, thus her star power didn't add any interest to the film.
Those Who Wish Me Dead Feels Better Suited For Streaming
Those Who Wish Me Dead is a great-looking film (though the fire effects look a little wonky at the end); however, it never felt "must-see" in theaters. Shang-Chi, No Time To Die, F9, or Black Widow feel like event movies that demand the theater experience. Those Who Wish Me Dead would've been better suited in the fall season. Don't get wrong, this is not an Oscar-worthy piece, but it would've felt more comfortable with the films that tend to be Oscar bait. This doesn't mean that the film's box office total would've been better. Hell, the returns could've actually been worse, but Those Who Wish Me Dead just doesn't feel like a summer blockbuster. Again, this is NOT a bad movie, nor should it be compared to a cheap and disposable affair that often plagues Netflix, but going in the direction of The Tomorrow War or Tom Clancy's No Remorse would've probably been a better option for the Angelina Jolie vehicle.