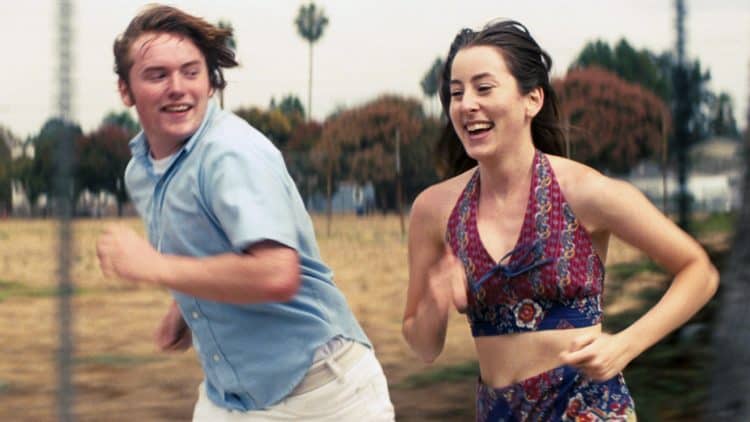 From books to movies, titles are one of the most important parts of every story. Typically, a title gives people an idea of what a story is about without revealing too many details. At the same time, however, there are also titles that won't make sense to people until after they've watched or read the story. That's the case for the 2021 movie, Licorice Pizza. By just looking at the title, you might assume that the movie has something to do with pizza and/or licorice. In reality, though, that isn't the case. In fact, the meaning of the title is something that most people would probably never be able to guess. Keep reading to learn more about the story behind the title Licorice Pizza.
What Is Licorice Pizza About?
Released in November of 2021, Licorice Pizza is an interesting coming-of-age story set in the 1970s. The movie is about a teenage boy named Gary Valentine (Cooper Hoffman) who falls for Alana Kane (Alana Haim), an older woman that he met during picture day at his school. He decides to ask her out, and despite being 10 years older than him, she agrees to meet him for dinner. From then on, their relationship takes on a life of its own. The two take a trip to New York City where Gary gets an opportunity in the entertainment industry. Gary eventually starts his own waterbed company and he hires Alana to work for him, the two end up in California, and their wild ride continues.
Where Did The Title Come From?
Now that you've seen a little about what the movie is about, you're probably really wondering what on earth the title has to do with anything. When the movie was initially announced, several sources claimed that the title was going to be Soggy Bottoms. It was later explained, however, that Soggy Bottoms was actually the name of the production company that director Paul Thomas Anderson created to make the film. However, when it was revealed that the movie was going to be called Licorice Pizza, people were equally as confused. So, where did the title come from? Apparently, the movie was named after a chain of now-defunct record stores that were based in the Los Angeles area. But still, what do those record stores have to do with the movie?
When Paul Anderson was asked why he chose the title, he told the L.A. Times, "If there's two words that make me kind of have a Pavlovian response and memory of being a child and running around, it's 'licorice' and 'pizza'. It instantly takes me back to that time. And it's somewhere between that and just absolutely giving up the search for something that makes sense. It's a hard film to title." He went on to say, "We called it 'Alana and Gary' for the longest time, but I thought I'd had my fill of two given names for titles. I'm happy with it now. It feels good. You think of titles like 'American Graffiti.' 'Fast Times.' 'Licorice Pizza.' Good. All right, let's stick with that company. Those are films that I thought about so much when I was making it". Even though most would agree that the title is a little weird, it definitely does a good job of making people more interested in the movie.
What Reviewers Are Saying About Licorice Pizza
If there's one thing we all know about the entertainment industry, it's that commercial success isn't always easy to come by. Sometimes the most critically acclaimed projects don't make much money, and that seems to be the case for Licorice Pizza. The movie was a big flop at the box office, but it has gotten lots of positive reviews. The movie currently has a 92% rating on Rotten Tomatoes. Many reviewers found the movie to be fun and refreshing and a solid project to close out the end of 2021. Despite the great reviews, however, there have also been some harsh criticisms of the movie. For starters, some people think the movie blurs the lines on the subject of a relationship between a minor and an adult. On top of that, others feel that the movie took a very tone-def approach when it comes to the subject of race. In fact, The Media Action Network for Asian Americans has even asked people to boycott the movie due to casual racism. Anderson, however, has opposed the criticism and believes that his choices made sense for the time period the movie was set in.
Tell us what's wrong with this post? How could we improve it? :)
Let us improve this post!