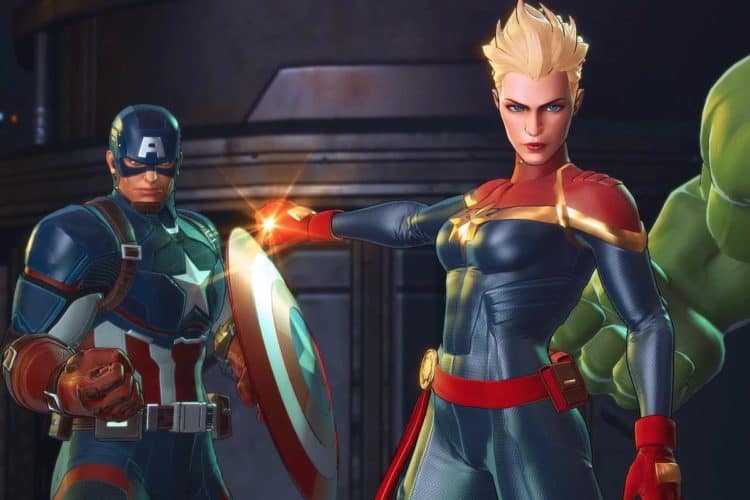 If you're a fan of Marvel and video games, you need to check out the Marvel: Ultimate Alliance video games. I remember playing the first one back in 2006 and got immediately hooked. As a big Marvel nut, what wasn't there to like? I had the chance to play as multiple Marvel heroes and fight many Marvel supervillains at any time.
As I played the first game, I thought to myself, "How about a Marvel: Ultimate Alliance movie?". At the time, I was very young and very naive, so the idea of a super large gathering of superheroes was just a fanboy's dream. I always stuck to that dream, because I still really want to see that become a reality.
The closest we ever got to that was Avengers: Endgame. Now I'll just say, that movie is beyond awesome. However, I still very much would've like to of seen all the characters interact with each other. It was the ending story for the original Avengers and the newer heroes were dusted. By the time they were brought back, they got the chance to fight with the original Avengers, but they didn't have much time to really interact. That was probably my biggest gripe with the movie, but everything else was phenomenal, so I was willing to forgive that.
We should also take into consideration the difference between Marvel: Ultimate Alliance and the Avengers movies. The obvious one is that one is a video game and one is a movie. When it comes to movies, you have a time window you have to meet, so there isn't an excessive amount of time to let every character talk a lot. Video games, on the other hand, are a totally different story.
When Marvel: Ultimate Alliance came out, it certainly lived up to its name. Nearly every big Marvel superhero could go on missions together and even have conversations in-between. Some were friendly, others were contentious, but the fun of it was just seeing them all interact. Ultimately (no pun intended), Marvel: Ultimate Alliance was the closest thing we ever got to a large team-up with the biggest Marvel superheroes.
Let's talk about the sequel, Marvel: Ultimate Alliance 2. The sequel was a tad less ambitious than the first one, but it still lived up to the name. Some of the biggest Marvel superheroes once again got together and fought supervillains. The difference that it made was including some lesser-known heroes and even allowing you to play as some supervillains. This included Songbird, Green Goblin, Venom, and Magneto. It was a very fun change of pace and showed us that the games were keeping up with the comics. If there are new characters being added to the comics, they should be used in all forms of media.
The coolest thing about Marvel: Ultimate Alliance 2 is that it adapted the famous Civil War storyline. Civil War is one of my favorite Marvel storylines and being able to play it out in a video game really stoked by fanboyism. They made it different, allowed you to play as many different Marvel characters and added the fusion element. For those you didn't play the game, fusion was when two characters could merge their powers together to create one, powerful attack. Boy, the memories.
And then there was a third entry, precisely ten years after the release of the second game. It's called Marvel Ultimate Alliance 3: The Black Order. Unfortunately, this is the only one I haven't played because I don't own a Nintendo Switch. That makes me sad and also not, because I still don't intend on owning an Nintendo Switch, but I still want a third Marvel: Ultimate Alliance game that I can actually play.
Based on what I read about The Black Order, I didn't miss much. The reviews that I read described it as a fun game, but also claimed that it didn't change much from the previous games. For a third game that we had to wait ten years for, doesn't that seem like a bit of a waste? I also read that The Black Order took place in a separate universe from the first two games. If that's the case, then we can still get another Marvel: Ultimate Alliance game that's available on consoles. That way, I can actually play the flipping game.
It seems now that the video games are following the Marvel Cinematic Universe. I'm not saying that that's a bad thing, but it has become a pattern. Heck, even the lego games are taking the designs of the MCU characters and using them for their lego Marvel characters. The Black Order added Kamala Khan, aka Ms. Marvel, a fairly recent addition to Marvel comics. Heck, it even made the Guardians of the Galaxy playable. Other new playable characters included Wasp, Scarlet Witch, and Crystal, a member of the Royal Inhuman Family.
What's cool about it is that the series is keeping up with the comics and the recent events of the MCU. The Black Order got its inspiration from Avengers: Infinity War and Avengers: Endgame, putting Thanos and his minions in the spotlight. That's all cool and all, but the point is, I think the Ultimate Alliance franchise can go even bigger. And again, please give us console-players a game on the newest consoles. We've been patient and we deserve a new game with improved graphics. Not everyone has an Nintendo Switch.
So what can the Marvel: Ultimate Alliance games do next? Well, with the newest consoles just starting to thrive, I don't expect a fourth game to arrive any time soon. When it does, however, I'd wager it'll reflect the events of the MCU. As of now, we don't know what the next big MCU event will be, but we know the next phase is adding some new characters. From the Eternals, to Shang-Chi, the roster of Marvel heroes is growing in the MCU. For the next Marvel: Ultimate Alliance game, that only means more playable characters.
It can even take playable and non-playable characters from the last two games and give them more prominent roles in the next. For instance, Moon Knight was playable in the first game, but didn't have a part in the story. Likewise, She-Hulk was a side boss in the second game, but non-playable. The next game can not only make them playable, but give them prominent roles in the game's story. We've had games where we're used to the main Avengers, so now it's time to give us a new team.
Who else wants another Marvel: Ultimate Alliance game? For those who were disappointed with The Black Order, we may have to be patient for a little while longer for an official sequel. If it's good and for the new consoles, it will be worth it.