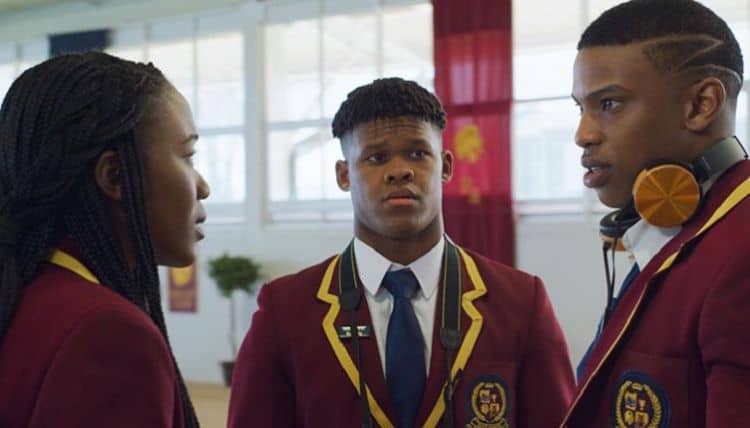 If you like streaming series from Netflix, you must have caught an episode of "Blood & Water." The show is set in South Africa and is the second original series on Netflix after "Queen Sono." Although some of the cast are actors we have grown accustomed to, such as Gail Mabalane and Khosi Ngema, others like Dillon Windvogel are not as popular. Since he is yet to give any interviews, we had to dig a little deeper to find out more about him, and here is what we know so far.
1. Who represents him?
In November 2017, Dillon's talent management agency, I Artist Management, could not hide their pride in representing the actor who had just landed a role in the second season of "Sara Se Geheim." The agency clarified Dillon booked that specific role through them, and with the direction his career was going, the actor was in for more roles. I Artist Management also wished him a blessed future, saying that we should watch that space, which is an indication that they wanted to continue representing him.
2. "Blood & Water" is his first Netflix original series
Dillon is not new to television series having landed roles in "Arendsvlei," a family drama also about teenagers. He also is known for being in "Bhai's Cafe." However, as much as these productions have helped give him a place in the acting world, being on "Blood & Water" will catapult him to fame. It is the second African original show to be on the streaming service, and so far, according to Forbes, it has climbed to the Top 10 chart across many countries.
3. His biggest role
An actor can be involved in theater, film, and television, but only one role will make him famous. Take, for instance, Matt LeBlanc best known for playing Joey on "Friends." Unlike his other co-stars who moved on to make a name for themselves in other shows, Matt was stuck in that character and even reprised his Joey character in "Joey," but it did not cut if for fans. On the other hand, Dillon, despite being in other shows and movies, playing Wade in "Blood & Water" is what has made him famous. In the series, Wade is the headmistress's son and has a crush on the main character, Puleng. We can only hope that his star does not stop shining with the role.
4. He went to Belhar High School
Dillon's profile describes him as both an actor and a dancer, skills that he honed while staying at Belhar High School. In a post made by the dance department, Dillon was said to be a drama and dance learner, so it is no wonder that he got to be in "DanZ." The school offers dance and drama as a subject, and Dillon had shown potential to be an actor; hence his teachers pushed him in the right direction. The actor graduated in 2017, joining the list of other famous alumni such as Kim Engelbrecht, who stars in "The Flash."
5. He made his debut when he was in grade 12
According to Find Local, he made his debut when he was a student at Belhar High School in his 12th grade. The school's dance department announced that Dillon had a leading role in "DanZ," which would serve as his TV debut. The show was produced by Gambit Films and was set in Cape Town in the Cape Flats.
6. He found television acting to be different from theater
Transitioning from theater to television can be difficult for some actors since, like Dillon said, everything is captured on camera, even the slightest movement. Therefore, he found it very different from the training he had received from drama classes. Still, other performers feel that theater gives them more pressure to get it right since they are performing in front of an audience, and they have to be ready to improvise.
7. How he got to be on "DanZ."
While in Belhar High School, Dillon was a young performer known to be destined for greatness, even the school's art department head, Faisa Jaftha, knew the actor had the potential, and all he needed was the platform to showcase his talents. Therefore when Dillon was in grade 10, he was asked to audition for the role of Ashwin, which he booked.
8. Everyone knew he would be a star
There is that person people look at, and they know he will be famous while others are told they will never amount to anything. Ronan Keating, for instance, was told he could not sing, and even the producer of Boyzone wanted the band to dump him, but Ronan decided to prove them wrong. On the other hand, Dillon was the kind people knew his star would shine brighter with each passing day. Paxton Fielies, an Idols' contestant, sent Dillon to work with a prominent director, Ephraim Gordon, based in Cape Town. At the time, Dillon was in ninth grade, and when he was in grade 11, he had already shown what he was capable of, and Paxton was satisfied that he fulfilled his potential.
9. He auditioned for "Noem My Skollie."
Before making his acting debut in "DanZ," Dillon had tried his luck by auditioning for a role in "Noem My Skollie" in 2016, but he was not successful. The film is about four friends that form a gang, and the main character ends up in prison, but his storytelling skills help him overcome the harsh life of imprisonment. The film served as the debut feature movie for Daryne Joshua, a filmmaker in South Africa. During the 89th Academy Awards, it was nominated for the best foreign-language feature film.
10. He is a private person
Dillon does not like to overshare, and his social media is only for letting us know about his professional work. There are no details about his family, his dating life, or even his social life. It is hard even to know what he does besides filming because, on his Instagram page, all we see are posts reminding us of his past work and a few posters of his current series "Blood & Water."
Tell us what's wrong with this post? How could we improve it? :)
Let us improve this post!