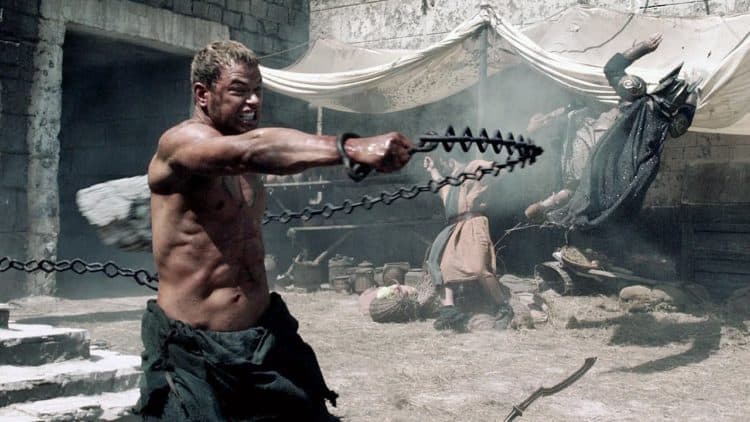 2014 was an interesting year for the Hercules brand. Two films came out surrounding the well-known hero, one of them featured Dwayne Johnson and grossed over $200 million worldwide. However, the first one to come out was a January picture, The Legend of Hercules, with Twilight alum Kellan Lutz. It follows the title character, who's exiled by his father after the discovery of forbidden love. Hercules is sold into slavery and the strongman endures plenty of battles and death matches to fight his way out of his new kingdom. Not surprisingly, The Legend of Hercules was met with terrible reviews and currently dawns an abysmal 5% score on rotten tomatoes. However, the film failed to recoup back its $70 million price tag; Opening the weekend with less than $10 million and finished off its run with $61.30 million. So, what happened? Hercules is a notable intellectual property by mainstream audiences; thus, the buzz should've been higher for the Kellan Lutz vehicle. Let's dive deeper into the possible reasoning behind the financial failure of The Legend of Hercules.
Kellan Lutz's Shot at Dwayne Johnson dismayed some fans
Dwayne Johnson is one of the biggest stars in the world. However, one of the biggest rumors surrounding the former professional wrestler is whether he's on steroids. Johnson has admitted to using metabolic stimulation previously, but only during his time playing football for the Miami Hurricanes, "I tried it. Me and my buddies tried it back in the day when I was 18 and 19. Didn't know what we were doing." However, Johnson has stated that he's remained clean since his days in the sport, but that didn't stop Lutz from taking a shot at the wrestler-turned-actor. Lutz to E! News, "I wanted to get big, but then you have The Rock playing in the other Hercules. There's not enough 'extra-curricular' stuff for that." Other than the fact that Johnson had a Hercules movie coming out later in the year, the shot at the popular actor was unwarranted. Johnson wisely ignored Lutz's jab, but that didn't go unnoticed by most of his fans who were dismayed by the comment. While I don't believe it's the ultimate reason that The Legend of Hercules bombed, Lutz was a C-list actor who tried to defame Johnson's name in order to promote his film. Until Johnson comes clean about using drug enhancements to stay in shape, these rumors are nothing more than that, plain and simple. The comments were classless and given his A-list status, it did more to hurt Lutz than help in the long run.
The Trailer Wasn't Anything Special
Trailers can often be misleading. While a good movie can't be made from a bad script, a great trailer can be cut from a bad movie. In the case of The Legend of Hercules, it's passable, but the bland trailer that mainly focuses on two things: 1) the hotness of Kellan Lutz and 2) the action of Hercules. Notice that we don't get many talking scenes that showcases Lutz's acting ability. Lutz has built his career based on his beefcake status, so the showcase of the actor's body is not surprising, but it's also confusing. The Legend of Hercules is a film catered towards MEN. The Legend of Hercules is essentially Gladiator lite. To compare to another film that's similar, Zack Synder's 300, notice the difference in the way the trailer is presented. Despite they're being shirtless guys everywhere, the focus is never on Gerard Butler's sex appeal because 300 understands its target audience. The action takes center stage, along with the cool visuals, and violence. This is also the exact method of Johnson's Hercules. The trailer for The Legend of Hercules feels like a forbidden and steamy love story featuring a model cosplaying as Hercules and a bunch of other models poses as warriors. Everything looks too clean and neat. And the action? There's no style and it seems pedestrian at best. Since the aim of demographic was confusing and the action sequences seemed lackluster, most men just didn't care to shell out money for this feature. Since this film didn't appeal to women outright, they likely opted to stay away and just checked google for the shirtless pics of Lutz.
Kellan Lutz Isn't A Star
It's rare that one movie skyrockets a celebrity into A-list fame. One of the recent examples is Tom Holland, who shot up quickly following his turn in Spider-Man. For some actors, it's takes time and others manage to capture lightning in a bottle and strike it hot from the beginning. Lutz is mostly known for his role in Twilight as Emmett Cullen, but even then, he wasn't the main attraction. Lutz was still new to the acting world, but his resume was mostly filled with stinkers. He has yet to truly connect with the mainstream audience thus the studio banking on his buzz from Twilight was a failure from the beginning. It's not unheard of that a film featuring a cast of unknowns does well at the box office; however, when you add in the poor critical reception and the lack of general excitement overall, then it's highly doubtful that The Legend of Hercules was going to be a smash hit.