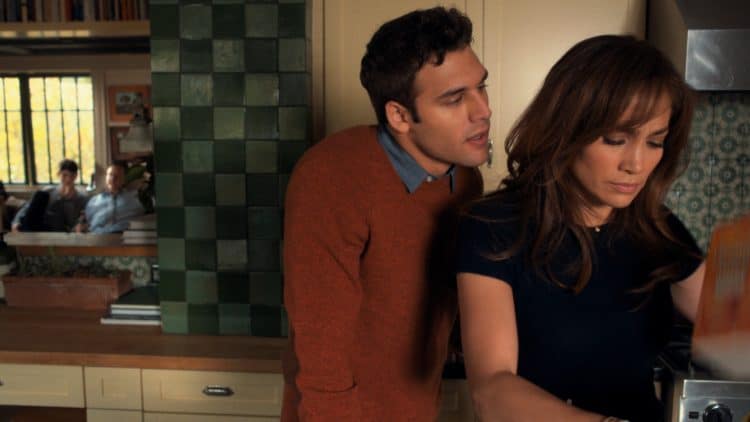 In the tradition of yearly Fatal Attraction knockoff came The Boy Next Door, a Jennifer Lopez feature that sees her play Claire Peterson, a high school teacher who eventually gets involved with a teenager named Noah, who just so happens to move in next door. Of course, there's flirting, and they do the devil's tango, she realizes what she did was wrong, and he goes crazy. You know how these Fatal Attraction knockoffs work. Not surprisingly, the film was trashed by critics, garnering an abysmal 12% on rotten tomatoes, but that doesn't always guarantee failure at the box office. Still, with the movie being a cheap $4 million, it's hard for this Jennifer Lopez picture to falter at the box office. Luckily, it didn't, as The Boy Next Door made $52.40 million worldwide. So, why is this considered a box office bomb? Because the feature was a critical misfire that continued the bad movie streak of Jennifer Lopez. The film also failed to advance the career of Ryan Guzman, who was criticized for his performance in the movie. Let's take a deeper dive into the misfire known as The Boy Next Door:
Jennifer Lopez Wasn't Seen As A Talented Actress
Selena was a star-making performance for Jennifer Lopez. The singer/actress had some solid roles prior to the bio-pic, but Selena was the first where Lopez got to truly showcase her range and charisma as the leading lady, and she surpassed expectations. Lopez did a couple of features that were favorable following Selena; however, after Cell, the quality of her roles diminished greatly. By the time Gigli rolled around in 2003, Lopez was in six movies that garnered negative reviews and the goodwill that Lopez built up along the way was slowly disappearing. Not surprisingly, Gigli didn't help. In fact, that huge flop only pushed her back further. Lopez had been in ten badly reviewed films following Gigli, and while some of those critically panned movies did solid business at the box office, her reputation was taking a hit. All it takes is just one role to ruin an actor's career. Jamie Kennedy was destroyed after his role in the Son of the Mask. Mike Myers hasn't gotten a leading role since The Love Guru. Alicia Silverstone failed to reach the heights she achieved in Clueless after doing Batman & Robin. Elizabeth Berkley's meteoritic rise came to a crashing halt because of Showgirls. There was no doubt that Lopez was getting working as an actress, but the quality of her films had a good portion of fans shunning her talent. Lopez needed a good film, not another paycheck gig. The Boy Next Door was a poorly executed feature that failed to do anything, fun, or exciting with it's premise. The film was stuffed in the January time slot because studios didn't have much faith in the feature. The Boy Next Door may have not killed her career, but her roles notably slowed down until Hustlers finally came along.
It Was A Fatal Attraction Knockoff
Clint Eastwood's American Sniper pulled an historic January win as the Oscar nominated feature made $105 million during its opening weekend. The following weekend – which is when The Boy Next Door premiered – saw the Bradley Cooper vehicle continue to clean up at the box office by amassing a huge sum of $64 million, stealing away any thunder that The Boy Next Door could've had. Now, the demographic for the erotic thriller is different than American Sniper, so the people that paid to see the 2015 feature likely had no plans to see that movie in the first place; however, American Sniper was the hot topic around the world at the time and its multiple Oscar nominations helped propel the film to the top. At the end of the day, The Boy Next Door was not an attractive feature to most audiences because we're seen this type of movie before. Hell, we've even seen the gender swapped version as well, with the most notable being Mark Wahlberg's Fear. It's by no means a perfect film, but it's sure better than The Boy Next Door. It also didn't help that a quality film was leading the charge in theaters. The marketing campaign did everything they could to counterpoint American Sniper, and to the film's credit, Blumhouse did make over double it's production, but it slowed down both Jennifer Lopez's and Ryan Guzman's career as their performances were not praised in the awful movie. Thankfully, Lopez's film career was saved by Hustlers, and Guzman is slowly recovering thanks to being in Everybody Wants Some!! and The Cleansing Hour.
Tell us what's wrong with this post? How could we improve it? :)
Let us improve this post!