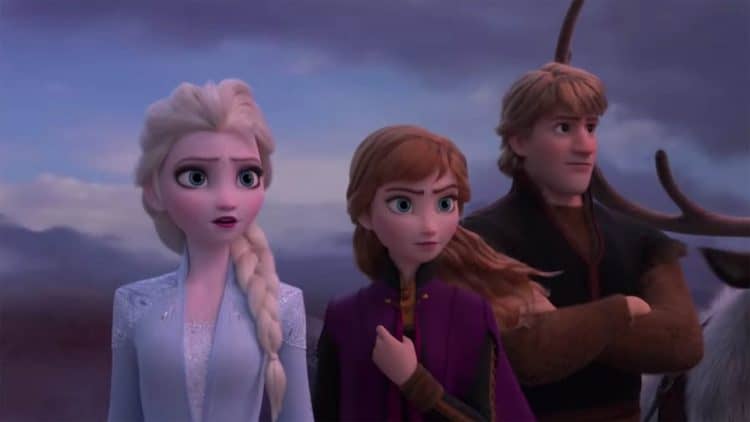 Movie sequels usually tend to fall pretty short of the original despite trying to rise above or even equal them in terms of story and overall impact, but according to Ryan Scott of MovieWeb it's almost sounding as though Frozen 2 might be meeting that mark and possibly exceeding it. Early screenings have indicated that the sequel is already looking as though it might be able to stand up to the popularity of the original and could even be just as successful in the long run. Simply looking at the trailer seems to give a good deal of hope since the act of moving beyond Arendelle is great enough that it signifies a forward shift that can help by developing the characters in a different light and taking them off on a different direction that doesn't have them doing the same exact things and thereby creating the same movie as the first one. The idea that there will be more singing, more action, and more depth to the story is also great since it indicates that Disney might actually be stepping out of the habit of using a known template for each and every story it pushes. True, there might be precedent for the story to come and it might be recognized as a theme that's been used in the past, but it will be a new experience to those within the movie so it might be nice to see how they will be made to react.
The main characters, Elsa, Anna, Kristoff, Olaf, and Sven will be returning of course, but they'll be joined by several new characters that people will hopefully find new and energetic in their own ways. Thus far from the trailers it would seem as though Arendelle is under a dire threat after Elsa and her companions travel north to a kingdom that was at one time at odds with Arendelle and might have some answers as to how Elsa gained her powers, and possibly do some more world-building that will help to round out the region in which the characters live. It'd be nice to see more of Kristoff's past and perhaps glean what we can of his beginnings, but that doesn't seem to be a priority at this point and it's not hard to think that this is a good thing since while he is a big part of the story his origin seems to have been established as much as it needs to in order to make him an interesting character. As for Elsa however it will be intriguing to learn just where her powers came from and why her sister didn't seem to gain such a benefit.
Frozen became an instant hit when it was released and the songs are still being heard today, just as the characters are still being idolized and selling toys, outfits, and many other forms of merchandise. If Frozen 2 is just as big of a hit you can imagine all the merchandise that's in the stores at the moment will be sticking around for a while and will be dubbed a Christmas favorite for many a child and even many adults. This is a movie that has thus far been universally liked by a great many people since it speaks to people in various ways that is easy to understand and even easier to accept. What might not have been acceptable however is the fact that many people were calling for Elsa to be given a female companion for this movie. In fact many still are if there's ever an idea for Frozen 3. You don't have to imagine the uproar that's taken place with those that have sought to keep the Disney movie as it is without having to push an agenda, especially as other movies have already done this or are in the process of doing it. Elsa having a girlfriend seems to make a great deal of sense to a lot of people, but leaving the movie as is makes sense to just as many if not more. Samantha Allen of The Daily Beast has her own opinion on this matter.
There's a good idea that had this idea flourished that the reception of the movie might not have been quite as anticipated by so many, even if it would have been seen to be just as popular among those that happen to think it's a good idea. Like it or not though, Frozen 2 is nearly here and there seem to be bigger concerns than who Elsa will become romantic with since the idea of Elementals and various spirits causing trouble could keep the companions busy enough without having to worry about any romantic entanglements. Thus far looking at the trailer it's become quite obvious that Arendelle will be in some serious trouble once Elsa and her group cross the barrier dividing the kingdoms, and what comes after will decide the fate of both in short order.