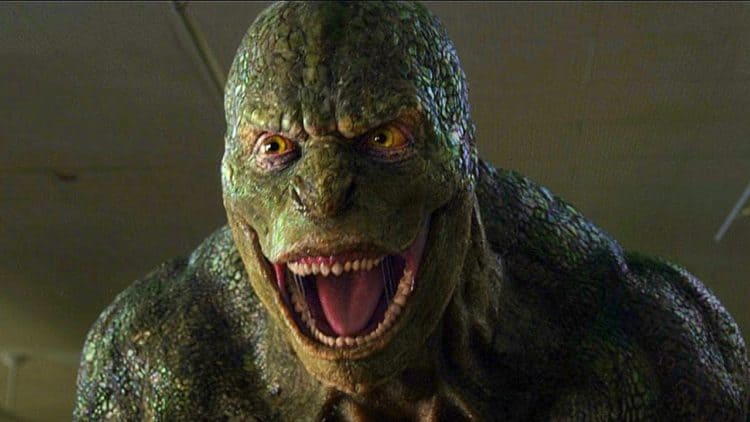 It feels like a lifetime ago since Sam Raimi has directed something big. What was his career like after he ended his time with the Spider-Man trilogy? All I remember watching from him after the post-Spider-Man years was Drag Me to Hell back in 2009. Four years later, he helmed the fantasy movie, Oz the Great and Powerful, which I never watched. By the way, does anyone remember when Blizzard Entertainment announced that Sam Raimi was going to direct the Warcraft movie? We all know that never happened and that's probably a good thing. Although, I would've liked to have seen his take on Warcraft. I can't imagine what it would've been like, but that's another what could have been scenario. You know, like Spider-Man 4. Boy, I still remember when that was announced for the summer of 2011. Much like the rest of the disappointed Spider-Man fans, I was just itching for a serious comeback for Sam Raimi's trilogy. But sadly, a trilogy is all what it was destined to be. No Spider-Man 4 and no Spider-Man 5, which is another thing Sam Raimi wanted to do.
I can tell how baldy he wanted to find redemption after Spider-Man 3 and the story he had in mind for the fourth movie was intriguing. John Malkovich as the Vulture? Anne Hathaway as Felicia Hardy, but she actually plays the daughter of Adrian Toomes? Oh, and the multiple characters Bruce Campbell played from the Spider-Man trilogy, guess what? They were all the same character and that character was Quentin Beck. Yes, all that time, he was supposed to be Mysterio. He was meant to be a bit of a joke villain, but you can't argue how fitting that is. We can all tell that Sam Raimi gets these characters. And if you're still wondering about his version of Venom, don't blame him. It wasn't his choice to put the character in the third movie, but it's obvious he didn't care too much about his characterization. That was all thrown in with unambitious intentions and it hurt the quality of Spider-Man 3. This is old news to any big fan of the Sam Raimi Spider-Man trilogy, but you know what? Fortune favors the patient. We got to see Tobey Maguire's Spider-Man again in last year's Spider-Man: No Way Home and the nostalgia was overwhelmingly intoxicating.
But that's not the only character we saw from the Sam Raimi trilogy. There was Doctor Octopus, the Green Goblin, and the Lizard. But wait, that's not the same character from the Sam Raimi trilogy. The Doctor Curt Connors/the Lizard we saw in No Way Home was from The Amazing Spider-Man. Yeah, he was cool and all, aside from the fact that he wanted to turn everyone in New York into big lizards. But before Rhys Ifans played the part, Dylan Baker played Curt Connors in Spider-Man 2 and 3. He was a relatively minor supporting character, but every time he popped up, fans got excited. If Sam Raimi was going to keep showing us Curt Connors, then his transformation into the Lizard was inevitable. That's something Sam Raimi was interested in doing and Dylan Baker shared his interest. Now if Spider-Man 4 did happen and was successful, then I reckon Spider-Man 5 is where we would have seen his take on the Lizard. Heck, you can even Google the ideas he had in mind and you can see an image of the concept art he made up for the Lizard. It honestly looked cool and much scarier than what we got in The Amazing Spider-Man. It was honestly something I think would have made for a very cool conflict in another would-be Sam Raimi Spider-Man movie. And given that Sam Raimi is mostly known for directing horror movies, I think he would have given us a truly terrifying take on the reptilian villain.
If you've played the Spider-Man 3 video game, that might be the closest thing we'll ever get to seeing that take. The fact that Tobey Maguire was even voicing Spider-Man in the game makes it even more like watching Spider-Man 5. Hey, that's just a theory, but I do believe Sam Raimi was going to make Dylan Baker the Lizard if given the chance. But here's the thing, I now think he might get that chance. Why now? After seeing the success of the two Venom movies and the release of Morbius right around the corner, I think Sony is going to commit to giving us more solo villain movies. If they're going to build a universe worthy of competing with the Marvel Cinematic Universe, then they're going to have to take chances with some interesting characters. So get this, a solo movie for the Lizard directed by Sam Raimi. Oh, come on, just tell me that doesn't sounds interesting. Long before the man directed the Spider-Man trilogy, he made a name for himself directing the Evil Dead movies. And you know what else is coming up? His next big Marvel movie, Doctor Strange and the Multiverse of Madness. Based on the teaser trailer alone, we can tell he added in some of those horror elements he likes using. Given that the MCU is introducing more horror-themed characters, it's not surprising that Sam Raimi would take this route. If Doctor Strange 2 is going to instill some fear in us, then I'm willing to bet that he'll attempt another Marvel movie with a similar approach.
Best case scenario, Sony and Sam Raimi come to an agreement and he gets to do another movie for them. We can once again campaign for Spider-Man 4, but let's think outside the box here. Sony wants to keep expanding their universe, and they need more characters. As of now, I think Sam Raimi can give us the Lizard he once intended to give us. Could he bring back Dylan Baker and make it canon with his world? He can, but I think he has come up with several other ideas since then. If he's going to make this happen, then I reckon he'll try to make Curt Connors far more sympathetic than the Amazing Spider-Man version. This means having him persistently search for a cure and shows us how his affliction effects his wife and son. That was something that was cut from the Amazing Spider-Man and I'll never understand why. Sam Raimi can give us a Curt Connors we can sympathize with and actually root for. And I do think he can pull it off without adding Spider-Man into the mix. Sounds like a crazy idea, but people said the same thing about the Venom movie. Look how that turned out.