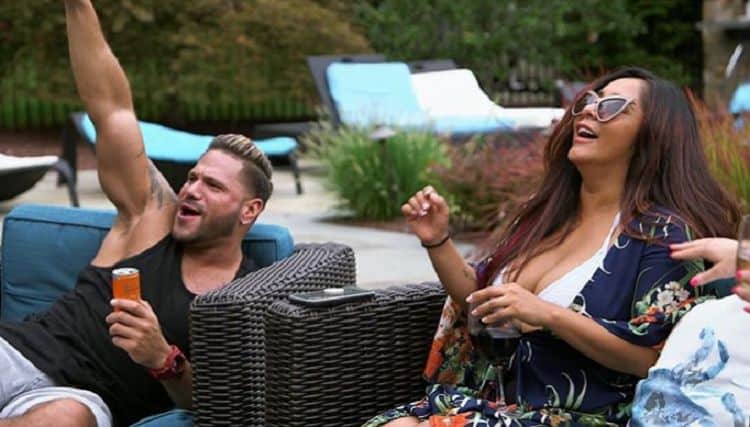 Everyone remembers when "Jersey Shore," became famous. It was back in the early 2000s when low-rise jeans and too much makeup and big hair were just beginning to go out of style (and could not get there fast enough). It was back in the days of gym, tan, laundry (or GTL), and everyone was hooked. No one went by a real name. Everyone had a nickname, and we still don't know if we could name anyone by their real name, but Ronnie Magro was one of the many young men who became famous thanks to the show. However, there have been some very ugly rumors as of late, and those rumors are all depicting the untimely death of Ronnie Magro. The good news for him – and his fans – is that the death rumors are all a hoax. He is alive and well, and we can tell you why people thought he passed.
It Started with a Photo
The simple fact of the matter is that the world thinks Ronnie Magro died because he posted a photo. It's a photo of himself. He posted it to his own account. He posted it of himself crying, and he linked it to an article about the divorce of a costar. That costar is Angeline Pivarnick. She is reportedly getting a divorce, and he clearly feels sad about this entire situation – or he is acting as if he feels sad about it.
The photo of himself crying is linked to this article but when you click on the link, it takes you to an article about celebrities who passed away in 2020. We should mention that the article lists Carrie Fisher – who actually died in 2016 – so it's clearly not the most accurate article on the planet. The article has nothing to do with him, but it has some people speculating that someone else posted the photo as a tribute to him on his account.
Essentially, no one actually takes any time to look into anything and they all jump to conclusions without any proof, any evidence, and any information. He is not dead. He is alive and well and it's all a rumor that stemmed right from a photo. It's a situation that everyone simply blew out of proportion.
He Does Have Big News
Being alive is not the only good news Ronnie Magro has in his life right now, though. He has some other big news that came to the attention of his fans recently. He's engaged to be married. He and his longtime girlfriend recently became engaged, and it does look as if his life is taking a happy turn. He took time when he was arrested and had some legal trouble to step back from the spotlight. Aside from the death rumors, he seems to be on the right track and getting his life back in order and together. He's doing well for himself, and it seems that we all agree that he is going to have a lot to celebrate in the near future.
His arrest came in April after someone called the police and accused the reality star of domestic violence. Many reported that he was involved in a situation with his ex and their daughter, but it's since been reported that neither of them were involved at all. No one knows what happened or how it went down, but both he and his new fiancé – Sapphire Matos – both made the announcement that the rumors going around are not true and things are not always to be believed.
What does this mean? Well, we don't know. What we know is that he and his fiancé got engaged after his arrest and domestic violence issue, and she seems happy enough with him to say yes when he proposed. Does this mean it was all a misunderstanding? Again, we won't speculate. However, we will point out that he was released on $100k bail, which tells us whatever happened must have been serious.
The Moral of the Story
The moral of the story is that Ronnie Magro is not dead. He is engaged, and he is not in a bad place with his girlfriend/fiancé after his arrest. It seems that many things are looking up for him as a result, and that is a good thing. It's our sincere hope that he focuses on the positive and manages to work through whatever issues he's been dealing with. That said, we wish the happy couple a long and lovely life together after their engagement.