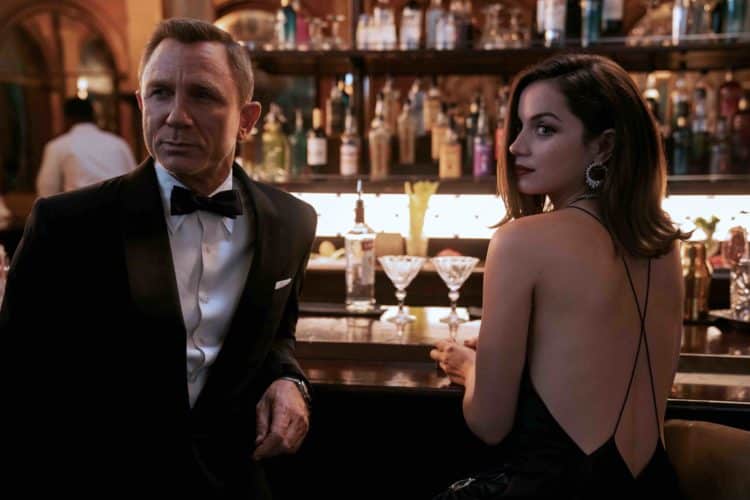 Originally set to be released in April 2020, Daniel Craig's final film as James Bond, No Time To Die, was released to high critical praise. Many deemed this film a step up from Spectre and thought it was a fitting end for Daniel Craig's era of the popular character. Industry projections had the film opening at $60 to 70 million, with some outlets even going so far to say a record opening weekend of $100 million. Reportedly, No Time To Die's production cost was somewhere between $250 to $300 million, thus the film needs at least $600 million to break even. No Time To Die seemed on track with a record opening thanks to the success of its international box office.
However, No Time To Die only managed to make nearly $56 million during its first weekend. While this total would've been incredible for Free Guy or even The Suicide Squad, given that this Bond film needs nearly $600 million to break even, that low $56 million number just doesn't cut it. Granted, Bond has made over $300 million thus far, but most of that total comes overseas. So, what happened? There was a ton of hype going into this film, yet this is the third-best opening for the Daniel Craig era of James Bond. Obviously, the pandemic still plays a factor into the box office situation. However, let's dive deep into the other reasoning behind No Time To Die's disappointing numbers.
Most Fans Weren't Happy About The Feminist Touch In No Time To Die
The James Bond series is for men. Just like the 50 Shades Trilogy and Twilight is for women. James Bond is essentially the type of guy that every man wants to be. Cool, suave, a badass who's great with the ladies. Times have changed; The bond girls were sidepieces for Bond; however, No Time To Die promoted a couple of prominent female characters, namely Lashana Lynch's Nomi (or 007). Now, the creators of the franchise have made it clear that James Bond MUST be played by a man; however, they never stated that they wouldn't open up the world with more female inclusion.
The women in the new James Bond flick are fun additions to the franchise, but there's no denying that James Bond isn't the slick Romero character that's he's been in film's past. James Bond has been given a feminist spin of some sorts, and while there's no issue with updating the source material as long as the core character of James Bond remains intact, many fans were likely unhappy with the film going "woke". As I previously stated, this franchise is for men, and there's nothing wrong with that. The James Bond series has a targeted audience, just like the female-centric films I mentioned above. The series has to be careful on the way they craft the world of James Bond going forward. While yes, it's important that the world of James Bond should be relevant in today's society, they shouldn't focus on the main audience that this series speaks to.
Fans Were Less Encouraged By Daniel Craig's Return
As great as Daniel Craig has been in the role, the actor has not masked his true feelings on playing James Bond. This was his response in an interview with Time Out about potentially reprising his James Bond role after Spectre: "It's a drag," Craig said. "The best acting is when you're not concerned about the surface. And Bond is the opposite of that. You have to be bothered about how you're looking…But as an actor I don't want to give a f – about what I look like!" This was his response about potentially reprising his James Bond role after Spectre: "I'd rather break this glass and slash my wrists. No, not at the moment. Not at all. That's fine. I'm over it at the moment. We're done. All I want to do is move on. If I did another Bond movie, it would only be for the money."
This likely soured many fans to No Time To Die. We've seen time and time again actors clearly playing a role just for the paycheck, which often results in a bland or terrible performance. Craig certainly gives it his all and his performance in No Time To Die was strong, but the main star damaging his own brand can make people steer clear of said film. Unfortunately, there's no proof on how much damage Craig's words did to No Time To Die; however, there's a guarantee that it surely didn't help.
Spectre Likely Killed Some of No Time To Die's Momentum
While Spectre is the worst reviewed James Bond film of the Daniel Craig era, that film was supposed to be the end of his era. James Bond pretty much drove off into the sunset with his new beau, thus most fans were likely satisfied with the franchise's original conclusion. On the opposite end, the other possible reason is that audience's enthusiasm probably dwindled because of how weak of an entry Spectre was. The fourth installment is by no means a bad movie, but just an average one, and it did effectively kill off the momentum that Skyfall brought in. At the end of the day, audiences probably had no interest in diving back into the James Bond world, even with all the high critical praise No Time To Die received.
Tell us what's wrong with this post? How could we improve it? :)
Let us improve this post!