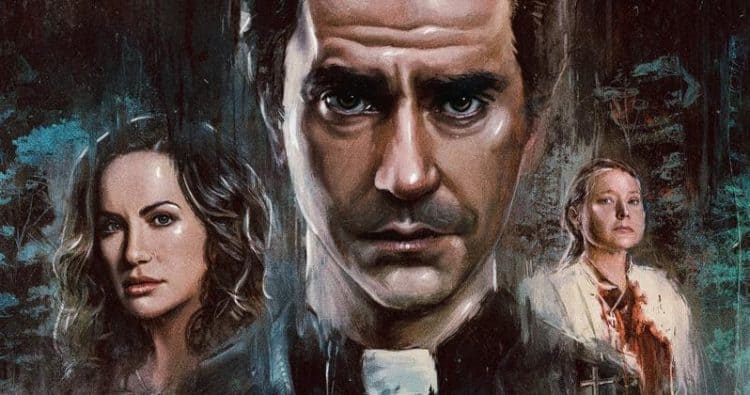 The horror movie genre might not be everyone's cup of tea, but there are still a lot of people who still love a good scare once in a while. The creepier the better. This might also be the reason why Halloween remains to be one of the most widely celebrated traditions in the United States. No matter what age group you belong to, it is still exciting to find the scariest costumes to dress up with. Brave viewers on the lookout for their next terrifying watch can tune in to Netflix's, Midnight Mass. Here are five reasons why the new supernatural horror miniseries is not for the faint of heart:
5. The show's creator is no stranger to horror stories.
The miniseries is created and directed by Mike Flanagan, who is the brains behind a number of horror flicks and television series. These include films like, Oculus, Hush, Before I Wake, Ouija: Origin of Evil, Gerald's Game, and Doctor Sleep, as well as hit series such as, The Haunting of Hill House and The Haunting of Bly Manor. It's evident that Flanagan has full command over the horror genre, as he continues to come up with original concepts and new stories to tell. Flanagan has also caught the attention of fans, critics, and even well-known personalities like multi-awarded director Quentin Tarantino and highly-acclaimed author Stephen King, through the years. He has shown innovativeness in his films and shows, by not giving in to the typical horror movie formula that usually involve chilling sound effects and jump scares. His is a slow burn that just gets better, and scarier through time.
4. An intriguing storyline that is equal parts of mysterious and frightening
Midnight Mass is set in a small island community called Crockett Island. It follows the return of a man named Riley Flynn, portrayed by Zach Gilford (Friday Night Lights), who has just spent a prison term of a tragic drunk driving incident. His return coincides with the arrival of a charismatic yet mysterious priest called Father Paul, portrayed by Hamish Linklater (The New Adventures of Old Christine). Seeking to find redemption for his sinful past, Riley crosses paths with Father Paul. The scenes from the trailer poses a lot of questions. Father Paul is believed to have miraculous healing powers, but also holds an air of mystery, as he is seen flashing a pair of red eyes in the trailer. Is he a possible wolf in sheep's clothing, who is about to wreak havoc on the small island? Flanagan is known to surprise his audiences with unexpected back stories and the most thrilling twists and turns. It would be interesting to see his new take on the miniseries, as he plays around with religion-centered storyline this time around.
3. Familiar cast members who you have probably seen in previous horror series.
The miniseries contains some actors, who have previously starred in other horror flicks. One of them is Flanagan's better half, Kate Siegel, who has also starred in a lot of his previous films, as well as The Haunting of Hill House and The Haunting of Bly Manor. Think of it as a matchmade in horror movie heaven. Apart from Zach Gilford and Hamish Linklater, some other talented actors to watch out for include Kristin Lehman (Motive), Samantha Sloyan (Grey's Anatomy), Igby Rigney (F9: The Fast Saga), Rahul Kohli (iZombie), Annarah Cymone (Caged), Annabeth Gish (The X-Files), Alexandra Essoe (Starry Eyes), Rahul Abburi (Kidnapped by a Classmate), Matt Biedel (Narcos: Mexico), Michael Trucco (Disjointed), Crystal Balint (Mech-X4), Louis Oliver (Sherlock), and Henry Thomas (11:14). Fans of Flanagan's previous works would be sure to easily spot a bunch of familiar faces.
2. The show's reviews and ratings can speak for itself.
Critics and audience members who have been exposed to the horror movie genre are not easy to please. They have already seen the best of the best, and are not easily impressed anymore. Luckily, Midnight Mass fared very well in the cutthroat approval ratings arena. Viewers appreciated the pacing of the storyline, and were glued to their screens until the credits rolled. This just goes to show that Flanagan has still got it. He is well aware of his viewers' expectations, and continue to exceed them with every new project.
1. A new chapter still awaits viewers.
Viewers who immensely enjoyed Midnight Mass are in for a treat. There is not stopping Flanagan and his team anytime soon, as he teams up once again with Netflix, and prepares for his next horror venture, called The Midnight Club. The upcoming series is an adaptation of the young adult novel by Christopher Pike of the same name. It follows a group of terminally ill patients living in a hospice, who meet midnight to share scary stories with one another, which leads to an internal pact that involves creepy promises about the afterlife. Just hearing the plotline alone is already enough to send goosebumps down one's spine. A number of actors who starred in Midnight Mass will also take on new characters in the upcoming series. Hold your horses and calm down those heartbeats, there are still lots of chilling moments in store.