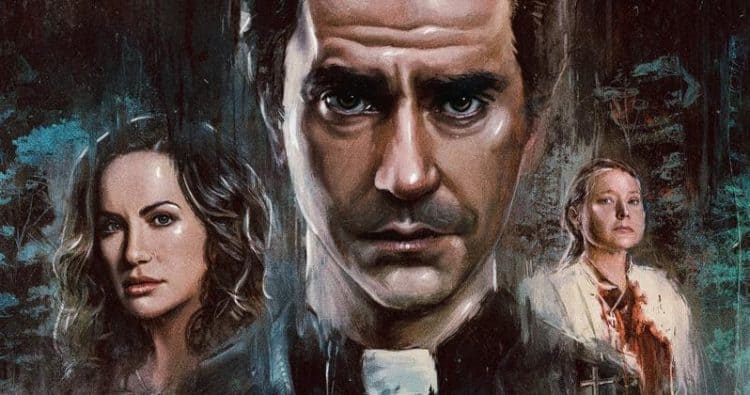 Anyone who has been watching Netflix for a while probably remembers the days when the phrase "Netflix original" almost always translated to low-budget and corny. However, those days are long gone and the streaming giant has been consistently releasing some pretty solid projects. Now, they're hoping to add another hit to the list with an upcoming TV series titled The Midnight Mass. The show stars Zach Gilford, best known for his role in the series Friday Night Lights, as well as Kate Siegel and Hamish Linklater. The series is set to premiere on September 24, 2021, and the trailer has already started to build a good amount of suspense. Keep reading to find out what we learned from the trailer for The Midnight Mass.
What Is The Midnight Mass About?
With Halloween just a little more than a month away, the end of September is usually the perfect time to release any kind of movie or show that taps into the spooky side. The Midnight Mass aims to bring the perfect mixture of horror and science-fiction. According to Netflix's official description of the series. The Midnight Mass is the story of "The arrival of a charismatic young priest" who "brings glorious miracles, ominous mysteries and renewed religious fervor to a dying town desperate to believe." While the people in the community are in awe of the priest's miracles, it quickly becomes clear that they may have to pay a serious price for them. For every good thing that happens, bad things start to happen as well and it appears that a dark energy is starting to take over the island. In the series, Zach Gilford plays a character named Riley who returns to the island after being ostracized by the community. At the moment, however, it's unclear what role his return plays in the plot.
Praise From Stephen King
When it comes to the horror genre, Stephen King is literally the king. Due to his celebrity status, he's already gotten to see a sneak peak of The Midnight Mass, and he had nothing but good things to say. In a tweet on September 14, Stephen King said, "MIDNIGHT MASS, on Netflix: Mike Flanagan has created a dense, beautifully photographed terror tale that climbs to a high pitch of horror by the 7th and last episode. I believe it starts in 10 days." When asked how he felt about King's positive review, Zach Gilford told E!, "I mean, if Stephen King talks about something you did, you're like, 'Wow, that's really cool!' It's just cool that he even watched it, and the fact that he enjoyed it enough to publicly say something positive about it". A co-sign from Stephen King could easily persuade countless people to check out the show.
What We Learned From The Trailer
In a little more than two minutes, the trailer for The Midnight Mass succeeds in painting an intriguing picture that will catch people's attention and make them want to learn more. When the trailer opens, we see Riley sitting on a boat and it quickly becomes clear that he's returning home. Although the person who greets him (presumably his mother) seems very happy to see him, stares from the townspeople make it clear that his return might not be a positive thing. Although the trailer doesn't go into detail, it's pretty clear that something happened there that caused Riley to leave. It's also clear that everyone in the town seems to be somewhat down on their luck and looking for some positive changes.
About 45 seconds into the trailer, we're introduced to the new local priest, Father Paul (Hamish Linklater), who tells the congregation there he is "only here to help". We then see clips of some of the good and bad things that have started to take place in the town since Father Paul's arrival. We get just enough information to know that something is off with Father Paul, but the trailer never reveals what. The lighting used to film the show also does a great job of setting the mood and giving viewers the constant impression that something is up. Although the trailer is extremely well put together. I must admit that it's a little bit confusing. That isn't necessarily a bad thing in this case, though. The confusion it causes is the kind that will probably entice you instead of turning you away. If you're a fan of horror and a Netflix subscriber, this is definitely something worth adding to your fall watchlist.