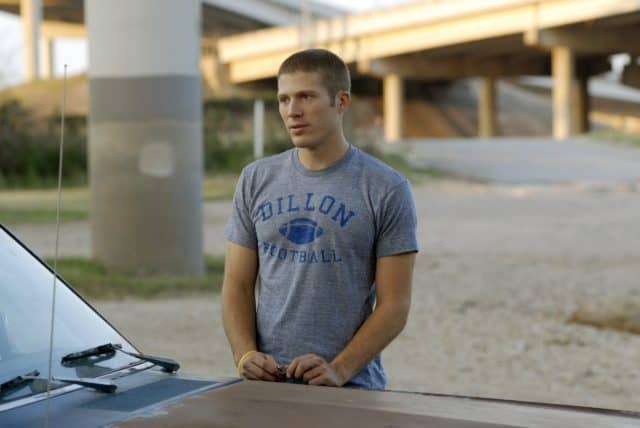 Zach Gilford has played a wide range of roles in a wide range of projects such as movies, TV shows, and on at least one occasion, a Taylor Swift music video. Most people will recognize him because of his role on Friday Night Lights, but in more recent times, people might have seen him on Kingdom, which was a TV show centered around an ex-MMA fighter who has chosen to train new contenders for the MMA ring.
Here are five things that you may or may not have known about Zach Gilford:
Grew Up in Evanston, IL
Gilford was born in the city of Evanston, which can be found in the state of Illinois. Said city is considered to be part of the North Shore, which is a collection of suburban communities that can be found on the shore of Lake Michigan. Primarily, the city of Evanston is famous for being the home of Northwestern University, which happens to be where Gilford studied theatre.
Best Known for Friday Night Lights
Even now, Gilford's best-known role remains a character named Matt Saracen on NBC's football drama Friday Night Lights, which started up in 2006 and continued running until 2011. Said character was a member of the main cast for the first three seasons, but in Season 4 and Season 5, he became a recurring character following some huge changes in his relationship with his family members as well as the rest of the people around him. Fortunately, the character managed to find happiness at the end of the TV show by reconciling with his ex-girlfriend who he had alienated through his thoughtlessness.
First Feature Film Was The Last Winter
At around the same time that his Friday Night Lights character became a recurring role, Gilford had his first role in a feature film, which happened to be in The Last Winter. Said movie was a thriller with horror elements, so much so that one movie reviewer even called it an example of "traditional Gothic horror." Regardless, The Last Winter is centered around the titular event, which is supposed to be a catastrophic occurrence with world-wide consequences caused by the constant search by humans for new sources of oil to exploit.
Starred in Devil's Due
Speaking of horror movies, Gilford played the starring role in Devil's Due, which is a psychological horror that received something of a mixed response because of it being centered around the birth of the Antichrist. On the one hand, some of its viewers found it to be rather derivative; on the other hand, others thought that some of its filmmaking choices were clever enough to make the whole thing worthwhile. For what it is worth, Devil's Due is a psychological horror because it is supposed to focus on the reaction of Gilford's character as he watches his spouse degenerate from supernatural causes without being able to do anything about it beyond continuing to offer his support.
Met Spouse on The Matadors
In 2010, Gilford met Kiele Sanchez while shooting a pilot called The Matadors. This led to a relationship, which soon resulted in an engagement in November of 2011 and then a marriage in December of 2012. Since that time, it is interesting to note that the couple have co-starred in The Purge: Anarchy, which is as its name suggests, a follow-up to The Purge.
Save
Tell us what's wrong with this post? How could we improve it? :)
Let us improve this post!