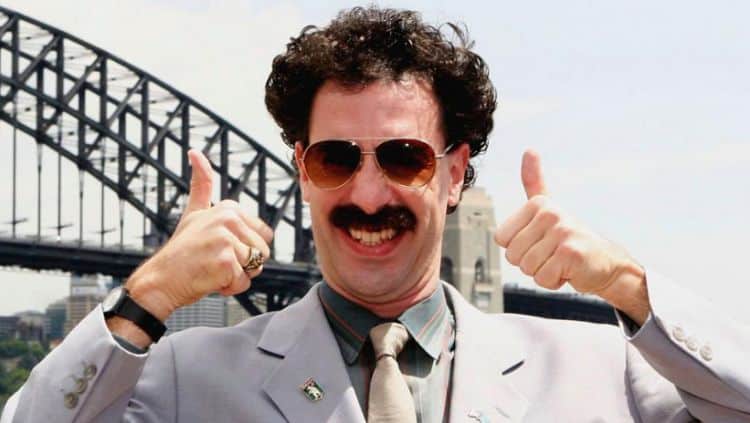 When the film Borat: Cultural Learnings of America for Make Benefit Glorious Nation of Kazakhstan AKA Borat was released in 2006, it was unlike anything most people had ever seen. The mockumentary featured Sacha Baron Cohen as a fictional journalist named Borat Sagdiyev who was known for his questionable viewpoints. Although the film was meant to be humorous, it sparked a lot of controversy. Additionally, many people have wondered how Baron Cohen was able to pull of an entire film based on 'fake' interviews with real people. With the long-awaited sequel to Borat finally out, many of these questions have resurfaced. So, how was Sacha Baron Cohen able to pull of a movie like Borat without getting in any legal trouble? Keep reading to learn the reason why Sacha Baron Cohen has never lost a lawsuit regarding Borat.
How Did Sacha Baron Cohen Find People To Interview For Borat?
One of the most interesting things about Borat is the fact that not only are the interviews authentic, but Baron Cohen has managed to interview some pretty high profile people. This track record of big name interviews dates back to the early days of Borat when the character was part of Da Ali G Show. If you're like most of us, you've probably wondered how Baron Cohen convinces people to do interviews with him. The answer is actually pretty simple. According to Slate, Baron Cohen reached out to people with legitimate seeming letters asking for interviews.
The letters mentioned that the interviews were for an upcoming film/TV project although the details were a bit fuzzy. Unfortunately for the unsuspecting recipients the opportunity wasn't exactly what they thought. All those most people would like to think they'd never fall for something like this, the reality is that some people are so blindsided by the potential of the opportunity that they fail to do the appropriate research.
How Sacha Baron Cohen Has Won Every Borat Lawsuit
As you can imagine, Sacha Baron Cohen has been involved in more than his fair share of lawsuits thanks to Borat. Most people have probably assumed that he's lost at least one by now, but he remains undefeated. So, how is it legal for him to conduct interviews under false pretenses and use them in a movie? Easy. Participants actually sign a release.
According to Distractify, part of the document states: "The Participant agrees that any rights that the Participant may have in the Film or the Participant's contribution to the Film are hereby assigned to the Producer, and that the Producer shall be exclusively entitled to use, or to assign or license to others the right to use, the Film and any recorded material that includes the Participant without restriction in any media throughout the universe in perpetuity and without liability to the Participant, and the Participant hereby grants any consents required for those purposes."
Additionally, the agreement also contains text that states that the interviewee, "specifically, but without limitation, waives, and agrees not to bring at any time in the future, any claims against the Producer, or against any of its assignees or licensees or anyone associated with the Film, that include assertions of … fraud (such as any alleged deception or surprise about the Film or this consent agreement)."
Essentially, anyone who agrees to an interview with Sacha Baron Cohen/Borat is signing their rights away. Clearly, however, most of these people have no clue that's what they're doing.
How People Feel About Being In Borat
For viewers, Borat is a funny and entertaining experience. Sadly, the same can't usually be said for the people involved. Variety interviewed several people who were interview for Borat. Many of them felt that they had been manipulated into the interview process.
Instagram influencer Macy Chanel told Variety, "I was misled into playing a role and being cast as someone that does not reflect who I am. I have enjoyed a successful modeling an acting career where I can play any role given. In this case and probably many others I did not read the 'fine' print. As well as lacking the resources to read every casting contract."
Judith Dim Evans, a holocaust survivor interviews for Borat 2 had a similar experience. Initially, she did not know that Baron would be mocking Jewish history and culture and was disgusted when she found out. Although she passed away in 2020, her estate filed a lawsuit against Baron Cohen.
Needless to say, most people aren't happy to find out they've been interviews for a Borat film. Moral of the story folks, don't sign anything without reading it thoroughly. Otherwise, you could end up looking crazy in a Borat movie – or something even worse.