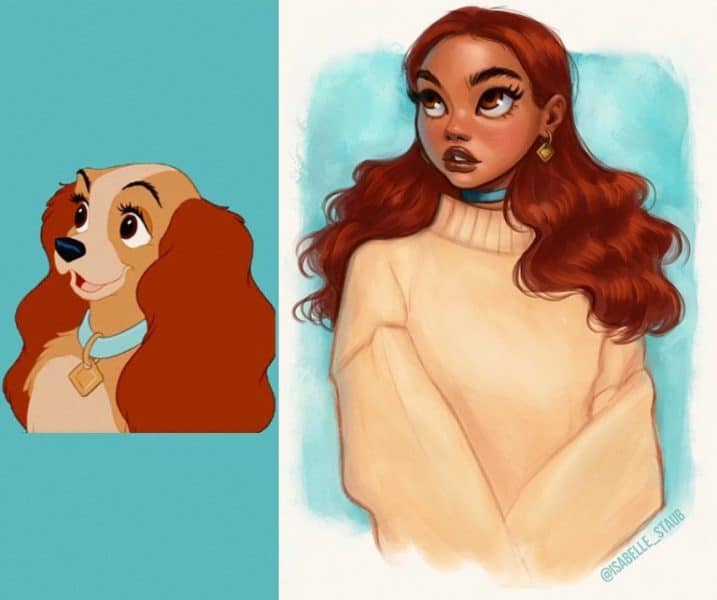 Looking at the pictures on her Instagram that Isabelle Staub draws, one can see that she's quite fond of drawing what would appear to be self-portraits in many different manners. Taking Disney animals as her inspiration is kind of interesting since looking at her actual picture there's no doubt that this is her in each picture despite the different coloring and hairstyles. It's impressive though since she obviously knows this one type of face quite well and it feels possible that she can draw it from memory without much hesitation. Some might find conceit in this, but to be fair it is a great job that she's done with each one since she incorporates herself and the animals in a way that makes a good deal of sense and makes it clear who they're meant to be. But yes, there is a little self-interest there since to be certain this is her in every picture. But really, one can't always fault the artist for wanting to be a part of their own creation since they're the ones putting in the work to make it come to life. Plus, the idea of taking animals and making them into humans is kind of fun since it leaves a question of what the artist believes they would look like. This picture of Lady above is well-rendered since it takes many of the elements into the creation of the picture, not the least of which is turning Lady's ears into her long, wavy hair and separating her collar into a choker and an earring.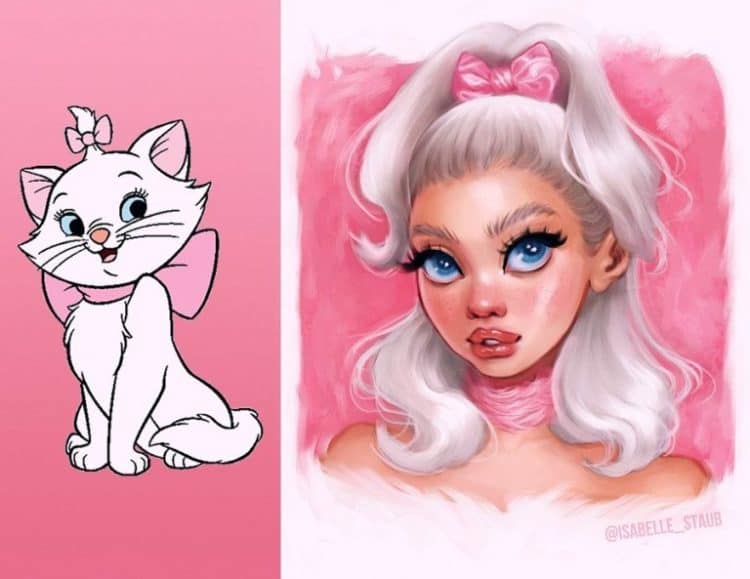 You can definitely get a hint of 'rich, spoiled brat' with this picture when it's viewed. There's no offense here, it's simply an impression since Marie, one of the kittens from The Aristocats, was in fact kind of spoiled little ball of fur at some points. That quality definitely passes over to the human representation since this young woman looks as though she might be kind of a handful in more ways than one. Those that have daughters know the look of the big eyes and the innocent look that can melt the hearts of their parents, though the wisest parents usually don't fall for it thankfully. But Isabelle definitely manages to put just as much attitude into these pictures as color, though it could be that her work brings out the need in each person to describe what they feel.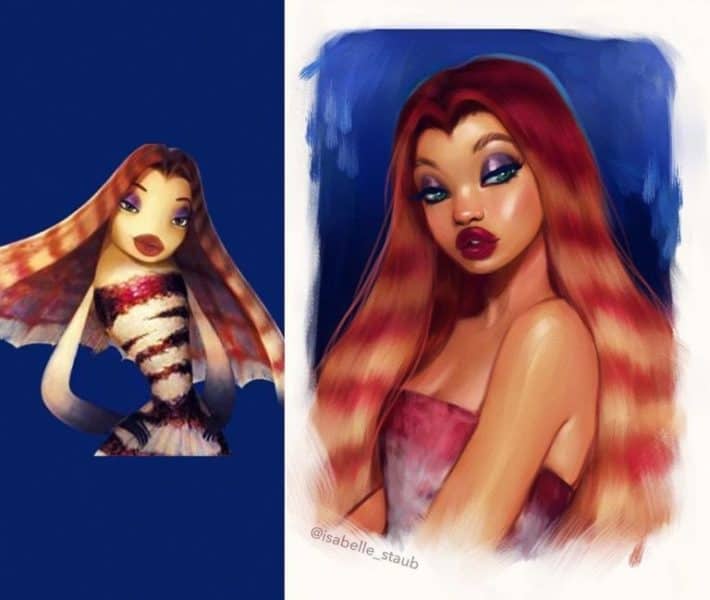 The hair is a nice touch, as is the overall look that doesn't change that much despite the transition from fish to human. Does anyone else get the feeling that Isabelle either likes to find characters that have big lips or is just a big lip person when it comes to drawing? So far the pictures have all had that one quality in common, that being the big, full, pouty lips. That's definitely one of her signatures when she draws, but there's also the pose that she appears to enjoy, the tilted chin that a lot of her characters tend to have. There are also big eyes that are far too big for a human being by any means.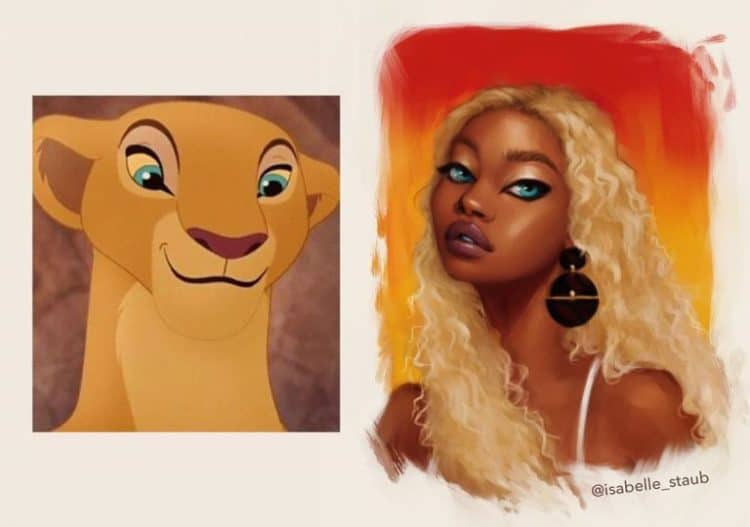 Nala isn't too surprising to see on here since The Lion King has been a big influence as of late, especially with Beyonce being involved in the live-action version and having just completed a production that's landed on Disney+, Black is King. Isabelle definitely has a niche that she enjoys to utilize to the fullest. Who can blame her? When you're good at something just stick with it and do the absolute best you can after all. And she's doing just that, creating pictures that are stunning in a big way and bring out a lot of the elements of the animals that she's taking from.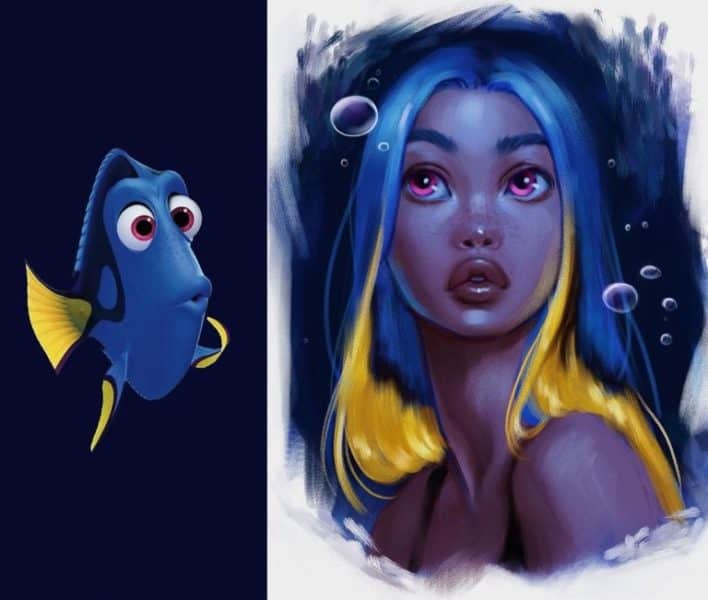 One thing to say about this representation is that she looks a little more inquisitive than completely in awe as Dory usually does. The hair is a nice touch though, but one gets the idea that all of Isabelle's figures are meant to look regal in some sense, as though they might all be strong, empowered, and fully capable women. That's a definite positive, and in the case of those that are fully aware of their strengths and their capabilities, it's a well-made statement. With Dory, however, it might have been great to see the human look a little more confused or possibly in awe of something, though the effect is still great since Isabell is one talented artist.
Every artist has their own take on what they observe and their own style when it comes to creating whatever they will, which is to say that if someone finds that Isabelle's pictures are a little much alike for their taste then so be it. Every critic has the right to say what they will and every artist has the right not to listen, but to be honest, she's quite good at what she does.
Tell us what's wrong with this post? How could we improve it? :)
Let us improve this post!