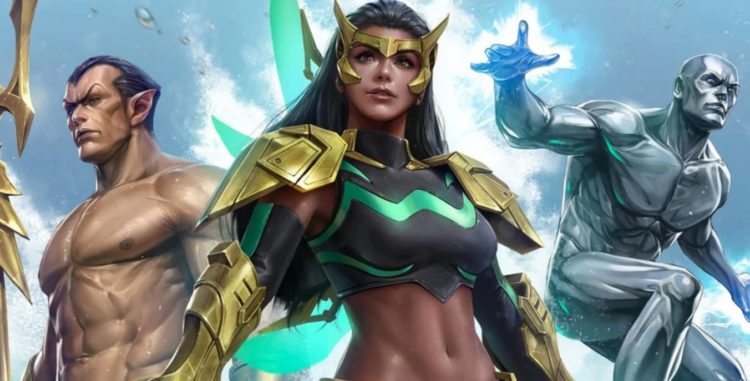 Let's say this much, Wave should at least be looked at and possibly developed enough so as to see if a solo series could possibly be something that might draw people in. The Filipino heroine is without a doubt someone of interest and as Timothy Beck Werth of ScreenRant mentions could bring another very interested fan base into play for the MCU. Really the biggest impediment however seems to be whether or not the idea would gain much traction since she's not quite as well known as other heroes like the Falcon or Scarlet Witch. That opens the line of thought as to whether people outside the Philippines will really identify with her since she's not that well-known apart from comic book fans, and as such she doesn't exactly fit the formula that is so commonly used to deduce just who's going to be showcased for the eager fans that are willing to see anything once. The need for diversity in the Marvel universe is as always something that people are willing to call for and is also a drive that is rather important since if you're going to talk about an entire universe it's necessary to have more than just white representatives. One could argue that we have the Black Panther, Luke Cage, the Living Lightning from the Avengers, and even Ms. Marvel, but that doesn't seem as though it would be enough and honestly it's not.
But let's leave the whole 'white savior' thing aside when talking about heroes that have bombed out like Iron Fist since quite honestly it's time to move beyond that line of thought and realize that there are other heroes in the fold now and a lot of them are women while some are anything but white. Things are changing and by all means this is a positive thing since more and more people are finding that they're being represented by the heroes they see on the screen and in the comics. Emily Gaudette of Inverse provides an interesting view into this matter that may or may not be agreeable to some people, but the truth is that female superheroes have been around before the comics started to become more diverse, and as times have moved on the comics have only grown more and more varied in who is gaining superpowers and where they come from, what color they are, and who they represent. Anyone saying this is irritating might need to back up for a moment and realize that featuring only white, male superheroes is more than just a little boring, it's a very narrow view of what's really out there to be explored. But Wave's downfall at this point as far as being featured in a show of her own is the same fact that I mentioned earlier, she's not that well-known. It's great that those asking for her to be represented aren't demanding a movie, which would be insanely ambitious, but even a TV show might need some build up first. It's not a matter of 'allowing' her to be featured in male-driven movie, but rather giving her the much-needed introduction she might benefit from if she were to show up in another movie that makes good use of her powers.
Given the idea that a Sub-Mariner movie might be coming this would be a perfect tie-in for Wave, whose command over the water would seemingly bring her into contact with the bipolar and somewhat volatile mutant in any case. A fight between the two would surely end in Namor's victory if it went that far since despite her use of hydrokinesis brought on by being exposed to energy-laden waters, Wave is still not quite on Namor's level it would seem. It has nothing to do with her being a woman and him being a man, but it has a lot to do with the fact that he's naturally born to his environment and his power has been his since birth and his combat experience is far superior. She might be able to take advantage of his fiery temper a time or two, but if the fight ever happened between these two there's no doubt that Namor would win more often than not. That being said though, if she were to be introduced during a movie then it would be a great lead towards getting her own show if she happened to be well-received. Simply going in cold would be inviting a lot of dispute that might not go her way for the simple fact that people would be introduced to someone that they have no prior knowledge of. Folks knew about Iron Man, Captain America, Thor, and to an extent a lot of the other Marvel heroes that have been introduced. Wave deserves a chance, but it needs to be tempered by a soft intro first so as to gauge the reaction of the fans.