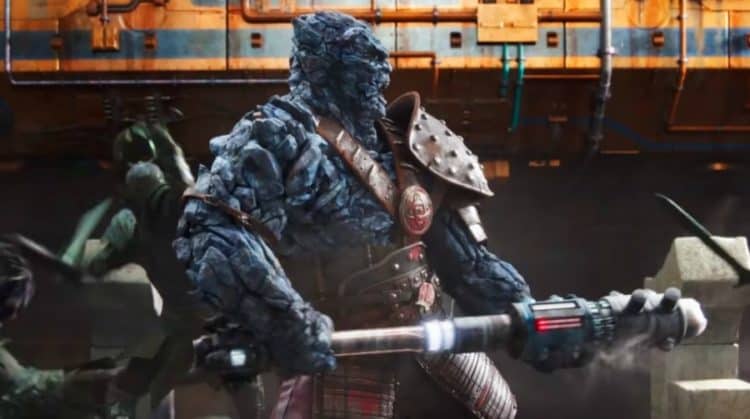 It's not hard to see why Korg became a fan-favorite, kind of, since he's such a likable character and not the overly intimidating pile of rocks that he appears to be. It would appear that he's rather unlike a lot of his kind, the Kronans since he's a little more talkative and doesn't mind hanging out with other species as much. The rock-like being is kind of a comical character and as such he tends to say things sometimes that are bound to make people laugh since his comprehension of certain things is a bit fuzzy, such as when he thought that Thor's hammer was a little TOO special. Yeah, the 'pulling off' part didn't really track with Korg right away, but he got the picture once Thor went on to explain. Giving Korg his own movie kind of feels like it might be a bit of a waste unless his race could be tied into an MCU storyline and therefore require Korg to be a part of it. It would also be a great idea to make certain that Taika Waititi could take on the role again since he's the guy that made it work after all. That's part of why a movie wouldn't be a good idea though since Taika is a pretty busy person, and a TV series might be better, but it would also be something that might require Taika's signature outlook on the character and his ability to play the Kronan so well. But again, that's why it might not happen for quite some time since when someone is in demand it's not always possible to hit the pause button and have them switch over to another project unless the situation allows for it. But yeah, that would be pretty cool.
Giving Korg his own series feels like it would work out best simply because it might be nice to expand on his story and see where else he can fit in given that he's obviously an adaptable character. Whether he would ever make his way back to Sakkar or if he would stick tight with the Asgardians it's fair to say that he could have plenty of adventures simply by being who he is. Korg is the kind of individual that's pretty soft-spoken but carries a big stick and knows how to swing it around a bit. Getting to see him for at least a few seasons on his own show would be a lot of fun since it might even give rise to another few ideas that could be used in the coming years, perhaps opening up the MCU to other aspects of itself that people would like to see. To be completely honest, this is what Korg might be best for, to host his own series while being used as a kind of sounding board to see which ideas are going to stick and which aren't really that great. It might sound like using him with no intention of really keeping him around, but the goal would be to feature Korg in a more prominent manner AND use his show to promote other ideas in the MCU at the same time. It is possible after all since both WandaVision and The Falcon and The Winter Soldier managed to create interest in other ideas throughout their first season. Where those ideas might go or show up again is unknown, but the point is that they were introduced, to begin with, and now they're out there floating around waiting to be used and possibly waiting for fans to insist that it's time to bring them out to play.
Korg is definitely an odd character, but he's so endearing that it's difficult to not like him since he strikes people as the kind of person that might be fun to hang out with on a regular basis. His sense of humor and laidback manner are definitely a couple of things that make him different from a lot of the heroes in the MCU, and his unassuming nature kind of leaves him in the background a lot of the time, but he has no problem stepping up when he has to since he's a warrior without any doubt and is bound to help out those in need and to help his allies with no hesitation. Some might think that he's a bit simple, or soft in the head perhaps, but it could be that Korg's not the most intelligent, even if he's not entirely stupid. He does possess a fair amount of intelligence that gets him by, but it's likely that he's not at the same level as some of the other heroes either. He's a big, brawny alien made of rock and a kind disposition and the ability to get violent when he needs to, that's a part of what makes him great.