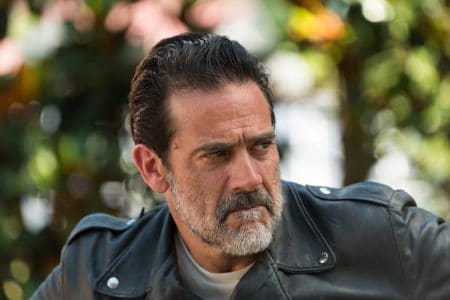 With the Fantastic Four coming to the MCU, there's a lot of fan votes for who should play The Thing. The actor I'm really pulling for is Jeffrey Dean Morgan. That's right, Negan should play a superhero in the Marvel Cinematic Universe. So why him? Fans have been voting for John Cena and Vin Diesel to play the orange, rock of a hero, and I can see why. Cena and Diesel are big guys and have the muscles to embody a beefy character like The Thing. There's even some fan art for Cena as the character, and personally, I'm not sold on it. Maybe it's just the art itself, but I just don't see Cena or Diesel pulling off the role.
The reason I have is simple: to have a great character, you must have a great actor to play him. That means not selecting an actor who just looks the part, but one that can actually play the part. I realize that sounds counterintuitive, but this is one casting decision that has to be done right. We don't need The Thing being played by an actor with big muscles just because he's big. We need an actor who can embody the character both physically and emotionally. I've always thought of The Thing to be the heart and soul of The Fantastic Four. He's the only member of the team who can't transform himself back into his human form, much to his chagrin. Despite that flaw, he is still the very noble Ben Grimm beneath all that orange rock.
The Thing's iconic appearance is his greatest strength, but in his eyes, it's also his greatest flaw. He has often desired to change back into his human form, which he has accomplished in the past. However, Ben realized he could use his monstrous form for the greater good, and he soon became one of Marvel's best heroes. In a way, he's a tragic character, considering his appearance, but it's how he acts that separates him from similar heroes like The Hulk. Unlike The Hulk, he retains his civil personality while being The Thing. Among his many hobbies are playing poker, eating pizza, and even smoking cigars. He may be a tough rock monster on the outside, but he's exactly the kind of guy anyone would want to hang out with. That makes him one of the most unique comic book heroes in existence.
I love this character, and I believe he's by far the best character from The Fantastic Four. That is why I'm stressing how important his casting is for the MCU. Personally, I liked Michael Chiklis' performance as The Thing, because he captured his self-loathing characteristics very well. That's a big aspect to the character and it's something Jamie Bell's performance seriously fell flat with. Chiklis did well with what he was given, but after the cardboard performance we got in the 2015 movie, we're going to need an actor of incredible caliber to give the character some legitimate on-screen justice.
That's where Jeffrey Dean Morgan comes in; he's already a big and tall guy, but not known for playing overly muscle-bound characters like Cena and Diesel. He's big, but in a more realistic way. Ben Grimm works for fans, because he's relatable and very much human. Take a look at his backstory and you'll see just how much. As a kid, he grew up on the fictional Yancy Street in New York City, where he lived in poverty. He and his brother, Daniel, were members of a street gang, which led to Daniel's death during a street fight. The young Ben then lost his parents and was placed under the care of his uncle. Talk about a rough childhood.
Ben's tragic beginnings didn't shape his future, however, as he went on to become a successful adult. He received a scholarship to Empire State University, the place where he met Reed Richards and Victor Von Doom, and after graduation, he became a pilot. This is how he became friends with Reed, as well as the pilot who flew the rocket that carried the whole team into space. This backstory proves that he's a much more tangible comic book character than most. He's a man forged by tragedy and spends a lot of time hating himself, but he doesn't allow self-pity to stop him from doing what's right.
So what does that got to do with Jeffrey Dean Morgan? I mentioned how he has the physicality for the role, but that's not all he has. When Morgan was in high school, he excelled in football, a trait he shares with Ben Grimm. It's important that he shares some characteristics with the character, but let's get to the most vital skill he needs to make playing The Thing work. That would be his stellar acting ability. I believe Morgan is a severely underrated actor with some great roles under his belt. There are two particular performances of his that make me believe that he would be the best choice for The Thing.
One of his most famous roles is The Comedian from The Watchmen. The way he portrayed this character was brilliant, considering he not only captured the twisted humor of the character, but more importantly, the self-loathing and guilt-ridden qualities. This showed during the scene where he confessed his sins to Moloch and revealed he was desperate for redemption. Morgan is capable of playing a facetious goofball one minute, then becoming ten buckets of depression the next. That's exactly the kind of acting range that's needed to play The Thing.
Let's not, of course, forget Morgan's most famous role, the foul-mouthed, bat-swinging Negan. Negan and The Thing are on a different level morally, but they have more in common than you think. Morgan never portrayed the facetious, but self-loathing character so brilliantly when the most recent seasons hit. He once again proved that he can play the funny guy, but that humor is ultimately a mask to hide some deep insecurities. Now that Negan has been recently given a redemption arc in The Walking Dead, he has shown all kinds of self-loathing and regret that makes his character all the more complex. Again, those qualities embody the Thing's character and that's why Jeffrey Dean Morgan should take on the role.
Morgan's best performances comprise of two humorous, but insecure characters. If he can do it with comic book villain/antihero, then I'm dying to see how he can incorporate those acting skills as a superhero. Negan in the Marvel Cinematic Universe? How can you say no that?