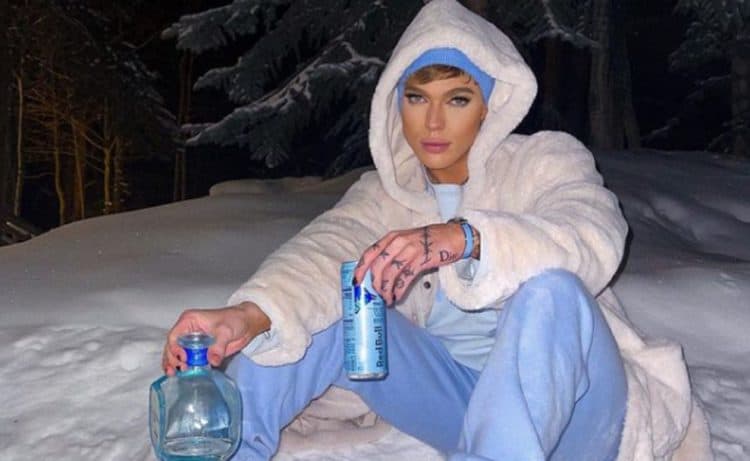 You've heard the name Cole Carrigan going around lately, even if you don't know that you know that you've heard it. He's the man behind the Kim and Kanye drama. Well, he's not the man behind the drama – they create enough of that on their own – but he is the man behind another man who is claiming to be a man involved in their alleged divorce drama. When Kanye West was accused of having an affair with YouTube sensation Jeffree Star, Cole Carrigan got in on the action by saying he was having an affair with the married rap star. Here's what we know about the man making these accusations.
1. TikTok Star Ava Louise Started the Jeffree Star Rumor
She already came out and announced that the rumor that there is an affair of any sort between Star and the rapper is because she made it all up to get downloads and attention online. There was no affair between the makeup mogul and the rapper, and that's just that. Star denied the rumors emphatically from the start.
2. Cole Carrigan Says Otherwise
Cole Carrigan might not care what Ava Louise or Jeffree Star has to say about things, but that's because he is telling his own story. He's claiming that while Star might not have had an affair with West, he certainly did – and he says he has proof of the extramarital affair.
3. He's Young
Cole is only 22. His date of birth is July 3, 1998. He grew up in Dallas, but he's living in Los Angeles these days. He's done some work online with Jeffree Star, so the two makeup artists are very familiar with one another.
4. He's Called Numerous People Homophobic
He posted a video of another YouTuber, Cameron Dallas, throwing water on him back in 2019. Cole states that it was a homophobic move and that he will not condone it. He also called the people in Jake Paul's Team 10 house homophobic as well as hostile. At least, he said this in terms of the working environment with that group of young influencers.
5. He's Got Some Controversy Going On
Right now, he's been dealing with a lot of stuff going on in his personal life, and people aren't happy about it. He's been charging his fans $100 to shout them out on his social media pages, and they're saying that they are paying and he is not keeping up his end of the bargain. He's not shouting them out, and some people are a little unhappy about it.
6. He Stepped Up When Star Denied Rumors
To be fair, Ava Louise never named Jeffree Star by name when she said she made up a story about him having an affair with West. She said a male beauty guru – and Carrigan has decided to step up and tell the world he is that male beauty guru. He also said that he spent some time in Wyoming, and it was to spend intimate time with West himself.
7. He Uploaded an NDA
It's a non-disclosure agreement, and he says that it is from his affair with West. He claims that they met in a club in California, and that the star's people came to him and asked him to sign it before anything happened. Now he is allegedly uploading photos of it to the internet, though we have a feeling that this is not something that will see him through anything but a legal battle.
8. He's Been Served
It turns out that Kanye West and Kim Kardashian don't find the beauty guru's stories nearly as amusing as he finds them. They've hit him with a cease and desist, and that has forced him to apologize to the couple. There are still many rumors circulating that the couple is getting divorced and that they are figuring out their finances behind the scene, but they're on the same team when it comes to shutting down potentially harmful rumors.
9. He Didn't Actually Deny Things
When he made his very public apology, he did so without actually saying that he did not meet the rapper at a W Hotel as arranged by his bodyguard – as he initially said. He simply said he's sorry for talking about things and for bringing it up – and that he did it because West is a Trump supporter. So much for agreeing to disagree, we suppose.
10. His Apology Doesn't Come Across As Sincere
"In order for me to stay out of court and not get sued, I have to issue an apology to Mr. West and Kim Kardashian West. So hi, Kim, if you're watching this, I'm so sorry, I honestly did this for the simple fact that your husband voted for Trump, and we simply can't have that clownery in America, so you're welcome," was his statement. Of course, the alleged hotel meeting allegedly took place on November 24, 2020, which would have been 20 solid days after election day, and it's been a well-known fact for many years that Kanye West supports President Donald Trump…which leads us to have more questions than answers about this apology.
Tell us what's wrong with this post? How could we improve it? :)
Let us improve this post!