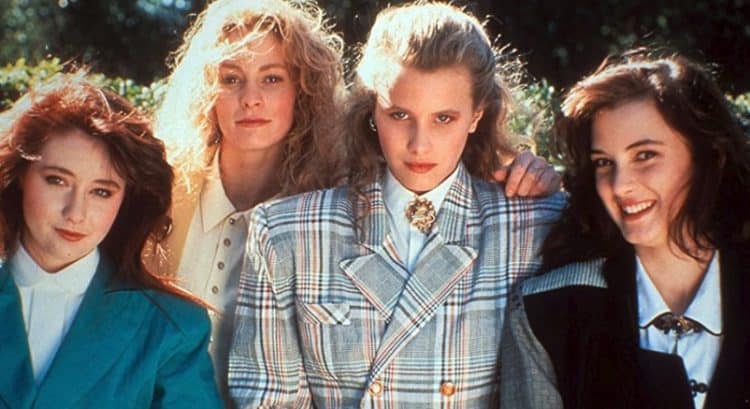 In 1989, a little movie called Heathers was finally released. The film followed Veronica, who's part of the most popular clique at her high school; however, the outcast doesn't particularly agree with the other girls' cruel behavior. Enter J.D., who doesn't like the Heathers and bonds with Veronica over their dislike of the group. However, J.D. ends up poisoning Heather Chandler and makes it appear as a suicide. That triggers a string of murders by J.D. and Veronica begins to realize that the killings are intentional. The film would eventually go to being a cult classic; however, Heathers is actually considered a bomb during its first initial run. The film had a reported budget of $3 million but only returned $1.1 million at the box office, despite Heathers being critically praised upon release. It was new and fresh with many awards wins including the Independent Spirit Award for Best First Feature and the Edgar Allan Poe Award for Best Motion Picture. So, what happened? Let's dive deeper into the possible reasons that the cult classic ultimately bombed at the box office.
Heathers Was Unlike Any Other Film That Came Out During That Time
These days, seeing violence in the nature of Heathers is nothing in terms of movies and television; however, the landscape was a lot different during the 80's. Granted, violence did exist during this period, but the genre of dark comedy was basically unheard of. Heathers was the opposite of movies such as Pretty in Pink or The Breakfast Club, which were the type of films that it was generally mocking. However, what originally made Heathers such a controversial piece is that it was highlighting the death and teenage suicide in a comedic manner. Heathers is the definition of a niche movie. The premise only appeals to a certain demographic; however, the producers and executives believed that the demographic was barely existent at the time. Originally, it wasn't too hard for Daniel Waters to get funding for the feature, but he had to make major rewrites including the ending, which saw J.D. successfully blow up the high school and prom took place in heaven. Even Wiona Ryder's agent literally begged the actress to not take the role as the agent felt that it was career suicide. Basically, Heathers went against the grain and was a unique project for its time period. While it would eventually find fame later on following its theatrical run, this wasn't the type of film that would attract mainstream audiences.
Dark Comedies Don't Particularly Do Well in Theaters
There's a reason you don't see high budget dark comedies as the genre isn't popular in the mainstream. Even if Heathers was released in the modern age of drugs, sex, and an unflinching violence, the chances of it being a financial success are pretty slim still. Horrible Bosses remains the most successful black comedy of all-time; however, that film only made $209.60 million worldwide. Three Billboards Outside of Ebbing, Missouri comes close by making a little over $160 million. Fargo only made $60.60 million. Seven Psychopaths only made $33 million. In Bruges had better luck and got $34.50 million. Basically, the point is that these films are just not suited for mainstream appeal. Of course, all forms of art are subjective, but not many people find suicide and death funny. Heathers actually has strong messages about abuse, bullying, teenage angst, and the price of fame, but the film has a weird, dark, and cynical way of expressing its message. That's usually the staple of dark comedies. When you look past the cynical nature of these movies then they're actually thought-provoking pieces that capture society in a meaningful manner. While Jojo Rabbit doesn't have the abundance of violence that the films listed have, it's still a comedic take on World War II, which saw somewhere between 70-85 million casualties as a result of the war. The rosy color palette and whimsical take masks the grim subject. Not everyone can laugh at death. Nor can most people overlook the real tragedy that resulted in millions of casualties. Heathers may not be based on a real event, but it's still a grim subject that was never going to translate well on the big screen. Couple that fact in with the core cast mainly featuring newcomers who didn't have film credits prior to Heathers then the film didn't attract much attention since a notable star wasn't listed. To be clear, a big name likely wouldn't have made Heathers a huge success, but it surely would've gotten more eyes on the product.
Tell us what's wrong with this post? How could we improve it? :)
Let us improve this post!