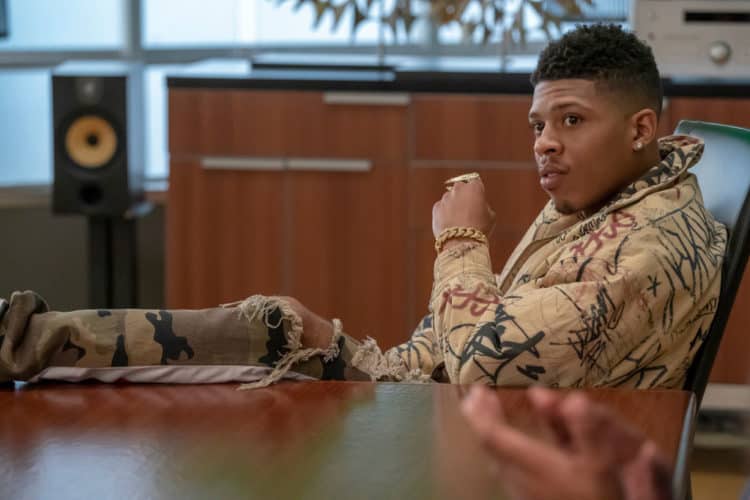 When Empire debuted in 2015, it didn't take long for the show to become a hit. People fell in love with the Lyon family, despite all of the drama that had become a regular occurrence between them. By the time the show ended in 2020, viewers had gotten the chance to see all of the characters go through ups and downs – and some of them had to endure much more than their fair share. Although Empire was the kind of series that had at least one character that most people would connect with, we couldn't help but notice that one character was a bit more difficult to like than the others. Continue reading to see why we think Hakeem Lyon is the worst character from Empire.
Hakeem's Backstory
Character development is one of the most important aspects of every TV character, so it's probably a good idea to start with some information on who Hakeem was in the show. As the youngest of the Lyon brothers, Hakeem was just a baby when his mother, Cookie (portrayed by Taraji P. Henson), was sent to prison, so he never got the chance to form a relationship with her during his younger years. When Cookie was released from prison, he initially struggled to build a healthy relationship with her. However, by the end of the series, the two had gotten very close. Hakeem often leaned on Cookie for advice and support.
As a teenager, Hakeem's musical talents allowed him to participate in the family's music business. In addition to being an artist, however, he wanted to be next in line to take over the record label. This often caused tension between him and his older brothers who also had the same goal. As the show progressed, viewers saw Hakeem make some very questionable decisions which often left the people around him dealing with hurt feelings. As a result, he struggled to maintain relationships and found himself making connections with people that he should've been staying away from. Since he was the youngest, Hakeem was shielded from a lot of things which played a role in causing him to develop an inflated sense of himself. Even though he was very talented, he often got in his own way.
The Inspiration For Hakeem's Character
Hakeem's character isn't based on any real celebrities, but he was definitely influenced by them. During an interview with Jezebel, Bryshere Gray, who portrayed Hakeem, touched on the real-life influences that went into creating the character. He said, "Kanye, Justin Bieber's antics—not Justin Bieber himself but his antics, snapping out to the world, doing rants—Hakeem embodies hip-hop and situations that occur in the hip-hop industry. He's that. You all get to see Chris Brown and you get to see the rappers and Jay Z, but you don't really get to see their lives. And that's what they're doing with Hakeem. They're going behind a wall that artists have up." At the same time, however, Bryshere also worked hard not to make sure that Hakeem's personality was unique. He told Life and Times, "I hadn't really did any homework. It wasn't like I said I'm going to take from this rapper and that rapper. I just tried to create. Lee Daniels, Danny Strong, the amazing Empire writers and myself just created Hakeem together. That's really all that was."
Why Hakeem Was The Worst Character In Empire
Anyone who has ever seen Empire knows that the show had quite a few characters who could have been considered the worst. So you may be wondering how Hakeem ended up at the top of the list. While they were certainly characters who were more unlikable than Hakeem, the main thing that made him the worst character was the fact that he was extremely immature. He had some moments of growth throughout the series, but in a lot of ways, he ended exactly how he started.
On top of that, the fact that Hakeem was very spoiled meant that he didn't take well to not getting his way. He was prone to emotional outbursts and he had absolutely no problem making a scene. This often resulted in him being reckless and leaving other people to have to clean up his mess. In a lot of ways, Hakeem embodied all of the qualities that people tend to like the least in celebrities. He was selfish, thoughtless, and entitled. As you can guess, being that way didn't get him far, but he could never fully comprehend that in a lot of situations, he was his own worst enemy.Empire
Tell us what's wrong with this post? How could we improve it? :)
Let us improve this post!