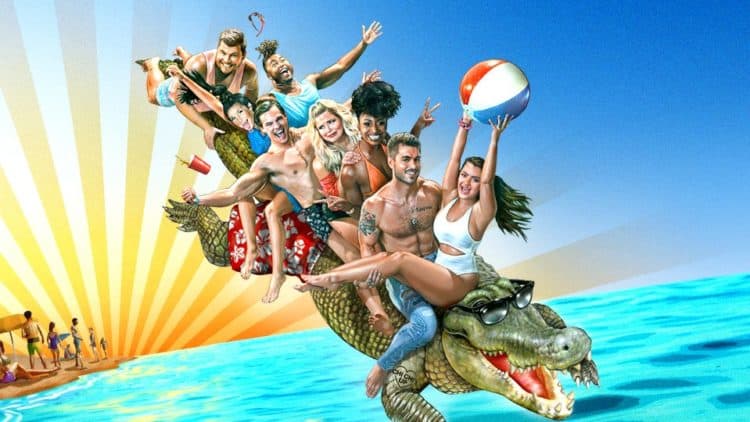 When Floribama Shore debuted in 2017, lots of people were skeptical. Many felt like the series was nothing more than a knock off version of Jersey Shore. Of course, the expectations were low. Despite some assuming the show wouldn't last for more than one season, it's actually become quite popular. Apparently, there's something about a bunch of people living in a vacation house and partying all day that people can't resist. As you may have been able to piece together by the show's title, the series originally took place on the Florida/Alabama shore – Panama City to be exact. The most recent season, however, doesn't take place in Florida or Alabama which has led many people to wonder what the heck is going on. While the move may seem random to some, there's actually a reason behind it. Keep reading to learn why Floribama Shore no longer takes place in Florida or Alabama.
A Timeline Of The Show's Locations
For those who aren't super familiar with Floribama Shore, I thought a quick run down would be helpful. As mentioned earlier, the first two seasons of the show took place in Panama City Beach, FL. Although the area seemed perfect for the show, the locals didn't feel that way. The cast members were a little too rowdy for most people's liking. They eventually got kicked out of every bar on the beach and they were starting to become a liability. As a result, the network had to make a decision to move the show. When the show officially announced that it would be ending production in Panama City, the mayor expressed his excitement and said, "I'm glad they're gone. I hope they stay gone."
For the third season, the show was moved to St. Petersburg, FL. Many of the cast members weren't too happy about the move. However, they still brought their usual level of fun and excitement to St. Pete. Unlike Panama City, St Pete actually seemed pretty happy to have the cast in the area. They filmed openly and were were generally welcomed at all the local bars. Since the new city appeared to work well, many people were shocked when the show changed locations yet again. The fourth season of the show was moved to Lake Havasu City, AZ. and Missoula, MT. The first episode debuted in February 2021.
Why The Show Left Florida/Alabama
Even if you're not a geography expert you probably know that Arizona and Montana aren't located near any shore. Needless to say, the decision to move the show there seems completely random. Unlike the first move, however, this one wasn't prompted because locals weren't happy with the show. Instead, the move was made for what has become an inevitable reason: COVID-19.
Instead of the usual vibe of the show, the cast members would be put in a much different situation in order to comply with COVID regulations and keep everyone safe. According to a press release from MTV: "After an explosive summer in St. Pete last season, castmates Jeremiah Buoni, Codi Butts, Aimee Hall, Kirk Medas, Nilsa Prowant, Candace Rice and Gus Smyrnios will reunite once again for their annual trip, but things will look different this year. With limited access to the outside world at their remote location, the group is forced to face the wounds of last summer head on."
Unfortunately, however, even moving to a new location didn't help steer clear of COVID. Production for the show had to be put on pause for two weeks after a crew member tested positive for the virus. Despite not being able to do all of their usual shenanigans, the cast still has plenty of antics to keep viewers entertained.
Will Floribama Shore Move Again?
MTV hasn't yet announced whether or not the show will be coming back for a fifth season. This means that we also don't know where that season could potentially take place. That being said, if the show is renewed it's very likely that production won't return to Arizona/Montana if COVID restrictions are gone by then.
For those who are annoyed that the series keeps changing locations, keep in mind that Jersey Shore also followed a similar path. Although the majority of the seasons took place in New Jersey, the show also made its way to other areas. One season even took place outside of the United States. In reality though, most people don't really care where any of these shows takes place as long as there is plenty of partying going on wherever they are.