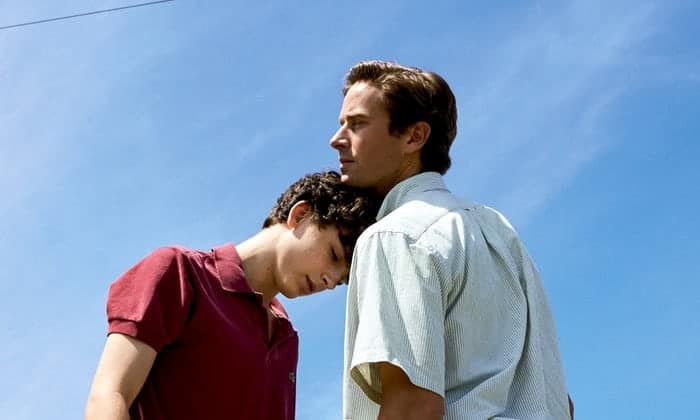 2017 was a great year for romantic, coming-of-age movies. Lady Bird, Before I Fall, God's Own Country, and Everything, Everything, were all memorable movies that explored the exuberance and heartbreak of teen love. But Luca Guadagnino's Call Me by Your Name was the one coming-of-age movies that captured everyone's attention that year. The film is heartfelt and deeply romantic, poignant, and ultimately tragic in how it covers a worldly teenager's first love and heartbreak. Although released in the fall of 2017, it is a quintessential summer romance film, as well as an important story for anybody currently experiencing heartbreak or coming of age. The film has maintained a very loyal fanbase since its release, and talks of a sequel have been steady since then as well. Filmmaker Luca Guadagnino has always maintained that he wants to make a sequel to the film, and possibly even a series of films set decades apart with the same actors. With the scandals surrounding Armie Hammer, and some issues in creating a screenplay, it seems that the proposed sequel has stalled. Here is why Call Me by Your Name deserves a sequel.
It Was A Sleeper Hit
Call Me by Your Name cost $3.5 million to make, and grossed nearly $42 million. This is a very attractive box office tally for an independent film. Independent films that have strong artistic sensibilities generally do not define popular demand for a sequel, but this film is certainly different in this aspect. The movie's fan base managed to grow considerably in the weeks and months following its release and is still substantial to this day. This is certainly enough to guarantee that a sequel would also turn a profit above breaking even.
The Ending Cries Out for a Sequel
Perhaps the most famous image in the entire film is the ending when Timothee Chalamet's character Elio, still grieving the loss of his romance with Armie Hammer's Oliver, stares into the camera and sheds a tear. The entirety of the film explored the blossoming romance that arose between their two characters, which eventually came to an end when Oliver had to return back to the United States from the tranquil beauty of his Italian summer. This left Elio devastated, and before the final scene, there is a phone call between the two that occurs where Oliver tells Elio that he is engaged to be married. To a casual viewer, this would signify that the story is completely finished; Elio will grieve for a while, and eventually move on with his life. But the book actually includes an epilogue that explores how both characters never stopped carrying a flame for one another and were actually reunited 20 years after the events of the film. As it stands now, the ending can certainly stand alone as a powerful examination of heartbreak, but we already know that the source material continues the story of Elio and Oliver, which makes the final scene of the final completely open to continuing their stories.
This Could Become the Next "Before" Series of Films
In 2018, Guadagnino said that his ultimate goal was to make a series of films that occur every 5-10 years, depicting the characters over time, which translates to real time since the actors will also age as well in between the filming of the movies. This has been before with Richard Linklater's series of films known as the Before Trilogy with Ethan Hawke and Julie Delpy. This is a brilliant idea, and could possibly mean that at some point, we will see a return to the story in some capacity, although it remains unclear if Armie Hammer will ever be cast in another film. This idea was also met with approval from the cast at the time, and we can only hope that Luca Guadagnino decides to continue this type of experimental filmmaking by making this an entire series of films covering decades into the future.
The Film Resonated Deeply With Audiences
Upon its release, Call Me by Your Name was a slow-burning film that slowly gathered a large and varied fanbase. This is all attributed to the skills of the cast and crew of the film. The film captures beautifully the hazy, lazy, and romantic days of summer that defined so many of our youths. Elio is 17 in the film, and this automatically translates to raging hormones and blossoming romantic feelings that we all can also recall and relate to from those innocent, yet complicated late teenage years. Furthermore, the film is perhaps one of the best to ever capture the brevity of a summer romance, which is always destined to end in a few short months, but is always delayed by the partners because living in the moment, with all of the wonderful feelings of romance, are all that truly matters. The film explores the romance between two young men, yet we are never told this explicitly in some archaic, overused screenwriting that positions LGBTQ identity as a plot point that needs to be explored or defended. The love story is natural, fluid, and completely runs its course without any need to have the feelings of attraction for the same sex be some kind of "issue" that needs to be sorted out or told is okay. The film is also stunningly beautiful to look at, taps into a perfect sense of 1980s nostalgia with perfect period detail and a killer soundtrack.
A Sequel Book Was Published
In October 2018, the author of the source material Andre Aciman, published a surprise sequel novel to his original novel. Find Me explored in more detail the years between the ending of the first novel and the reuniting of the two characters 20 years later. The book also has a happy ending, but not without adding some important realism that comes with the passage of time, and how romantic feelings can fade as the years go by. Just for the fact that the first novel received a sequel novel allows for plenty of source material adapt for a sequel film or a proposed series of sequels over many years.