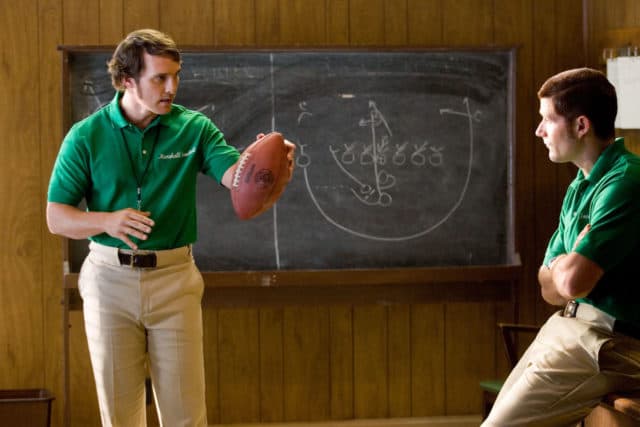 In many sports a good coach is more important than a good player. Coaches are those that know how to motivate and how to bring the best out of an athlete so as to make them believe that they are something great. You could take the worst athlete in the world and make them something impressive with the right coach. Whether they're educated or not, coaches are those people in our lives that have looked deep into the eyes of every athlete and seen something that they know is worthy of respect and of the development that takes time and effort to achieve. Movie coaches are often a little more glamorized than everyday coaches, but their speeches and their manner are usually just as influential.
Here are a few movie coaches you might remember.
5. Coach Klein – Waterboy
Coach Klein had pretty much everything taken away from him by his former colleague but was given a second chance when the Waterboy came to his team. That still wasn't enough however since he had the genius but he didn't have the courage. Once Bobby gave him the idea of pretending that his rival was someone else, much as he'd told Bobby to do from the beginning, he was unstoppable.
4. Sam Winters – The Program
Sam didn't suffer a lot of foolishness by his team gladly, but he also didn't tax them as hard as he could have. He wanted to win, he wanted to advance his team, and he wanted to do it in a way that didn't bring disgrace to the program. Unfortunately he didn't always get his way and his team suffered for it. All in all though he wasn't a bad coach, but he had some very unruly players.
3. Ara Parseghian – Rudy
This guy was as close to being by the book as any coach could ever be. He didn't want a player on the field if they couldn't protect themselves and wouldn't even give a final world on Rudy to start with. Once he started to understand Rudy's dedication and undeniable heart however he couldn't bring himself to say no to Rudy's one request to suit up for a game.
2. Jack Lengyel – We Are Marshall
Jack is the kind of guy that you want to play hard for because he doesn't demand it, he simply knows that you have it in you. His demands are easy enough to meet for athletes that have heart, and his team has miles and miles of it and he knows this. As a coach he's able to get people to follow him because they believe in what he is saying and will put themselves on the line for it.
1. Ed Gennero – Necessary Roughness

Ed is kind of like the working man's coach. He doesn't expect you to give everything but he also doesn't expect you to do well if you don't. He'll tend to leave it up to the athlete to decide if they want to be there or not. If they do then he'll work with them. If not, then there's no reason to waste any more time on them.
A good coach will always demand a great deal of their athletes, but they'll return it with gratitude that has no end.
Save
Tell us what's wrong with this post? How could we improve it? :)
Let us improve this post!