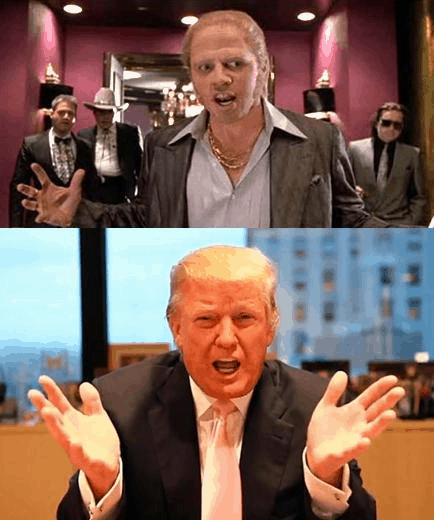 When you look back at the history of movies that tried to predict future societies, one that actually had some correct predictions was Back to the Future II. It was nearly flawless in predicting the Cubs winning the world series and while it may have been indirect, the similarities between a rich Biff Tannen and present day Donald Trump are beginning to look a little creepy.
Rich Biff Tannen has a trophy wife who feels like a prisoner. Now, I'm not saying Melania is a prisoner but do you think their relationship is kind of similar? I do. How did Biff get rich? Exploitation. He found an almanac which he used to make bets on future events he know the outcome of. How did Trump get rich? In a much worse way. He didn't exploit future events. He exploited actual people and real legal loopholes, not to mention declaring bankruptcy a zillion times.
And now these two even look alike as evidenced by the photo above? If Back to the Future II lasted a half an hour longer you don't think Biff would have made a run for President? And he'd have threatened every single person who didn't vote for him. That or rig the voting system so those who opposed him couldn't vote.
Sorry for getting all political here. Let's just say these two are like in more ways than one.
Tell us what's wrong with this post? How could we improve it? :)
Let us improve this post!