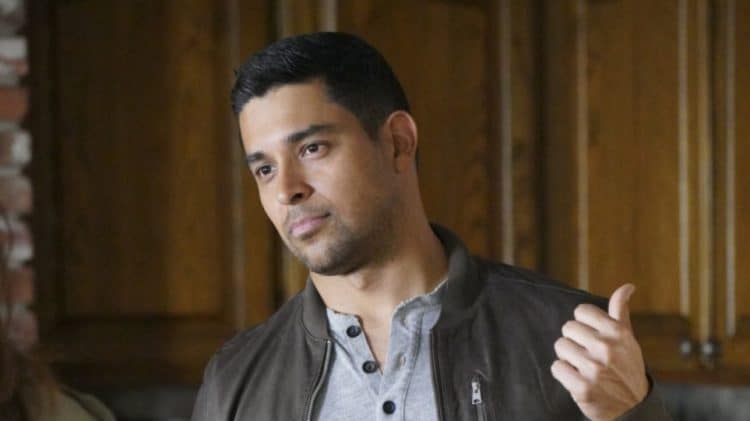 In case you're one of the very few TV-land viewers who hasn't yet seen NCIS (Naval Criminal Investigative Service) on CBS, here's a little background info on the show and its cast. First of all, it's widely known as the number one show on TV and follows Special Agent Leroy Jethro Gibbs (aka Gibbs played by Mark Harmon) as he is leading a diverse group of investigators handling crimes that involve personnel in the Marines or the Navy. These cases can range from espionage to murder and even terrorism. That amazing team consists of:
Timothy McGee (Shawn Murray), an MIT graduate (once known as Probie on the show),
Ellie Bishop (Emily Wickersham), a specialist in international threat assessment,
Nick Torres (Wilmer Valderrama), who is the hot newcomer to the team.
Jack Sloane (Maria Bello), a smart and beautiful forensic psychologist,
Dr. Donald "Ducky" Mallard (David McCallum), long-time forensics expert.
NCIS Air Date in 2003
According to HowStuffWorks, NCIS is actually a spinoff of "JAG". The first episode of NCIS aired on September 23, 2003, and since then, there have been a total of 394 episodes. In addition, the show spawned several highly-rated NCIS spinoffs, including:
NCIS New Orleans starring Scott Bakula
NCIS Los Angeles starring LL Cool J and Chris O'Donnell
Our NCIS Breakout Star Prediction
So, we predict that the biggest breakout star when "NCIS" is done will be Wilmer Valderrama. You may remember him as the character Fez from "That 70's Show" back in 1998, although he's grown up since then and changed considerably. That particular role, however, earned him an ALMA Award nomination as well as a number of Teen Choice Awards.
Other Roles
According to IMDB, Valderrama's impressive resume of acting on TV and in movies includes:
2014- Played the main villain, Carlos Madrigal, in "From Dusk Till Dawn: The Series" directed by Quentin Tarantino and aired on El Rey Network
2015- Played police detective Will Blake in "Minority Report" on Fox, which was a sequel to the film of the same name, which was directed by Steven Spielberg and starred Tom Cruise.
2015- Also starred in the indie drama directed by Manu Boyer, "To Whom It May Concern"
2015- Played in "The Adderall Diaries" opposite James Franco and Amber Heard ( premiered at the Tribeca Film Festival)
2018- He was the voice of Prince Charming in the animated film "Charming" from John H. Williams with co-stars Demi Lovato, Avril Lavigne, ands Ashley Tisdale
Other acting film credits for Valderrama include
2001- "Summer Catch"
2005- He co-starred with fellow "That '70s Show" alum, Danny Masterson, in a MADtv remake of the 1977 TV show "CHiPs.
2006- Valderrama also was the voice of Manny in an animated children's program called "Handy Manny" on the Disney Channel.
2007- "Wizards of Waverly Place"
2009- "Royal Pains"
2010- "Raising Hope"
2011- "From Prada to Nada", "Larry Crowne", and "Suburgatory"
2012- "Awake"
Behind the Camera
Valderrama has also done quite a stint behind the camera. He was the creator and producer of a 2006 MTV series called "Yo Momma", on which he also served as the show's host for all of the three seasons it was on the air. In addition, he also produced several other MTV series like "Punk'd" in 2003, "Trippin" in 2005, and "Blowin' Up" in 2006.
Philanthropic Efforts
Wilmer also directed a number of PSAs (Public Service Announcements) for numerous organizations, including Voto Latino, where he's a co-chair, as well as for the Environmental Media Association, where he's an executive member of the board. He's also spokesperson for CHCI (the Congressional Hispanic Caucus Institute}, and founder of the CHCI's Ready 2 Lead program for educating and empowering Latino youths. In addition, Wilmer worked with President Obama's "Organizing for Action" campaign, which focused on the future efforts that involve both education and immigration reform.
Personal Life
Often known as Demi Lovato's ex-boyfriend, Valderrama announced his engagement on New Year's Day on Instagram to a model named Amanda Pacheco. They had been dating for eight months at the time of the announcement. The announcement was accompanied by a pic of him on a La Jolla beach and he was on bended knee proposing to Amanda. Wilmer and Lovato dated for close to six years, but officially ended their relationship in June 2016. To this day, they still remain friends. Other notable ex-girlfriends include Lindsay Lohan and Mandy Moore. Other BFFs include Topher Grace, Laura Prepon, Nick Lachey, Danny Masterson, and Eva Longoria.
Early Life
Born in Miami and being of Venezuelan and Colombian descent, Wilmer and his family moved to Venezuela when he was only three-years old. He's now quite fluent in both English and Spanish. When he was 13, the Valderrama family relocated to LA. In 1999, he graduated from William Howard Taft Charter High School (Los Angeles, California). In 2002, he was named one of People Magazine's "Top 50 Bachelors". Being Ashton Kutcher's best friend, not only has he been punked on Kutcher's show "Punk'd" (2003) more times than anybody else ever, but he was also a guest at Ashton and Demi Moore's wedding. Wilmer currently resides in Los Angeles, California. Another interesting note: Following the 1998 end of production of "That '70s Show", Valderrama bought the 1969 Oldsmobile Vista Cruiser for just $500 that was used on the show .
Some Personal Quotes
"You should be willing to take challenges as an actor."
"I once played opposite Beverly D'Angelo and that was definitely a great time."
"I was hit twice in the face and that wasn't fun."
"I've been very blessed and, yes, I am cursed with this gift."
"When I first came to the US, I didn't speak English."
"Because I had an accent, some people had the impression that I was dumb."
"The sex with Mandy Moore was good and that was a most meaningful relationship."
So, now that you know a bit more about Wilmer Valderrama, be sure to watch him do his thing on CBS in "NCIS". He's not just charming and sexy but a damn good actor to boot!
Tell us what's wrong with this post? How could we improve it? :)
Let us improve this post!