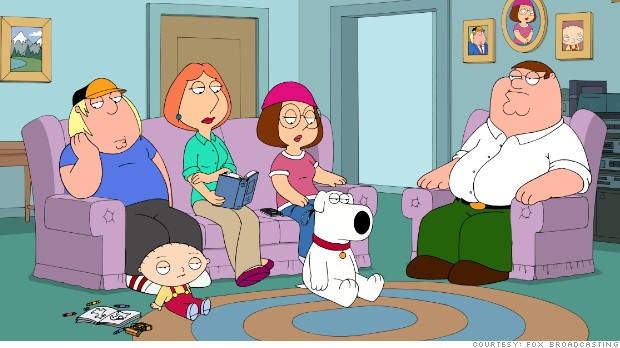 It looks to be that Family Guy is here to stay. After being cancelled twice, the animated sitcom is now currently in its thirteenth season and is an integral part of FOX's Sunday night lineup. This season even started with a very awesome crossover episode with The Simpsons that featured an epic fight between show patriarch's Peter Griffin and Homer Simpson. So what is next for the comedy? Sopranos' alum Tony Sirico will back, but will be not be reprising his role of Vinny the Dog. He will be playing a heightened version of himself in a live sequence.
We at TV Overmind were thinking. What if Seth MacFarlane decided to have an completely live action episode. What a great idea, right? We decided to help MacFarlane out and cast the episode for him. You will see a lot of big names on the list, but we have a feeling that MacFarlane would be able to get all of the amazing actors on board. Here is who we think should play the Family Guy characters.
Kevin James as Peter Griffin
Kevin James has proven he can be a leading man in sitcoms as well as movies that dominate at the box office. The actor spent nine seasons starring opposite Leah Remini on the CBS show Kings of Queens and has starred in such movies as Grown Ups, Paul Blart: Mall Cop, and Here Comes the Boom. James would be perfect as a live version of Peter Griffin. All he would need is a pair of glasses and an accent. However, he has dropped some weight in recent years, but they could always add a prosthetic belly.
Fran Drescher as Lois Griffin
I think the reason behind this one is obvious. Fran Drescher has the same nasally and annoying voice as Lois. Drescher has also proven that she is funny. Drescher starred as Fran Fine for six seasons on the comedy The Nanny. In recent years, Drescher has starred in two additional sitcoms: Living with Fran, which ran for two seasons, and Happily Divorced, which also lasted for two years. That is a total of 10 years of steady work on television. Drescher would have to wear a red wig to pull off the Lois look. A cartoon Fran Drescher even replaced Lois on the episode of Family Guy when the Griffins had their own reality show.
Jonah Hill as Chris Griffin
I was having a hard time deciding between Andy Milonakis and Jonah Hill for this role. Both are funny, but in very different ways. Milonakis, though he is 38 years old, still has a younger looking face than Hill who is 30. When it came down to star power, Hill definitely takes home the prize. He has starred in such successful movies as 21 Jump Street, This is the End, and The Wolf of Wall Street. Though Hill does not have a huge amount of experience on television, he would probably jump at the chance to star in this episode. He may even bring Channing Tatum with him to play the ghost of Kevin Swanson, Joe and Bonnie's oldest son.
Lacey Chabert as Meg Griffin
Lacey Chabert is most remembered for playing Gretchen Wieners in the Tina Fey comedy Mean Girls. She also spent six seasons playing Claudia Salinger on Party of Five. Many people do not know that Chabert was the original voice of Meg Griffin when Family Guy premiered in 1999. MacFarlane always like to poke fun at everything pop culture, including his own show, so what better way to make fun of the Family Guy characters than having the original voice of Meg play her in the live-action episode?
Seth MacFarlane as Stewie Griffin
Since Stewie Griffin is a baby that talks, it would be hard to cast this role. Though E-Trade has a successful campaign with a baby who speaks, I think the episode would be more entertaining if everyone in the show was live-action and Stewie continued to be a cartoon character. MacFarlane pulled that off when Stewie crossed-over on an episode of Bones when David Boreanaz's Seely Booth had a brain tumor and started to see cartoon characters. The same type of concept of live-action and animation together could work here. Stewie could have a dream everyone becomes "real" except him.
Seth MacFarlane as Brian the Dog
Seth MacFarlane likes to star in his own projects. He has done voices for his animated television shows (Family Guy, American Dad!, and The Cleveland Show) and has starred in his movies (Ted and A Million Ways to Die in the West). So it would be no surprise that MacFarlane would be a part of this project as well. He is already voicing Stewie, but MacFarlane can be a part of the live-action fun by playing Brian dressed up in a dog costume. It could be very similar to the FX comedy Wilfred. In order to play Wilfred the dog, actor Jason Gann wears an adult sized dog costume. I think audiences would enjoy this more than a real dog being voiced by MacFarlane.
Cedric the Entertainer as Cleveland Brown
Cedric the Entertainer got his start on the small screen back in 1996 when he starred with his pal Steve Harvey on The Steve Harvey Show. The comedy lasted for six seasons and paved the way for Cedric to star in movies including Man of the House, Street Kings, and A Haunted House. He has almost twenty years of comedy on television and film combined. That along with having the correct body type, he would make the perfect Cleveland. Cedric's voice is deeper compared to the high-pitched Cleveland, but with some practice, this talented actor should be able to pull it off.
Quentin Tarantino as Glenn Quagmire
Many people think that Jim Carrey would make a great Quagmire, but I think that Quentin Tarantino would do an even better job. Though Tarantino is known for writing, producing, and directing such popular films as Pulp Fiction, Kill Bill:Vol. 1, and Reservoir Dogs, he also has a background in acting. He has appeared in small roles on television like Alias, The Golden Girls, and All-American Girl. Plus, Tarantino bears a real strong resemblance to Quagmire, making him a top pick.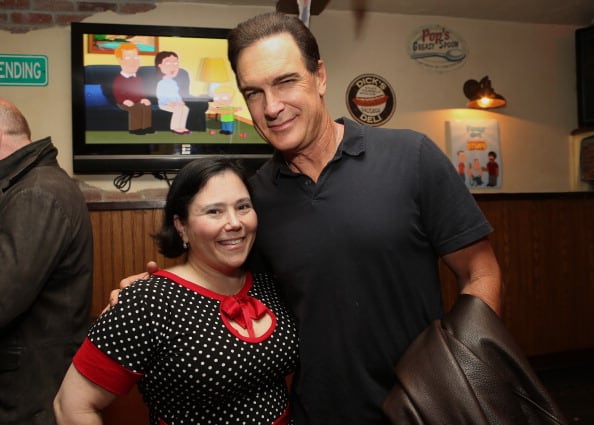 Patrick Warburton as Joe Swanson
Patrick Warburton has made a career out of voicing characters on television and film for over fifteen years in such shows and films as Archer and Scooby Doo! Mystery Incorporated. However, Warburton got his start starring in live action television in the mid 1980's. Warburton most recently starred in the CBS comedy Rules of Engagement, which lasted for seven seasons. Not only does Warburton closely resemble the Family Guy character Joe Swanson, he also has been voicing the character since the show premiered in 1999.
Jennifer Tilly as Bonnie Swanson
Not only does Patrick Warburton make a great live action version of the Family Guy character he voices, Jennifer Tilly would be perfect for the role of Bonnie Swanson. Tilly has been voicing the character since the show premiered in 1999 and has appeared in over 40 episodes. Though, Tilly has extensive background work voicing characters in television, film, and video games, she has also starred in many live action television shows including guest spots on Frasier, Modern Family, and CSI. Plus, Tilly has such a unique voice. There would not be anyone that could copy it.
Adam West as Mayor Adam West
Actor Adam West has been playing an altered version of himself in cartoon form on Family Guy since the show's second season. Who better to play Adam West than the real Adam West? The 86-year-old actor has been starring in television for 60 years. West got his big break on The Philco-Goodyear Television Playhouse in 1954 and went on to star in The Detectives, Batman, and Fantasy Island. All of this experience will help West transform the character to live-action perfectly.
Christopher Walken as Herbert the Creepy Old Man
Chirstopher Walken has been known to take on both serious (Man on Fire) and comedic (Hairspray) roles since his career began in 1953. Walken would be a top choice to play the old man pining over Chris Griffin because he has that same creepy look about him that Herbert does. Walken is no stranger to appearing in comedy on television either. He has appeared on Saturday Night Live countless times since 1990 and most recently appeared in a sketch on Chelsea Lately. He will be playing Captain Hook in NBC's live version of Peter Pan this November. It seems like this character would be the perfect next role in Walken's broad and crazy career.
Nick Offerman as Tom Tucker
Nick Offerman has proven he is a comedic genius after starring as the legendary Ron Swanson on Parks and Recreation for seven seasons. With that show concluding in May 2015, Offerman will have time to play this Family Guy character. Another benefit to having Offerman on the live-action episode of Family Guy is that he already has a relationship with Seth MacFarlane, as he voiced a character in a 2012 episode of The Cleveland Show. It is helpful that Offerman sometimes sports the same mustache Tom Tucker has on Family Guy too.
Tina Fey as Diane Simmons
The Family Guy character Diane Simmons may be dead (she was shot by Stewie after murdering many people herself) she could be brought back to life for this live-action episode. If Brian can be brought back from the dead, so can news anchor Diane Simmons. Tina Fey would be the perfect person to play her. Fey is a comedic genius having starred in 3o Rock, Mean Girls, and Baby Mama. She even has experience working as a news anchor as she worked alongside Jimmy Fallon on Saturday Night Live's Weekend Update in the early to mid 2000's. This time she would have to do the reporting without her signature glasses.
Alex Borstein as Tricia Takanawa
Seth MacFarlane has included Alex Borstein in many of his projects. Not only has the MadTV alum appeared on The Cleveland Show and A Million Ways to Die in the West, she has been a part of Family Guy since the very beginning. Not only does Borstein voice matriarch Lois Griffin, she voices the Asian reporter too. The character is actually based off a character that Borstein played in a news segment sketch during her days on MadTV. Who better to play the live-action character than the actress who played the live-action version previously?
Joey Slotnick as Mort Goldman
Joey Slotnick may be a name you are not familiar with, but you definitely know his work. Slotnick played Milton on Boston Public, Steven on Alias, and Merill on Nip/Tuck. Additionally, he has guest-starred on such shows as The Office, Boston Legal, and Psych. Slotnick is no stranger to the world of Family Guy. He has voiced several different characters from 1999-2006. Slotnick's hair looks exactly like Mort Goldman's too. He would just need to dye it orange to pull it off.
Seth Green as Morton
Since Jonah Hill will be taking over the role of Chris Griffin, the role that Green voices, Green will need to be part of the live-action episode in some other aspect. Green would be perfect at playing Morton, the mustached man who randomly shows up in Quahog. Green has experience changing his voice from his work on Robot Chicken, the show he created with Matthew Senreich in 2005. Green has voiced Keanu Reeves, William Shattner, Batman, Steven Tyler, and George Bush. I think he would be able to pull off Morton's effeminate voice as well.
And what about Mila Kunis?
It would be odd if Mila Kunis was not a part of a live-action episode of Family Guy, especially since the actress has provided the voice of Meg Griffin since the second season of the show. Family Guy always has famous people that voice themselves on the show such as Erik Estrada, Luke Perry, Alyssa Milano, and Johnny Knoxville. Why not have Mila Kunis play herself on the episode? She could appear in one of those random scenes that has nothing to do with the episode's storyline.
Who do you think should play the Family Guy characters on a live-action episode?
Photo 1 by FOX
Photo 2 by Jesse Grant/Getty Images for TinyCo
Tell us what's wrong with this post? How could we improve it? :)
Let us improve this post!