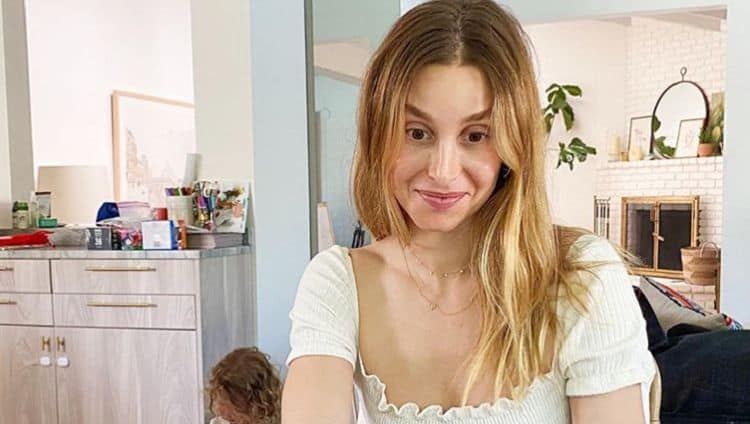 Whitney Port is best known for her role in the reality television series titled "The Hills." From her appearance in this show and her popularity with fans of the series, she was given her own spin-off show after just two seasons due to low ratings. She's had her successes and failures, but she has a strong base of followers who like to find out all that there is to know about the star. She's actually an interesting person, so here are ten things about Whitney Port that you probably didn't know.
1. Whitney is a native of Los Angeles, California
Whitney was born in Los Angeles on March 4th of 1985. She was raised in the city and went to school in Santa Monica at Crossroads School. Her father was a fashion designer so she was born into a family which was involved with the fashion industry.
2. She has four siblings
Whitney Port was raised in a family with five children. She has one brother named Ryan, as well as three sisters, Jade, Paige and Ashley. Whitney was brought up in a Jewish household.
3. Whitney didn't like sleepovers
Whitney shared that when she was a child, she made a few attempts to sleepover at the homes of her friends, but this was something that she just couldn't bring herself to do. She would even take her own pillow to the events, but when it came time to go to bed, she would call her mom and dad to come and pick her up. She admits that she still has a problem sleeping at someone else's home. She is just one of those people who is more comfortable sleeping in her own home than she is at other people's places.
4. Whitney has starred in other television shows
Port is best known for her appearances on "The Hills," on MTV, which was aired between 2006 and 2010, but this was not her only television experience. Many of her fans are not aware that she was also the star of another reality series which was called "The City." She also served as narrator of the show and she even contributed her voice to an episode of "The Family Guy."
5. She is true to herself
When Whitney Port appeared in the reality television show "The Hills," there was some pressure from producers to make the episodes a bit dramatic, but Whitney has some definite thoughts on how this should be done. She believes that a show can be entertaining enough when people are just being themselves. She also shared that you have to think very hard about how you perform and represent yourself because regardless of what producers want, you must be true to yourself and the actions that you take when you star in a reality television series will give the world a definite impression of who you are as a person, so it's important that you remain true to your own values and just be yourself.
6. Whitney is a powerful businesswoman
After "The Hills" ended, Whitney Port was far from being out of work or retired. She was appointed to a very important position for the 1908 brand of home products and foods. She was made their chief branding and strategy officer after the company made the acquisition of Whitney's Bundle Organics women's nutrition company. The larger corporation saw the value that Whitney's business would have for their operation, so they made the purchase of the nutrition company from Whitney and wanted her to come along in a package deal.
7. Whitney Port is married with kids
Whitney Port is a very busy woman who fulfills several different roles in her life at one time. She married Tim Rosenman in 2015 and the couple has a child together, named Sonny. In addition to this, she built her own women's nutrition business, and after selling the company, she accepted a position with the parent company 1908.
8. Whitney enjoys her privacy
Port is not your average reality television star. While many tend to gobble up the limelight and indulge in partying and hanging out with other celebrities, we learned that Whitney is nothing like that. She is a self-proclaimed loner, meaning she prefers to go solo more often than not. It isn't that people don't want to hang out with her, she's just the kind of girl that prefers to tend to business, spend time with her family and forego mixing in with the popular crowds.
9. She is sincere about promoting healthy living
Whitney Port is a successful businesswoman who developed products with the specific attributes of being healthy, clean and eco-friendly. She herself has a young child and she fully knows the importance of eating healthy foods, but she also knows how important it is to protect the environment while manufacturing foods and products. This makes her a definite asset to the 1908 brand because she has a deep and sincere concern for implementing practices that are earth-friendly and leave a small carbon footprint. She has a lovely philosophy when it comes to product development that looks out for the well-being of all concerned.
10. Whitney is a genuinely nice person
Whitney Port appears to have it all in life. She has a beautiful family, a great job, success in most of her television and business ventures and enough money to live comfortably. She's in her mid-30s and has accomplished a great deal in her life, but she hasn't let success and fame change who she is as a person. She stands as living proof that nice people can also get ahead in life and that you don't have to be unscrupulous to achieve the things that you want in life.
Tell us what's wrong with this post? How could we improve it? :)
Let us improve this post!