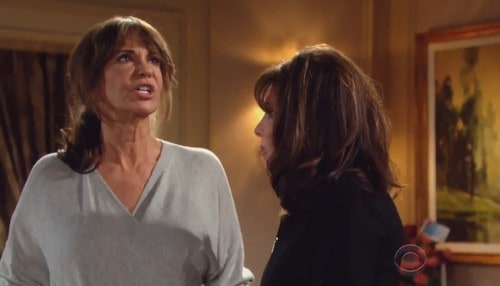 Jess Walton was born in Grand Rapids, Michigan, on February 18, 1949. She began acting in her teens and went on to have a successful acting career throughout the 1970s and 1980s. In 1987, she was cast in the role of Jill Foster Abbott on the CBS soap opera series 'The Young and the Restless', a character which was originally played by Brenda Dickson. It is for this role that Jess Walton is best known as she has played Jill Foster Abbott for twenty years. This makes her one of the longest-standing cast members in an American soap opera. Here are five more things you probably do not know about Jess Walton.
1. She Left Home at Just 17
During her teens, Jess Walton attended Loretto Abbey Catholic Secondary School in Toronto, Canada, where she was raised. When she left school, she left home at the age of just 17 to pursue an acting career. She joined the Toronto Theater Company before moving to Hollywood in 1969 where she signed with Universal Studios in the following year.
2. She Has Been Married Twice
In 1972, she married Bruce Davison, an actor who is best-known for his roles in 'Willard', 'Longtime Companion', and the 'X-Men' franchise of films. Unfortunately, the marriage was annulled the following year. When her marriage ended, Walton turned to alcohol and drugs and spent a period in rehab to overcome her addictions. In 1980, she married John James who is an author and the founder of The Grief Recovery Institute. The couple remains married, have two children together and live in Oregon.
3. She Has Appeared in Several Films
Although she is best known as an actress for her roles in television series, Walton has had roles in films. Her first television film was 'Montserrat' which was aired in 1970. The television film 'The Victim' was shown in 1972 and she played Susan Chappel. In 1973, she played the role of Vicki Bliss in a television film titled 'You'll Never See Me Again'. The following year, Walton played the character Angelique in 'Rex Harrison Presents Stories of Love', another television film. Her other two television films were 'The Hunted Lady' and 'The Return of the Mob Squad', aired in 1977 and 1979 respectively. In 205, Walton played Margaret Rose in a short film called 'Paper Bags' and a soap actress in another short film in 2006 titled 'The Return of the Muskrats'.
4. She Has Won Awards
Jess Walton's acting talents have been rewarded with many award nominations, several of which she has won. During her time on 'The Young and the Restless', she has been nominated for 14 awards. Of these, she has won three. In 1991 and 1997, she won Daytime Emmy Awards; one for Outstanding Lead Actress in a Drama Series and one for Outstanding Supporting Actress in a Drama Series. In 1994, she received a Soap Opera Digest Award in the category of Outstanding Lead Actress in a Daytime Drama Series.
5. She Was Good Friends with Jeanne Cooper
One of Jess Walton's best friends was Jeanne Cooper who played her character's rival Katherine Chancellor in 'The Young and the Restless' The pair were friends since 1973 and remained close until Cooper died in 2013 following complications related to chronic obstructive pulmonary disorder (COPD).
Save
Tell us what's wrong with this post? How could we improve it? :)
Let us improve this post!