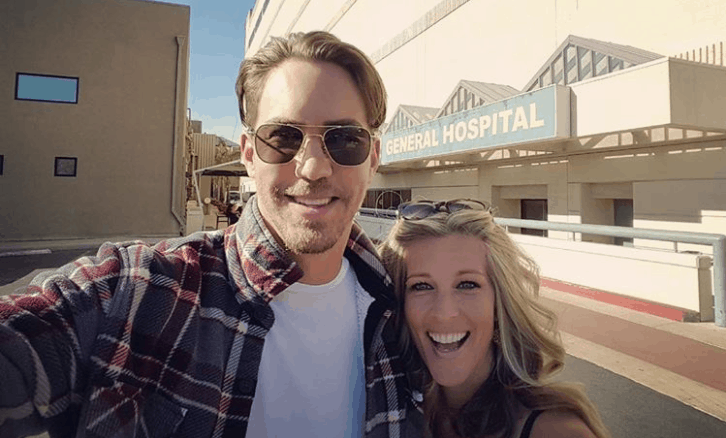 You know Wes Ramsey from his amazing daytime television career, but he's most recently making waves on "General Hospital" as the sneaky and not-quite good guy Peter August. He's had his fair share of jobs in Hollywood, but he's really taking the cake with this one. He's a man who has been in the business for a while. He's been on daytime television, on primetime television, and he's been all over our screens for years. So, why don't we know more about this man?
1. He's a 70s Baby
Wes Ramsey was born on October 6, 1977. He was able to spend the best part of his childhood in the 80s, which was one of the last and the greatest times to grow up in this country. He didn't worry about cell phones or social media or things that are just as horrible as they come these days. He's one of the lucky last ones, and that's something we don't think he takes for granted.
2. He's From Kentucky
This Kentucky-born native is a southerner all the way. There are those who don't consider Kentucky enough of the south to count as a southern state, but we disagree with them. If their football team is part of the SEC, they are part of the south. He's from Louisville.
3. He's Educated
When Wes Ramsey was growing up, he made the decision to apply for and attend Julliard. This New York City based school is one of the most important, one of the most prestigious, one of the most difficult to get into schools in the world, and he made it. He was part of the "Group 29" drama division member from 1996 to 2000.
4. He's Got a Famous Girlfriend
He's dating another very famous daytime actress. Her name is Laura Wright, and you know her as the infamous and amazing Carly Corinthos on "General Hospital," and he is nothing short of smitten with his lady love. They've been together for a few years now, since 2017.
5. He's Had a Crush on His Girlfriend for Years
When he first met Wright back in their "Guiding Light," days, more than 15 years ago, he was immediately attracted to her and developed feelings for her. However, she was not only married when they met, she was pregnant with her baby when they met. He couldn't do a thing about it, so he didn't do a thing about it. They worked together, they went their separate ways, and they did not run into one another again until the 2017 Daytime Emmys. That's when he found out she was single, and he hit on her right then and there.
6. There's An Age Difference
When it comes to their romance, there is a 7-year age difference. Wright is 7 years older than her man, which means she's 50 this year. Because of this age difference, she was hesitant to go out with him at the time that he asked. She did not feel that they were close enough in age, but she eventually decided that she was not going to let that get in her way.
7. He's Musical
When he's not busy with his acting career, Wes Ramsey is busy having some fun playing the guitar. Maybe because we are not musically inclined and cannot play any instruments, we are so impressed when someone can play an instrument like the guitar without actually making it something that he does for a living. That's so cool to us.
8. He's Got Many Hidden Talents
When he's not working on his guitar or his job or hanging out with his lady love, he is a man who is busy doing all the things that are related to working on cars. We don't know if he has a collection of classics that are just cool and really amazing that he is working on or restoring, but we do know that he has some skill in this field, which is another cool thing about him.
9. His Entire Family is Successful
Wes Ramsey learned the value of hard work right from home. His father is an orthopedic surgeon and his mother is an artist. She's a painter and sculptor, and she's very good at it from things that he has said in the past. This is something we love about his family.
10. He's Not an Only Child
Sometimes, you wish you grew up as an only child when your siblings are driving you crazy or you don't get the biggest bedroom. However, he's a man who has two brothers, and he's not that upset about it. His brothers are William and Warren, and it's clear to us that his family is big on the 'W' names.
Tell us what's wrong with this post? How could we improve it? :)
Let us improve this post!