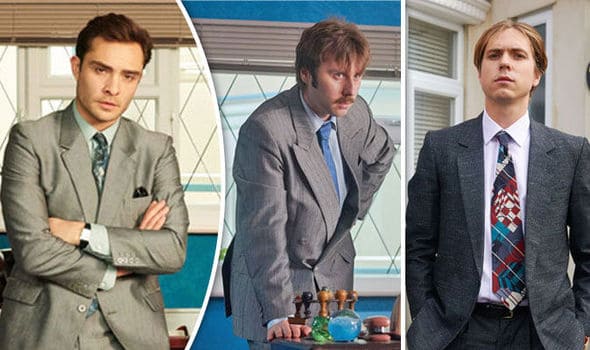 BBC comedy White Gold first hit our screens in 2017. The show, which tells the story of cockney wide-boy Vincent Swan and his crew of double-glazing salesmen, was an immediate success. White Gold was commissioned for a 2nd season shortly after the first wrapped, and despite fans having to wait over 2 years to see it (more on the reason behind the delay shortly), they've clearly not lost their appetite for a dose of 1980's nostalgia in the meantime. To find out more about the hilarious show and its stellar cast of Ed Westwick, Joe Thomas and James Buckley, read on.
1. Its stars are old colleagues
White Gold isn't the first time its stars have worked together. Well, for 2 of them, anyway. As fans of British comedy will know, James Buckley and Joe Thomas first met over 10 years ago on the set of coming-of-age sitcom, The Inbetweeners. The show, which ran for 3 seasons and spawned 2 movie spin-offs, followed the story of a group of students as they navigated the final years of high school. Known for its focus on lad culture, male bonding, and failed sexual encounters, the show starred Simon Bird as Will, Joe Thomas as Simon, Blake Harrison as Neil and James Buckley as Jay.
2. Its creator was a double-glazing salesman
They say you should only write about what you know, and in White Gold creator Damon Beesleys's case, this has clearly paid off. Before his move to TV, Beesley worked as a double-glazing salesman, which no doubt made the process of writing about their wheeling's and dealings that much easier. How much of Beesley's experiences are reflected in those of White Gold's Vincent, Brian and Martin we don't know… and, given what they sometimes get up to, it's probably best for Beesley that we don't.
3. It shares a story-line with The Inbetweeners
Avid comedy devotees will already know White Gold has a lot in common with The Inbetweeners. Both shows feature Thomas and Buckley in lead roles, and both were created by producer and writer Damon Beesley. But the parallels don't end there. Keen-eyed fans of The Inbetweeners would have been chuckling especially hard during the 2nd episode of season 1 of White Gold, when Vincent (Ed Westwick) recounts a story about his cousin parking his car by a lake without engaging the handbrake, ending with the car rolling into the lake. As Inbetweeners fans know, this is exactly what happened to Joe Thomas's character, Simon, during the shows finale.
4. The 2nd season nearly didn't happen
In November 2017, plans for a follow up to the massively successful first season of White Gold were put on ice after show lead, Ed Westwick, was accused of sexual assault by three women. The actor protested his innocence throughout the experience and was eventually redeemed when the Los Angeles District Attorney dropped the case on the grounds of insufficient evidence. With what must have been a collective sigh of relief, filming on the second season resumed in November 2018.
5. It's got a few goofs
Even the best laid plans go astray, and in White Gold's case, there a couple of continuity errors that producers are probably kicking themselves over. As IMDB points out, the 2nd season of the show is said to be set 8 months after the end of the events of the 1st season, which is set in 1983. Fans were somewhat confused, then, when the year of the 2nd season is revealed to be 1985. In another goof, the episode of season 2 set in Malta shows left- hand drive taxis, which is somewhat peculiar when you learn that all Maltese vehicle are right- hand drives.
6. Vincent is inspired by Ed Westwick's brother
When it came to decide on the best way to play the charismatic Vincent Swan, Ed Westwick looked for inspiration from his brother, who just so happened to be a salesman during the 1980's. "My eldest brother was a timeshare salesman in the 80s," Westwick told The Guardian. "He's 18 years older than me and he would tell these crazy stories, so I soaked up some of his personality. My other brother has got that glint in his eye where the devil's there — if he needs to tell a lie to get something to happen the way he wants it to, that's what'll happen."
7. Its first season had double the usual BBC audience
The first season of White Gold proved a runaway hit, a fact that was very likely on the minds of TV executives when they commissioned a second series. As Cultbox notes, the show's first season managed to attract twice as many viewers in the 16-34 demographic than the channel usually manages. No doubt its popularity contributed to the BBC's delight when the stars of the show agreed to reunite for a 2nd airing. "I am delighted White Gold is returning to BBC Two next year," BBC Two controller Patrick Holland said at the time. "The first series was a great new tone on the channel and I can't wait for the audience to see where Vince's schemes and capers take us next time."
8. It's reflective of its time
Modern viewers may sometimes be taken aback by the very un-PC utterings that fall from the mouths of the shows characters, but as Jo Buckley points out, their attitudes are purely a reflection of the time. "It is a bit jarring — but that is how people did talk," he told Digital Spy."That's just another part of the '80s that was so rife with things that we can poke fun at — along with the clothes and the music."
9. Joe Thomas was involved in the writing process
Not only does Joe Thomas star in the series, he's also responsible for some of its writing. Thomas didn't miss out on using the opportunity to poke some digs at his co-star and former Inbetweener's colleague, James Buckley. 'I wrote jokes where I called him Buck Ugly and I think he looks like Yoda," he told Metro.
10. A third season is not yet confirmed
The 2nd season may have only just hit our screens, but fans are already clamoring for more. As yet, any rumors of a third season are purely speculative. Despite producer Damon Beesley dropping some pretty heavy hints that there's enough themes from the 2nd season to run into a third, nothing has been confirmed either way by the BBC as yet. Whether or not we get to enjoy a third helping of Vincent Swan and co, we'll just have to wait and see.