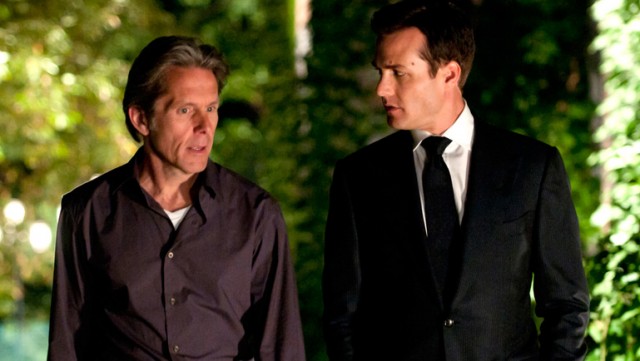 If being a lawyer is like a watching two boxers go head to head in a boxing match, then Harvey and Louis would fit the bill as they fight to keep their respective clients, Kelsey and Madison Price, happy in terms of getting what they want. Mike, of course, is stuck in the middle of this legal battle as the younger lawyer tries his best to make sure that no punches are being thrown in this episode of Suits.
I felt sorry for Mike when Louis got the better of him when the latter turned around and sold the tabloid that Kelsey so desperately wanted and when Harvey bet the genius associate for pretty much nothing against the junior partner. I had hoped that Mike would be able to wipe the floor with Louis and make Harvey proud of him, but it was not to be, as Louis once again turned the tables on Mike when he informed Harvey, after enduring an angry rant from the senior partner, that he was the one that emerged victorious. I have to give Mike an "A" for effort, though, because he at least tried to be three steps ahead of Louis. His little act with Donna by the fax machine almost worked had Louis not seen right through it.
I felt even more sorry for Mike when he was put in an awkward situation with Rachel at the restaurant. It's clear that Mike wants to be with Rachel, but there's a part of him that wants to be with Jenny as well. I was surprised that Rachel would let Kyle of all people pose as her boyfriend on this tension-filled double date. I figured that she would go with someone outside the office given that she herself had said that she doesn't date anyone from the firm. On the other hand, the paralegal (spoiler alert) ends up with Mike anyway, so that renders her little rule moot.
I was also surprised to see the great Harvey Specter be as rattled as he was when Cameron Dennis, his old boss from his ADA days, dragged the older lawyer into a lawsuit against the current District Attorney for burying evidence, falsifying DNA results, and coercing confessions in order to put bad people, and those who only looked guilty but were really innocent, away behind bars.
It was revealed in the beginning of the episode that Harvey learned everything he knows from Cameron and that Harvey left the DA's office when he learned the truth about his former mentor. Good thing he had Jessica behind him, as she represented him as his attorney. Also, Donna, unbeknownst to Harvey, gave Jessica the smoking gun to convince Cameron to cut a new deal for himself instead of selling Harvey out. Three cheers for Jessica and Donna!
In all, I enjoyed watching this episode of Suits. Sure, it didn't have as much of the usual sarcastic humor embedded into it, but it was good nonetheless as we draw closer to the end of these summer re-watch reviews.
[Photo via USA Network]