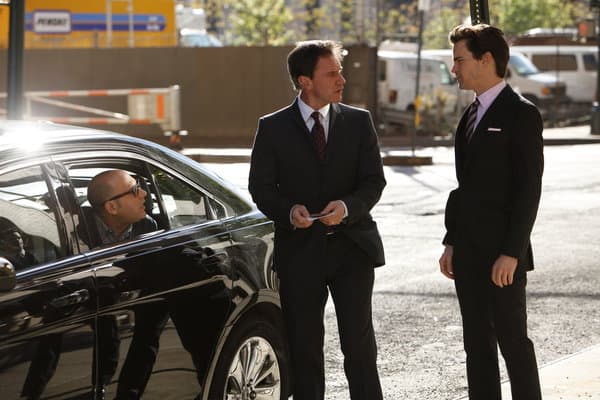 We get a glimpse into Mozzie's past in this episode of White Collar. Mozzie is in the process of selling off his most treasured belongings in order to fund his and Neal's second grand escape when a man named Frankie De Luca Jr. comes looking for someone named The Dentist of Detroit. Mozzie immediately turns around with his back facing De Luca when the man mentions The Dentist. It seems that our resident conspiracy expert is hiding something. De Luca then leaves when no one steps forward claiming to be The Dentist, but places something on one of the concrete columns: a picture of an African American man whom Mozzie recognized as Mr. Isaac Jeffries, the man who took Mozzie into the group home that he grew up in.
Later, Mozzie reveals to Neal that he's The Dentist and will stop at nothing to rescue Mr. Jeffries from being in De Luca's grasp, but Agent Burke steps in and puts Mozzie in protective custody until the FBI can figure out a way to get De Luca. As Mozzie is being questioned about being The Dentist, we flash back to his childhood, where young Mozzie was the unfortunate victim of bullying, but Mr. Jeffries taught Mozzie to use what he learns in life to fight his own battle, something we could all follow to stay one or two steps ahead of those schoolyard bullies.
Mozzie then asks Agent Burke if they found any stuffed animals when the police searched Mr. Jeffries' house. Turns out that there was a stuffed bear holding an apple found at the house, and Mozzie explains that the bear represents him and that Mr. Jeffries was on his way to New York to warn him. But of what? How did Jeffries find out that Mozzie is The Dentist of Detroit? It could be that Mozzie told Jeffries through their secret messages that they had sent each other over the years, but I guess we'll never know. Oh, and the way that Mozzie figures out that the book about finding freedom and the La Femme CD is the Statue of Liberty, which is where Jeffries will be when he gets to New York, was great. I love that the show incorporates little riddles like this for both the characters and the viewers to decipher, much like the ciphers from Sleepy Hollow.
The scene where Mozzie uses all the things that he needs to sleep and a fresh cantaloupe melon to escape from the FBI safe house was a face-palm worthy scene, as no one figured out that Mozzie was not underneath the blankets. However, I do applaud the intricate mechanism, along with a timed voice recording that would play every time someone opened the door, which Mozzie puts in place to simulate the fact that he's the one sleeping on the bed and not Melon Mozzie. It was also interesting to hear that Elizabeth was a delinquent once in her youth, too.
Ultimately, it's revealed that De Luca wants to take out someone named Patrick O'Leary, whom De Luca thinks is responsible for his father's death. He wants The Dentist to pull the same con on O'Leary that he pulled on the late Mr. De Luca Sr. Neal and Agent Burke go undercover, with the latter posing as The Dentist and con O'Leary out of half a million dollars during a horse race betting party. The money is later recovered, both O'Leary and De Luca are arrested, and Mozzie's life is saved after he escapes from the safe house to meet with De Luca underneath the overpass near the Brooklyn Bridge. Mr. Jeffries is also brought back from the Statue of Liberty to Neal's apartment, safe and sound.
I thoroughly enjoyed the quote-off scene with Mr. Jeffries and Mozzie (though I had no idea whom they were quoting except for Shakespeare), as well as the scene where Agent Burke pretends to fire Neal at the horse race betting party in order to provoke O' Leary to go all in. (Aside: I love your hats, Neal!) This episode of White Collar was another great one to watch and reminded me to never get on Mozzie's bad side, not that we will cross paths anytime soon. Onto the next episode of White Collar goodness!
[Photo via USA Network]