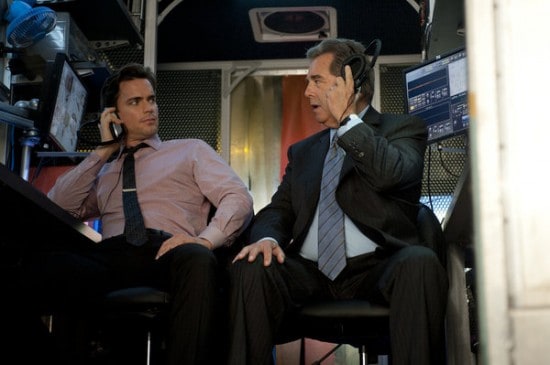 The race against time is on in this episode of White Collar. Peter brings in Agent Kramer (guest star Beau Bridges) when the FBI gets wind of the Degas painting that was sold in New York. Peter and Agent Kramer then interrogate Neal, asking him hypothetical questions about the painting and what he would do to get rid of it to avoid being taken down by the FBI. Agent Kramer then presents Neal with two suspects: Gus Leland, who deals exclusively in French impressionists, and Rusty, an expert on spotting art forgeries. It is revealed later in the episode that Rusty is the person whom Mozzie fenced off the Degas to, and now Neal has to retrieve the painting before Peter and Agent Kramer do. Let the race begin.
I enjoyed watching Neal outsmart Peter with a fake Degas, which he painted himself and switched with the real one at Elliot Richmond's apartment.When I saw that Neal had to jump off the 43rd floor, it made me very nervous, and it makes me wonder what was going through Matt Bomer's mind when he was shooting this particular scene. Was he nervous like I was feeling when I watched the scene unfold, or did he throw all caution to the wind and just go for it?
The scene where Agent Matthews gets called in by Peter (I'm assuming, given that she asked Neal in the elevator if he's going up to see Agent Burke and after Neal answers in the affirmative, she suggests that they go up together) was nail-biting because Neal met her under the alias Chris Gates, an Interpol agent, and if she were to call him by that name when she meets Peter, then all hell could break loose. I then let out a sigh of relief that Neal's quick thinking saved his butt once again as he told Agent Matthews that he's undercover at the FBI to flush out a mole in the White Collar Division. In the end, the truth came out, but no one said anything to anyone because, like Agent Matthews said, if she were to inform her boss, Agent Kramer, the fact that she told Neal about the existence of the U-boat manifest over martinis, her career is over.
It also looks like Matthew Keller is still in town when he appears before Mozzie as the latter is selling off his clothes on the streets of New York, asking the resident conspirator about the treasure. When Mozzie doesn't give up the information about the treasure, Keller decides to up the ante. Remember when I said that Keller kidnapped Peter and Elizabeth in separate episodes? Well, now, it's Elizabeth's turn to be kidnapped as she is taken from her home while cooking dinner for her and Peter. Keller then calls Peter after the fact, telling him that he needs his help to get the treasure and that Neal has been in possession of it all along. Guess Neal is going to be in hot water after all now that his best-kept secret is out.
At the end of the episode, Richmond is taken down, and the Degas is confirmed to be a forgery (thanks to Neal). Meanwhile back at Neal's apartment, the ex-con man pours two glasses of the finest Bordeaux for him and Mozzie. Mozzie doesn't accept the glass that Neal hands him as he asks Neal if he had noticed the hourglass on the table. It looks like Mozzie had given Neal an ultimatum, to make a choice between leaving for paradise and staying in New York. Neal, after some inner struggling, chose to stay, leaving Mozzie in disbelief, saying that Neal has Stockholm Syndrome and that he thinks that he and Neal will have a happy ending to their story. I agree with what Neal said that if you want a happy ending, it depends on where you stop the story. If Neal had chosen to leave everything behind to live in paradise, then somewhere down the line, he's bound to be caught, if not by Peter than by someone else. And if it was someone else, then they might not be too inclined to cut Neal some slack like Peter does. Let's hope that in the next episode, everyone gets a happy ending.
[Photo via USA Network]
Tell us what's wrong with this post? How could we improve it? :)
Let us improve this post!