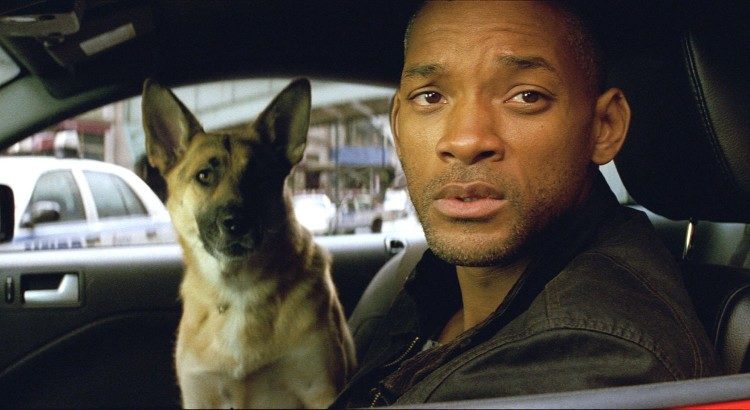 VFX mashups are fun aren't they? In a post-apocalyptic world if you met a character like ted you might either get freaked out and start shooting or find it possible that your mind has finally snapped and you've basically gone around the bend. Of course seeing a walking, talking teddy bear might actually be more comforting than trying to get a mannequin to talk only to fill the dummy full of holes, though obviously that's not going to be the case here. It's not hard to think that Robert was bound to crack at any given moment, especially considering that he had only his dog to talk to for so long and his work to keep him busy. In a city that had been wiped out by the plague and left only the creatures that were best avoided during twilight and nighttime hours it was bound to happen that he would make a mistake, or that the creatures would develop an alpha among them that would figure out his patterns and routines, and possibly find a way to trip him up in order to get rid of what was probably seen as a nuisance. Lasting as long as he did was impressive really since being left alone in a city that massive with only mannequins and his dog for company was bound to make him crack at one point. Of course if the bear kept talking and walking and then ran away would one think that it was a symbol for their sanity running away from them?
It's hard to equate just what would be going through a person's mind at this time since no one in this world has had to deal with this kind of situation, and hopefully never will. But a walking teddy bear is something that no one would likely think of as normal at first, and it's with a great amount of certainty that a lot of people would fire first and figure it out later if they had no knowledge of Ted and his movies. It does make one wonder though if the creatures in the movie would go after Ted at all after dark since he's not human therefore wouldn't be looked at in the same light, would he? That's hard to say really since they did pounce upon other animals in the movie and it's likely that they don't differentiate between what's human and what's not. It's a question to ask the author and the director perhaps, and maybe even Will Smith if he would know, but all in all it's still something that might spark a bit of an interesting debate. Ted of course being filled with stuffing and nothing else is kind of an odd target to think of, but since he moves and talks it's easy to think that he would still be a target. Of course that begs the question though of whether or not he would be just fine if he pretended to be the inanimate object he started out his existence as, since he doesn't really have the need to breathe or anything.
People really didn't know what to think about I Am Legend it feels since the story was actually quite compelling given that it deals with isolation if a very different way. But all in all there were moments that could have likely been a little better, and with an entire city to explore it does feel as though the movie could have been a little more robust if it had taken the time to really develop. What was shown however was still great enough in a lot of ways since it opened the door for another movie or possibly a series that could expand on the whole virus and what it really did to people and how many there are remaining in the world. There were a lot more questions than answers with this movie, and mashing Ted into it would certainly leave a lot more since Robert would have to question whether the virus was to blame for Ted coming to life and if any other objects would start walking and talking on their own. Just imagine a virus that could bring life to objects and what that might mean for the human race. It might actually be a new threat unlike any that has been posed on screen as of yet, almost like a Terminator movie with a definite twist that would be at least a little captivating.
The chances of seeing such a thing are just about absolute zero though unless some decides to come up with a way to make this into a bit of fan fiction that people would be able to get behind. Hey, stranger things have and still continue to happen after all, so it's possible.