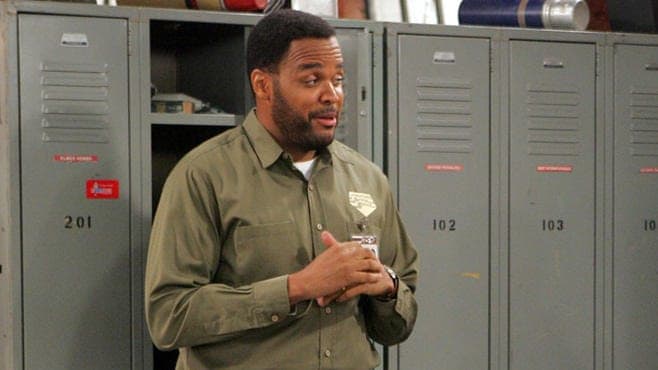 Victor Williams is another actor that's been doing just fine over the years and is a decent to good actor since he's convincing and can back up the lead actors he works with efficiently and without an issue. Like so many individuals in show business, he's one of those individuals that people can look at and wonder why in the world he hasn't gone any further with his career, such as becoming a leading man or someone that is a little more than what he's been. Sometimes it's a matter of personal choice since there are people within the acting world that don't aspire to be at the top of the heap. It's not a new concept but some folks still have trouble believing it. Not everyone is meant to be at the top, but to be fair, not everyone tries to get there, since some folks are happy as hell to be where they're at and do what they can to maintain the career they've earned. It's not for anyone to say that this is what Victor has done, but he's had a solid career for years now and has been in the business for well over two decades. Does anyone ever stop to think about that? Some of these folks in the acting business have given their lives over to their career, and while some might have as much to show for it as they'd like, others have made a very good living and are free of the paparazzi largely because they're not always playing leading characters and they keep their noses clean as much as they can, figuratively and literally a lot of times.
If there's no drama there's very little news, and if something can get squashed quickly and without as much fuss the newsfeeds aren't going to pick it up that quickly since it won't help push any kind of news that many of the gossip rags want. But this does a great deal of good for the careers of many actors that are found to be agreeable to work with tend to have a slightly easier time in the business since they don't tend to have reporters and newshounds coming around to find out what the latest gossip is and how they can exploit it. Obviously Victor has done what he could to keep himself out of the news in such a negative manner, which is a good thing since it means that he's been doing what he can to just focus on what he's doing and what he wants. It kind of sounds as though one of the only bits of news that might involve any kind of drama is that he's been mistaken for Tyler Perry a few times. That's not the worst that could happen really, but it's easy to understand that people don't always like being mistaken for someone else, especially when it comes to accomplishments and accolades.
Over the course of his career, Victor has been someone that has been growing better and better with each role and has made each moment he's been on screen something that people will hopefully remember. The fact that he's still around is evidence that he's well-liked by some folks and is capable of convincing others that he's a talent that is better to make use of than to just toss to the side. The acting world is a little cruel when it comes to whether or not an individual will be kept around since throughout the history of show business a person needs to put up or shut up more often than not, and those that can't put up are going to be shown the door, or at the very least, given roles that won't help them advance but will keep them where they're at until they can prove that they're worth something more. There are some folks that will stay in this position and eke out a living while they try to maintain their pride and their love in the business. But then there are folks like Victor who can prove what they're worth early on, and even if there are setbacks at any time, they still pushed through them in an attempt to do something better, something that people would notice and enjoy.
So far in his career, he's been someone that people like to watch and has delivered quality entertainment that a lot of folks can agree might not make him the hottest talent around but definitely makes him a stable asset for any show or movie that wants to utilize what he has. Sometimes that's miles above being a famous name that is notoriously hard to work with since those that can adapt and remain versatile in their skills are often far more valuable than big-name stars that need to find their motivation to work.
Tell us what's wrong with this post? How could we improve it? :)
Let us improve this post!