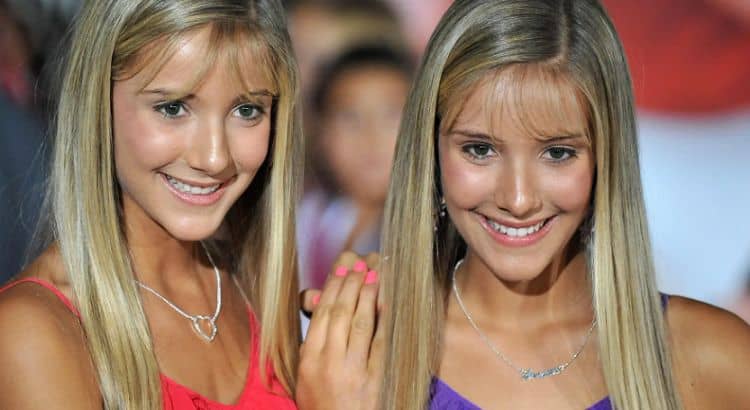 If you were a Disney channel fan during the mid-late 2000s, you probably remember twin sisters, Camilla (Milly) and Rebecca (Becky) Rosso. From 2006 to 2008, they appeared in several episodes of the hit series, The Suite Life of Zack & Cody. They made their film debut in 2009 with lead roles in the movie, Legally Blondes. The following year, the sisters took a break from acting only to resurface three years later. In 2013, Milly and Becky joined forces with their sisters Lola and Georgina to create a band called The Rosso Sisters. The group released an EP in 2014 called Hola Hola. However, they disbanded in 2015 after their mother's death. Since then, the sisters have stayed away from the spotlight and many of their former fans want to know what's up. Keep reading to find out what happened to The Rosso Sisters.
The Rosso Twins Musical Story
Before forming a group with their sisters, Milly and Becky recorded their first song together in 2009 as part of the movie Legally Blondes. Shortly after the group was formed in 2013, they were signed to Virgin Records. The girls were managed by Paul Kevin Jonas Sr., the father of the Jonas Brothers. Everyone involved with the group believed they would go on to be a huge success. They eventually became an opening act for Demi Lovato during her Neon Lights Tour which made stops across South America. During this time, The Rosso Sisters released two singles, "Hola Hola" and "I Like Boys".
Sadly, as the group's popularity began to increase, they found out their mother, Anthea, had been diagnosed with pancreatic cancer. She passed away just three months later and the sisters decided that they no longer had the time or energy to focus on a career in music.
In February of 2015, they wrote a heart felt message on Facebook to explain to their fans that they would be walking away. The message read in part, "We are so incredibly heartbroken & devastated that our beautiful mom Anthea passed away after fighting an extremely tough battle with pancreatic cancer. She was our best friend and inspiration, & the most caring, loving, selfless, kind hearted person we could ever imagine. After much thought & consideration, we have decided not to carry on with our girl group and making music, & to close this chapter in our lives, even though it was just the beginning and we hadn't released music in the US yet." Many fans hoped the sister would eventually return, but that day has never come.
Where Are The Rosso Sisters Now?
Even though it's been a decade since The Rosso Sisters have lived public lives, there are still lots of fans who are curious about them. The Rosso Sisters' Instagram account still has over 14,000 followers and some of their photos have comments that were posted within the last few weeks.
Since deciding to leave the music industry, the girls have also chosen to live their lives away from the public eye. Each os the sisters seems to be keeping a low profile on social media. The good news is that all of the sisters seem to be doing well and enjoying their peace and quiet.
Becky Rosso
In 2018, Rebecca Rosso married a man named Ben and all of her sisters were in her wedding party. Rebecca currently lives in California and has a career in UI/UX. She seems to be perfectly happy living a 'regular life'.
Camilla Rosso
Camilla Rosso was the maid of honor in Becky's wedding. She is now married and has been since 2018. She seems to be living an especially low key lifestyle and hasn't left much of an internet footprint other than a private Facebook page and an old Pinterest account.
Lola R0sso
It's unclear whether or not Lola has gotten married yet, but she was engaged as of 2019. In 2018, she graduated from UCLA where she studied pre-med and it looks like she's going down the path to become a doctor.
Georgina Rosso
Georgina is slightly older than her twin sisters. She is also happily married and currently lives in Texas and there she works as an administrative assistant. She is also a mother and is probably busy spending time with her family.
Will They Be Back?
I hate to break it to those of you who were hoping The Rosso Twins would make a comeback, but it doesn't look like they will. The twins and their other sisters seem to be perfectly content with their new lives. My guess is they will more than likely want to keep it that way.
Tell us what's wrong with this post? How could we improve it? :)
Let us improve this post!