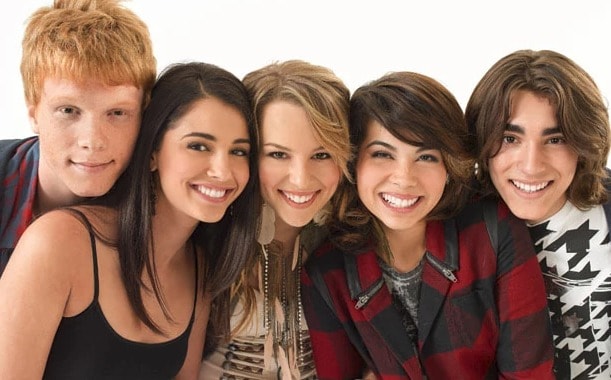 Lemonade Mouth is a movie you might want to watch if you need something cutesy and filled with the kind of teenage angst you might miss if you're out of high school or you might relate to if you're in high school. It has a lot of great moments in it that could spark a hint of inspiration or possibly just entertain a person during a downtime. The group that gets together during detention manages to pull together to create a band and to eventually get a music hall built in a school that's already struggling to make ends meet and find room for all of its activities. The whole point of the story is wrapped up in the lives of the band members and the world they live in and have to get through in order to realize what's really important. So if you're a teen or an adult you should be able to relate to this movie in some way.
But what happened to the cast members?
Blake Michael – Charlie
It seems like Blake took a break between Lemonade Mouth and his other projects and since then his career has been a bit spotty. His biggest role to date, and the most constant, was a part in the show Dog with a Blog. Other than that it seems that he might have been kind of getting whatever he can in order to stay busy. It might be that he's struggling to find work or that his youthful look isn't really getting him much of anything any longer but it seems safe to say that he should be able to keep moving forward if that's what he wants to do.
Naomi Scott – Mo
Her resume isn't all that extensive yet but at the very least she's managed to star in a couple of movies, or will be, once they come out. Right now she's got the latest Power Rangers movie to her credit since she showed up in a big way. It might not have received the credit it deserved for the attempt but there's a good chance that it could spawn another movie if someone is willing to take the reins and run with it. In the meantime there's always the chance that her showing up as Jasmine in an upcoming live action version of Aladdin could help to spark her career. Right now it would seem that some people have an issue with her playing Jasmine, but it might be best to hold off on judgment until her performance is seen on the big screen.
Adam Hicks – Wen
Adam Hicks had what seemed like a well-rounded career and a lot going for him, but obviously something was off since he was caught during an armed robbery earlier this year. He's been awaiting a mental health evaluation to see if he's even competent to stand trial. It's hard to know which is worse in this case, that he's somehow fallen so far that he had to resort to robbery or that there's no way to know if he's mentally sound until the evaluation is over. He's not the first person that started out as a child actor and somehow went bad, but one has to wonder what he was doing with his money that left him desperate enough or foolish enough to attempt an armed robbery in an era where such things just don't work so well.
Hayley Kiyoko – Stella Yamada
Hayley has got a lot going for her and has proven to be a rather strong individual since she came out as a lesbian to her parents when she was just 6 years old. Apparently she had a crush on a female teacher and realized she liked girls, so she decided to make it known and has been living her life in this manner ever since. At the time she came out she became heavily interested in the LGBTQ community and has used her influence to the benefit of others. She's become something of an icon to those that watch her and listen to her music and has been a huge inspiration to her fans throughout the years so far. As far as her time in film and TV goes she's been pretty successful so far with some hits and misses along the way. But at this point she's very stable in her career.
Bridgit Mendler – Olivia
For someone in her mid-20s Bridgit has done a lot in her career thus far and has gone a long, long way to making sure that people remember her. She's kept fairly busy since Lemonade Mouth and has been seen in a number of different projects that have made use of her talents. She's also been a huge inspiration to others and has used her influence to help people in many different ways.
It's great to see that most of the cast are at the very least doing something to keep their lives moving forward.
Tell us what's wrong with this post? How could we improve it? :)
Let us improve this post!