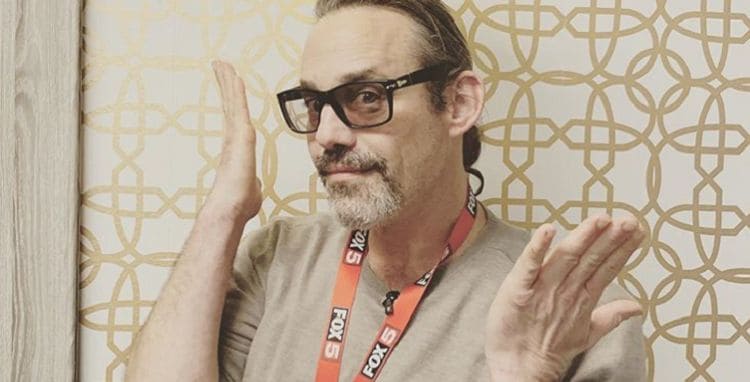 Cut back to the late 1990s, and Nicholas Brendon was on top of the world. As one of the core trio on the hugely popular (and much missed) Buffy the Vampire Slayer, Brendon had teenage fandom, money a-plenty, and, it seemed, a one-way ticket to the big time. So, what happened? Judging from the fact he's making the news more for his arrests than his acting these days, nothing good. Brendon first tried to crack into acting in his early twenties but quit when he got sick of the politics in Hollywood. From there, he returned to school to study medicine, but that didn't work out either. He spent the next couple of years trying his hand at pretty much every job under the sun; after finding that nothing seemed to stick, he decided to give acting another shot. He brushed off his resume, got himself an agent, and boom — within three months, he'd landed the career-defining role of Xander Harris on Buffy the Vampire Slayer.
Brendon went on to star as one of the show's central characters until 2003, appearing in all but one of its 144 episodes. When it finally came to a close after season 7, there was no doubt in anyone's mind that Brendon would be going onto bigger and better things. But that didn't happen. While his screen best friend Alyson Hannigan's career went from strength to strength, Brendon just couldn't seem to catch a break. His first pilot, The Pool at Maddy Breakers, didn't get picked up. Next up was Kitchen Confidential, a sitcom based on the book of the same name by chef Anthony Bourdain. The show managed to get four episodes into its first season before Fox pulled the plug. After several years in the wilderness, his luck seemed to pick up in 2007 when he landed the recurring role of Kevin Lynch in Criminal Minds. After one season in the role, he took a back seat, but continued to return for an episode of so per season until 2014. Since then, he's picked up a few roles in the likes of Private Practice, Hollywood Heights, and Faking It, but it'd be fair to say he hasn't been overstretched in the acting department. Fortunate, then, that's he's managed to keep himself busy on various side projects, including writing for the Buffy Season 10 comic book and, as of 2019, selling artwork and merchandise under his label, "Slightly Askew by Nicholas Brendon".
Brendon's troubles first hit the headlines in 2004 when he checked himself into rehab with alcohol problems. "After realizing a disease had taken control of my life, I decided the best way to regain my health was to enter a treatment facility," he said at the time. Unfortunately, the treatment didn't stick. In May 2010, he checked into the SOBA Recovery Center in Malibu for help with alcohol and sleeping pill addictions… although the signs that something was up had started in March that year when the actor was tasered and arrested by Los Angeles police.
According to Digital Spy, Brendon swung his fists at the officers before trying to run away. After the police officers stopped him with tasers and arrested him on four counts of misdemeanors, including one for resisting arrest, two for battery against a police officer, and one for vandalism, the actor was given a one-year suspended jail sentence, 36 months' probation, and 10 days of community service. For the next four years, Brenden managed to keep out of trouble. And then, in October 2014, the news broke that he'd been arrested again, this time for damaging property and obstructing arrest. If, by now, people were starting to suspect that all wasn't well in Camp Nicky, the next couple of months confirmed it.
On February 16, 2015, the actor was arrested on suspicion of grand theft in Fort Lauderdale after allegedly trashing his hotel and trying to skip out on the bill. The arrest came within days of his wife, Moonda Tee, calling it quits on the relationship after just five months of marriage.
Just one month later, he was arrested again in Florida while attending the ALT*Con "Geek Convention" in Tallahassee. According to People, Brendon called the police himself after returning to the hotel to find his wallet and phone missing. When the police arrived, the hotel manager told officers that "a celebrity guest has taken pills and alcohol while at the hotel. He was walking around the hotel and his clothes were torn and wet from a toilet overflow he'd created". Brendon himself then arrived at the scene, reportedly with his clothes as ripped and wet as the manager had claimed.
After withdrawing his allegation of theft, Brendon was escorted to his hotel room where, in addition to finding his missing wallet on the desk in plain sight, the police officer found that "the furniture in the room had been damaged. There was a porcelain piece that been thrown against the wall that was shattered. The dresser area was ripped off, the phone was pulled out of the socket and the bed was flipped over. The floor in the bathroom was covered in water."
After his arrest in Tallahassee, Brendon lay low for a few months, but hit the headlines again in October when he was arrested for attacking his girlfriend in Saratoga Springs, New York. After pleading guilty to criminal mischief, he avoided jail time after agreeing to seek drug and alcohol counseling and stay out of trouble for one year. In fairness, he managed it. It would be almost 2 years to the day until he was arrested again, this time for assaulting his girlfriend at a hotel bar in Palm Springs, CA. After striking a plea deal in February this year, the actor managed to stave off a possible 4-year jail sentence on the agreement that he'll take a year-long domestic violence course and complete 20 hours of community service.