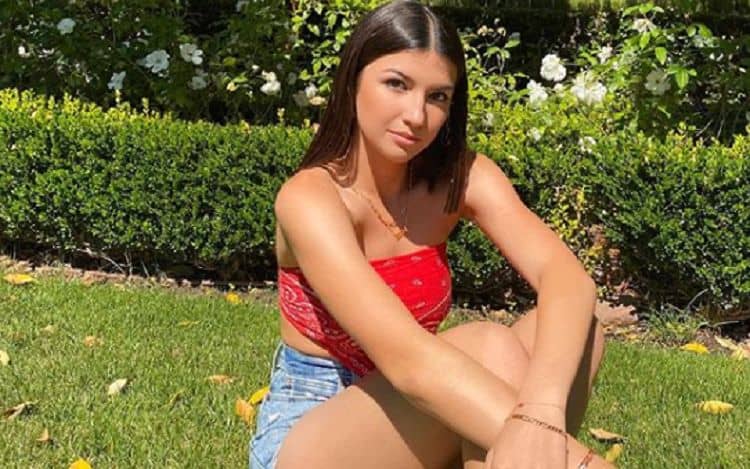 Some people have used quarantine to catch up on old projects while others have used the extra time at home to rest and recharge. Ellie Zeiler, on the other hand, has used this period to become a social media celebrity. After schools across the country closed down to help prevent the spread of the virus, Ellie began using the social media app, TikTok. It didn't take long for her to start getting lots of attention. In just a few months, she has built up a large following on both TikTok and Instagram. At the moment, she has 5.2 million and 314,000 followers respectively. Even though her success has come quickly, she isn't taking it for granted. Keep reading for 10 things you didn't know about Ellie Zeiler.
1. She's Been Accused Of Being A Clout Chaser
Ellie Zeiler has an uncanny resemblance to another well-known TikToker, Charlie D'Amelio. However, some TikTok fans say that their looks aren't the only thing they have in common. Many have accused Ellie of copying Charlie's style. Recently, she has even been accused or pretending to be Charlie. But Ellie insists that she's just being herself and any similarities are merely a coincidence.
2. She Helped Start A Nonprofit
Even before Ellie became well-known on social media, she was already making an impact. In March of 2020, she and some friends created an Instagram account called Together As One (TGAO) to help combat bullying. The account eventually resulted in a school club and a nonprofit.
3. She's From California
Ellie is a west coast girl to her core. She was born and raised in the San Diego area, and it looks like she still lives there today. She hasn't discussed any plans to move to Los Angeles which is where many social media influencers decide to move to help boost their careers.
4. She Was On An Episode of Chopped Junior
Cooking has been one of Ellie's passions from a very young age. In 2016, when she was just 12-years-old, she appeared on an episode of Chopped Junior. Unfortunately, she was ultimately 'chopped' from the show. Before leaving she said, "I'm really sad that I got chopped. This competition has inspired me to really focus on my cooking. And I want people to know that I never quit, and I keep moving forward."
5. She Likes To Play Golf
Before becoming a social media star, Ellie was a 'normal' teenager in many ways. In addition to cooking, she also loves to play golf. She has been playing competitively for years and was even a member of her high school's golf team. However, her season was cut short due to the COVID-19 pandemic.
6. NYU Is Her Dream School
Ellie is still in high school, but she's already thinking of the next phase of her life. She told The Teen Magazine, "My dream school is New York University. I'm interested in having a career in the field of real estate when I grow up. As of now, I may be an influencer, but I plan on continuing on with my scholarly studies."
7. She Wants To Be An Entrepreneur
Ellie is definitely enjoying the success she's had on social media, but she would definitely like to expand her reach in the future. While real estate is at the top of her list, she says she would also love to launch her own cosmetics line. She loves makeup and believes it would be a great experience to start her own brand.
8. Her Mom Is Her Greatest Role Model
Family is very important to Ellie and she cites her mom as her biggest role model. She says, "My mom is my role model, because she inspires me so much. She is such a strong woman and she holds a lot of wisdom and sage. I can always rely on her no matter the circumstances, and I really look up to her." British actress, Millie Brown, is also someone who she considers to be one of her role models.
9. She's An Activist
Most teenagers aren't sure what they believe in, but Ellie has already discovered a few causes she's interested in. During her interview with The Teen Magazine, she said, "I am a big activist for women's and human rights. Especially with the situations that are occuring right now, I love that I can use my voice to speak up on my platform to shed light onto these topics and spread word. From me speaking out, I feel that people are getting to know me better, because activism is something that is significant to me."
10. She Genuinely Loves Connecting With Others
One of Ellie's favorite parts about being an influencer is the fact that she gets to connect with so many different people. Whether it be her followers or other creatives, she enjoys being able to get to know people and using her platform to form long lasting friendships.
Tell us what's wrong with this post? How could we improve it? :)
Let us improve this post!