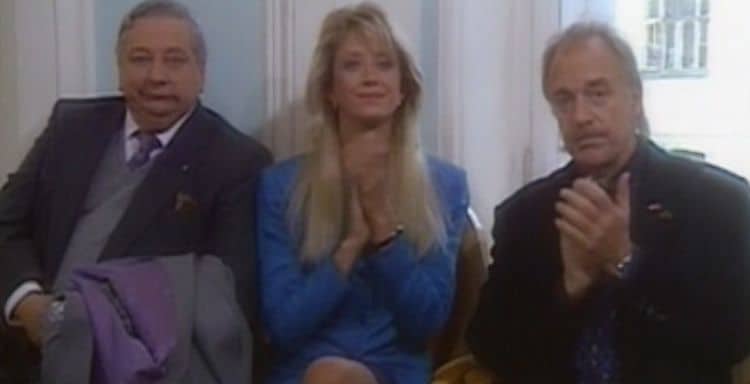 Jeannetta Arnette is one of the many actors you might only know if you've followed her career for a while and happen to know just where she's been and what she's been doing. Otherwise it's fair to state that you might not even recognize her face let alone her name. That's a bit unfortunate since she's been in the business for a while now, since the 70s in fact, and has been showing up in various TV shows and other projects since then, making certain that she's in full view and has a part that people will recognize. With that being said though she's also one of those actors whose best days came in the 80s and 90s and hasn't done much since then even though she's been around and has done her part to help out and possibly show the younger actors how to stick in there and really make a career work. A lot of the older actors have done a great deal in their time and the ones that are still around are either retiring, have been retired, or have passed away over the years since show business isn't exactly kind to those that can no longer hack it or don't want to have to keep up with the younger talent. There are plenty of people that can do it and Arnette has shown that she's capable, but she's not quite leading material and thus isn't likely to be seen in any huge blockbuster movies in a leading role.
Even as a supporting actor at this point she's more or less better off being seen but not regarded quite as much since a lot of her fans likely want to remember her from her Head of the Class days when she played one of the more prominent roles as Mrs. Meara. Back then she was a bit of a big deal and could be easily recognized by a lot of people since the show was one of the funnier programs on TV and did last for a few years. Since then though it does feel as though she's just been hanging on and doing what she can to get one role after another since she hasn't really taken any huge and noticeable parts here or there and has kind of been seen as the person that's just here on set and can be utilized as an extra when needs be. She has taken a few noticeable roles that have allowed her to stretch and expand her acting muscles a bit, but those tend to be far less than anything she's done in the past since again, she's one of those that's been around for decades and hasn't really done much by comparison, and as a result has kind of faded into the background a bit.
That might sound unkind but it's because it remains the unvarnished truth. She has had roles where she's been noticed and appreciated without a doubt, but there have been many bit parts that haven't really given her the kick in the pants that might be needed to really go out and be recognized as she used to be. That's what happens when actors start to get a bit old and don't move as quickly as the business however. They don't necessarily become irrelevant, but they do tend to become a bit hard to see through all the talent that tends to move ahead of them. Show business isn't kind by any stretch of the imagination and it will usually only be decent to those that are willing to do just about anything to keep their place. Those that either can't hack it or simply fade off as the years go by tend to stick around for a while if they can, but otherwise tend to get looked over now and again for roles that at one time they might have taken on without question. To say that Jeannetta can't hack it isn't accurate since she's been around long enough that she knows what she's doing and can get out there and do the job. But it's a question as to whether we're going to see that much of her before the day comes when she decides to step away from the business altogether.
The upside of her time spent in the business, apart from still being known by those that remember her, is that she's accrued a healthy net worth that should keep her comfortable for a while to come and is fairly impressive. Obviously she's done well enough that she can lay back in comfort from time to time and not worry too much about her financials. Given that she's one of the many that are starting to reach that age where retirement might be an idea if not a reality quite yet it's fair to say that having money in the bank is a sign of success.
Tell us what's wrong with this post? How could we improve it? :)
Let us improve this post!