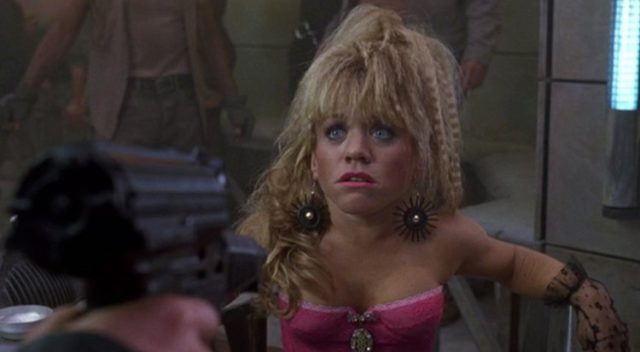 Debbie Lee Carrington, famed actress and stuntwoman for many a genre film, has passed away at the age of 58. If you don't remember her then it's likely that you haven't watched a lot of 80's and 90's movies since one of her most notable roles was as the prostitute Thumbelina in Total Recall. Fans of the original movie will no doubt remember her as the tough as nails little woman that got right into the thick of things when the fighting started. But aside from that she had a lot of other roles in film that you'd have to read to know about since she was almost always a stunt double or garbed in one costume or another.
The possibilities for those with dwarfism in movies are more extensive than some people might think but they are going to be hampered by the fact that such folks do need roles that cater more to their size. For instance you're not going to cast someone of Carrington's size in the role of a historical figure that was known to be much taller as it runs the risk of people wondering just how crazy the director has gone. But there are still a lot of roles that Carrington managed to fill since she as a very extensive filmography that includes films like Return of the Jedi and Bedtime Stories. Granted, you can't tell its her because of the costumes but she's in there. She even made it onto shows like Dexter and Married…With Children. Her acting ability was always overlooked it seems for her ability to fulfill the role of the smaller person but rest assured she was able to put her acting talents to use.
On top of that she was a stuntwoman which made her even more valuable since she managed to fill in for such roles as the murderous Chucky doll and his bride Tiffany. Quite honestly Carrington was a joy to see in many cases when you could actually tell it was her since it was the idea of seeing someone that was familiar and not overly famous. She'd made her mark by the time Total Recall came around but she wasn't so famous that she appeared unapproachable or somehow just too big to be a person of the people. In other words she was a more personable celebrity for not having such a big head that other stars tend to get at times. Instead she was one of the likable stars that seemed to genuinely care about her job and was glad to help out with whatever production she was currently involved with. That seems to speak of a big heart and a great sense of humor and patience considering some of the roles she had to take on.
There have been no details on the cause of her passing just yet and that might be just as well since it seems far more respectful to honor Carrington for what she contributed and the memories she leaves behind. She will be missed. Rest in peace ma'am.