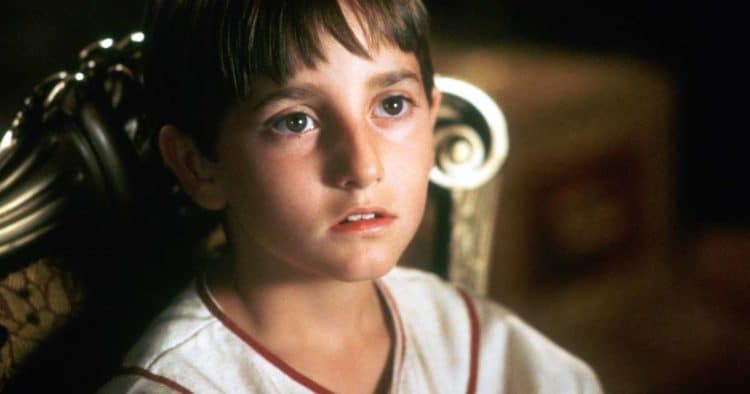 Charlie Korsmo is one of those individuals that went into show business at a young age and still managed to get out, for the most part, when he was still pretty young since he was only in from 1990 to 1998, long enough to have a few memorable roles but not much else. Obviously as you can guess, one of his biggest and most noted roles was as Jack Banning in the Peter Pan adaptation Hook, which starred Robin Williams and Dustin Hoffman along with a few other noted celebrities. Jack was pretty much the scamp in every way possible since he had a definite attitude on him and yet was also the innocent since all he really wanted was the attention of his workaholic father. Guys that send someone from the office to videotape their son's baseball game are definitely the kind of folks that work way too much. But throughout the movie it was kind of obvious that when it came to willpower Jack wasn't exactly the strongest since the distance that existed between him and his dad helped whatever magic Neverland possessed to make him forget about home and eventually start marching to the beat that Captain Hook was leading, while his sister Maggie was far less susceptible as she was able to resist the pull and had to be kept away from Jack more often than not. When you look at it from a certain perspective the movie was actually kind of dark in a way despite how light-hearted it was kept throughout most of the tale.
Another role that people likely don't remember him that well in came as the Kid in the Dick Tracy movie that featured in the 90s starring Warren Beatty and a veritable host of other big names such a Madonna and Al Pacino just to name a couple. He was more or less the sidekick to the famous detective, almost like Short Round to Indiana Jones in a way but in a much different setting. As far as being remembered, the Kid was kind of a role that came and went, much like the movie since the transition of Dick Tracy from the comics to the big screen was great for a little while but it faded rather quickly. Charlie had a couple of other roles in between Dick Tracy and Hook, but his most memorable one as a kid, apart from Hook, was when he played the role of Sigmund 'Siggy' Marvin in What About Bob?, which starred Bill Murray and Richard Dreyfuss as the main leads. The movie was nothing less than comical and even over the top in some aspects since Bob was a seriously troubled man who was seeking help from Dr. Marvin, played by Dreyfuss, and even went so far as to intrude upon the Marvin's vacation home after making a false report of his suicide. In a way this movie had a big chance to go dark in a hurry since this kind of behavior could easily be called stalking, but the way that it was filmed and the dialogue was so great that the comedy came through in a big way and despite the slightly dark aspect, especially with Siggy, who couldn't stop being depressed or thinking about death until Bob came around. Once he and Bob became friends Siggy made a huge turnaround as he became more outgoing and much more positive.
After Hook, Charlie took a break for several years to focus on his schooling and would eventually come back in 1998 for the movie Can't Hardly Wait, another teen flick that featured a few familiar faces of the time and was actually one of Charlie's better pictures considering that he took on the part of William Lichter, a young nerd that had been tormented for years by the school's most popular jock and was planning on getting back at him at an after party following graduation, which was the main point of the story. Long story short, William did get his revenge with the help of his friends, but it came in one of the weirdest ways since once he loosened up and started having a good time at the party he almost forgot about getting back at his bully and ended up making friends with him, or so he thought. As teen movies go it was definitely one of the more well-balanced movies to come out in the 90s, and it wasn't so over the top that it was all about the comedy. From that point on Charlie didn't get back into acting until 2019, well after he'd graduated from college and become a successful lawyer. As of now he's actually a professor of corporate law and finance at Case Western Reserve University School of Law in Cleveland. Whether he'll ever really get back into acting is hard to say, but at this moment it does appear that he's where he wants to be.