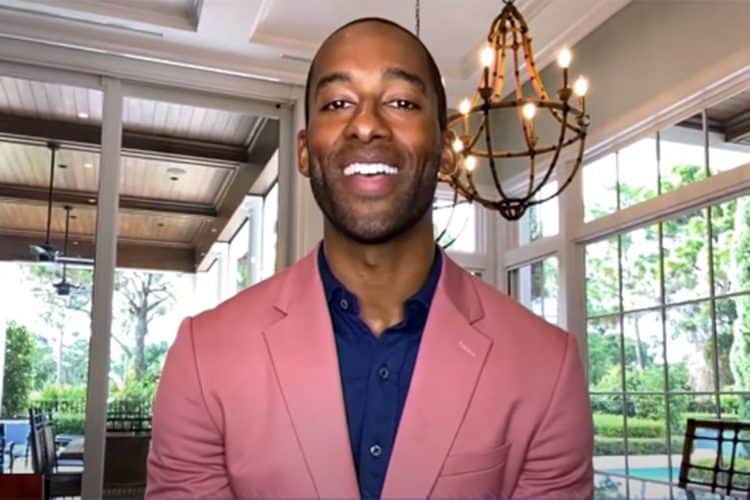 For years, The Bachelor has gotten lots of flack for it lack of diversity. Every season, the bachelor has been white and this fact definitely hasn't gone unnoticed. In fact, it has resulted in lots of think pieces and even petitions asking to have a person of another race cast in the role. Now it looks like the people's wish has officially been granted. The network has recently announced that next season will feature Matt James, the show's first ever Black bachelor. As with any other lucky guy on the show, Bachelor fans are dying to know more about Matt before the season airs. Keep reading for 10 things you didn't know about The Bachelor, Matt James.
1. He Is Honored To Be The Bachelor
In most people's eyes, having a black man cast as the bachelor is long overdue. After all, the show has been on for almost two decades. However, now that the time has finally come, Matt says "It's an honor. I'm just going to lean into myself and how my mom raised me, and hopefully when people invite me into their homes on Monday night… they see that diverse love stories are beautiful."
2. He Was A Football Player
Matt was a competitive athlete for many years. In high school, he played basketball and football. When he attended college at Wake Forrest University, he continued to play football. Unfortunately though, he dealt with a series of injuries throughout his college career. After graduating, he decided to give himself a year to see if he could make his NFL dreams come true. Although he got a couple of shots, he was ultimately cut from the Carolina Panthers and the New Orleans Saints.
3. He Studied Economics
Even though Matt's dreams of being a professional athlete never quite came true, he had a solid education to fall back on. While in school, he studied economics where he developed an interest in wealth management. After his football career ended, he got a job working at PNC Bank in Pittsburgh.
4. He Has His Own Charity
Matt isn't just good looking, he's also a good person. He enjoys helping the community and he started a charity called ABC Food Tours. According to the organization's website, Matt started ABC Food Tours after learning that 50% of the students in a nearby school were homeless. The website says, "The initial goal was to find a creative way to engage kids in underserved communities. We started out taking groups of students to our favorite restaurants in lower Manhattan. As former athletes, we saw the importance of introducing not only physical but mental wellness components into our tours. One year later; we now service all of District 1, include a fitness component in every tour, and have plans of expanding into Brooklyn, surrounding neighborhoods in Manhattan and select cities across the country."
5. He Works In Real Estate
When it comes to his career, Matt isn't putting all of his eggs in one basket. On top of the work he's done in baking, Matt has also found a lot of success working in real estate. He has experience is a researcher at CBRE Commercial Real Estate. The company's website says that Matt "provides brokerage and transaction management services to a wide range of companies, from New York-based clients to global multimarket accounts."
6. He Is Very Close With His Mom
Family is something that has always been important to Matt. He has a very close relationship with his mother and credits her with being is support system throughout his life. He says that his mother is "the most faithful person" he knows and he is grateful that she's always believed in his dreams.
7. He Is Biracial
There isn't much information floating around about Matt's background, but we do know that he is biracial. His father is black and his mother is white. Matt hasn't opened about his father, but since he often posts pictures of his mother and none of his father, it appears that the two may not have a close relationship.
8. His Faith Is Important To Him
While in college, Matt began attended services at Solid Rock Baptist Church where he started to build a close relationship with God. His faith has continued to play a major role in his life and he says that becoming a Christian is the best decision he's ever made.
9. He Was Originally Cast On The Bachelorette
Matt James was originally supposed to be a contestant on The Bachelorette. However, when filming for the show was put on hold due to COVID-19, producers got a chance to know Matt and decided he'd be a great fit for The Bachelor. Bachelorette, Claire Crawley, says she was unaware that Matt had been chosen for The Bachelor until the official announcement was made.
10. He Is Good Friends With A Former Bachelorette Contestant
Matt isn't exactly what you'd call a stranger to The Bachelor universe. In real life, Matt is really good friends with former Bachelorette contestant, Tyler Cameron. They met back in college when they were both members of the Wake Forrest football team. Since then, the two have lived together in New York City.